Ariyan Johnson Brings Innovation and Passion to UCI Dance
By Jezebel Ramirez-Robles and Lauren Knight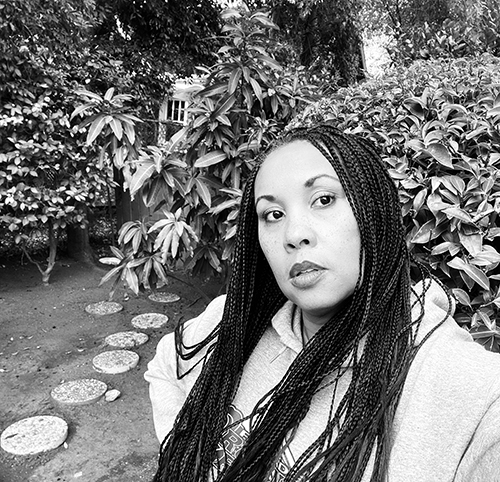 Professor Ariyan Johnson is a multidisciplinary artist with a rich background in dancing, choreographing, acting, producing, and directing, the list continues with each new project she takes on.
At a young age, Johnson's mother -- a dancer herself --  inspired Johnson and provided her with modern, ballet, and jazz skills as a child; as a result, Johnson's passion for the arts continued to grow into a career in TV, film and theater.
From commercial voice-over work to touring worldwide with artists such as 2 in a Room and Women in Rap as a dancer/choreographer, Johnson's broad range of skills keeps expanding. Her most recent projects include short dance films, Triggered and Spiritual Cyphers: Hip Hop and The Church. Both projects have won her multiple awards and grants, helping Johnson get Spiritual Cyphers off the ground and into production.
Besides all of her dazzling credits and work on the performance side of dance, one of Johnson's biggest passions is teaching.
Throughout her life, she has taught in New York, New Jersey, Kansas, Missouri, California, and Rwanda, Africa. She has now settled in California to begin working at UCI as the new dance professor.
"When I was younger, I had always envisioned myself as an educator," said Johnson. "I knew then...when I get older I'm going to be a professor because the goal is to enrich the next generation of artists."
The New York native began teaching dance at 13 years old at Alpha Omega Theatrical Dance Company and went on to attend LaGuardia High School of Music & Art and Performing Arts to continue studying dance. Though, her years following La Guardia were not as cookie-cutter as anyone would expect.
During her time in school, Johnson and a friend met someone who was deaf and learned American Sign Language to communicate with them. Her education in ASL influenced her decision to earn her B.A. in Speech Pathology and Audiology to communicate better with the deaf and hard of hearing community and to teach them to dance.
With her extensive background in dance and teaching, Johnson has shown herself to be accommodating to all types of students that come her way. She has a passion for art and teaching that will inevitably continue to give the world of UCI more every year.
Teaching at UCI
Although her position at UCI as a professor is not a new routine (all dance puns intended) for her, Johnson is still dancing her way through her new challenges brought to you by the Quarantine 20s. One year in, Johnson has spent her entire career at UCI online, but her main goal as an instructor hasn't changed.
Teaching goal: to create community. 
New challenge: doing so online.
"I create community. It requires trust and the ability to depend on someone," said Johnson about her teaching methods. "But being [in person] gives you an initial feeling. I don't call it first impressions, because yes, they do exist, but when you are around people you pick up their energy."
As Zoom continues to take over the classroom, Johnson must navigate teaching physical art to students through online means. This means no real audience to showcase your work, things getting lost in translation, and a struggle to create real community without the presence of others around.
But she is adamant that she accommodates her teaching methods for hurdles that come with online teaching, keeping to her authentic self (making no apologies for it), and providing a safe space for students to grow and create.
I create community. It requires trust and the ability to depend on someone.
"I want others to be free to be themselves because as an artist, it's about the work. It's about really knowing who you are so you can interpret and narrate the story you're portraying. Because we're storytellers," said Johnson. "And if you don't know yourself that well, there are some barriers that you're going to need to get through to try to understand how to demonstrate connection through your art. And connection first starts with you being connected with you."
Johnson is forever grateful for the new position at UCI. Being the new kid on the block and only ever (accidentally) meeting one of her colleagues in-person posed extra challenges for her. But as her legacy continues to grow, her past work with hip-hop lives on.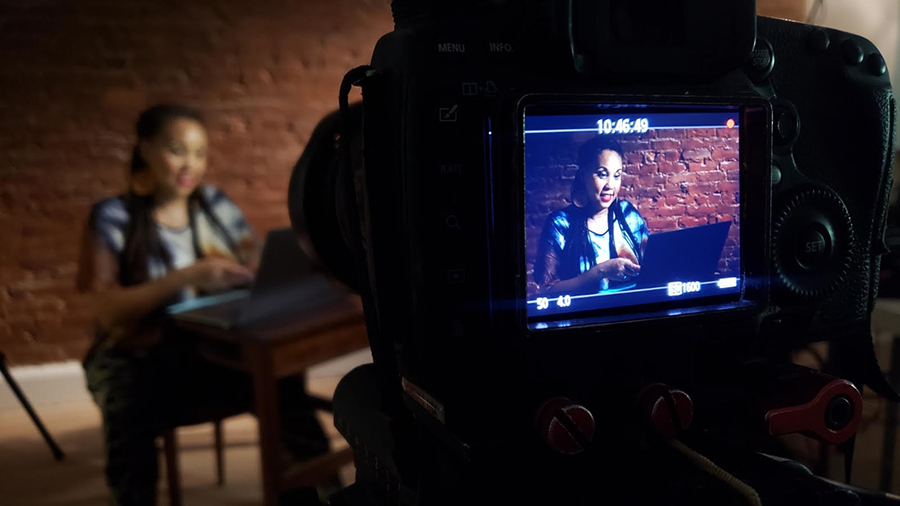 Ariyan Johnson on the set of "Spiritual Cyphers: Hip Hop and the Church." The production team utilized multimedia elements. 
Pioneering Hip Hop and Screendance
"I think one of the things artists really felt during COVID was that we are here to create and to be seen. But to be seen when there is no audience, what do you do? You shift the audience," said Johnson.
By shifting the audience, Johnson means presenting theatre, dance, and any other art form where people are: online. This has opened up a new world for a lot of students who have never really delved into online performance. They are now being taught how to create choreography to fit video better than before, focusing on audition tapes, dance films, and even TikTok.
But the idea of shifting audiences is not new for Professor Johnson. She is considered a pioneer of hip-hop, helping globalize the dance genre in the late 80s and 90s. Through screendance in the forms of music videos, films like Just Another Girl on the I.R.T. where she depicted female hip hop dance duos, and televised music award shows, hip-hop was able to reach audiences all over the world, putting the fresh art movement on a global map.
During her career, Johnson has worked with the likes of Queen Latifah, L.L. Cool J, and many more. But her previous work has not stopped Johnson from continuing to dive into the world of Hip Hop and what it means to create screendance, something she believes hip hop helped create.
"In terms of hip hop, we've been doing screendance forever," said Johnson. "And this goes into my research in terms of how hip hop has used film and its culture to tell stories. We have continued to show up and archive the work in music videos. We've been dancing on film for a very long time."
Johnson further explains how hip hop is intergenerational, progressive, and inclusive. She shows this through her dance films Triggered, a short film on how social media affects the mental health of the women of today. Her research continues further with her upcoming film Spiritual Cyphers, a film looking into two pieces of her heart: hip hop and the church.
And Johnson doesn't plan on slowing down her legacy any time soon.
The Never-Ending Career
Always dreaming of teaching at a research university, Johnson is head-over-heels ready to continue as a professor at UCI. She has volumes full of ideas that she is excited to work on with the Anteaters of this Golden State. On her own time, she is researching many topics such as how Black women have contributed to hip hop culture, the N.W.A., and inclusivity in dance education. 
Johnson is an artist. She doesn't want to stop, although she has trained herself how to (you know, to keep her sanity).
"I've been doing this so long that what I have to offer would be beneficial to anyone that wants to be an artist, no matter what your lens is. I have a multidisciplinary background that could help," said Johnson. "You're on your journey, so you know how you want to change the world. Change the world one soul at a time. One person at a time."
---
Learn more about Ariyan Johnson on her faculty page.
Read "21C Supports Faculty and Graduate Student Creative Research in the Arts" on our website.