Spring 2020 issue of CONNECT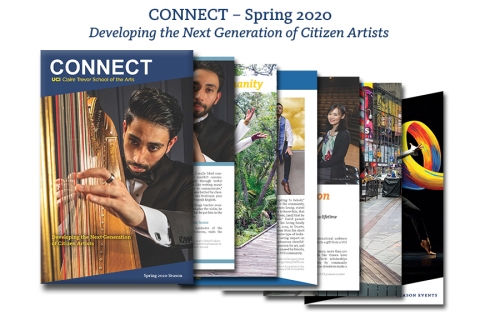 Developing the Next Generation of Citizen Artists
The Spring 2020 issue of CONNECT has arrived!
In keeping with the decision released by UCI, attendance at all CTSA productions for the Spring 2020 quarter will be audience-free. More Info
The 2019-20 season continues with our third edition of CONNECT, the new quarterly publication for UCI Claire Trevor School of the Arts. Read about Spring exhibitions and events along with several features focused on our students and faculty.
Spring into the season with art, dance, drama, and music!
Every year the bittersweet season of Spring rushes in a wave of joy and excitement for both our faculty and students. It is the culmination of a year of learning, preparation, and performance all ending in graduation and saying goodbye to our friends, the new crop of Claire Trevor School of the Arts alumni. Celebrate the final season with our young protégés before they take the next steps in their exciting journey in the arts.