Queer of Color Festival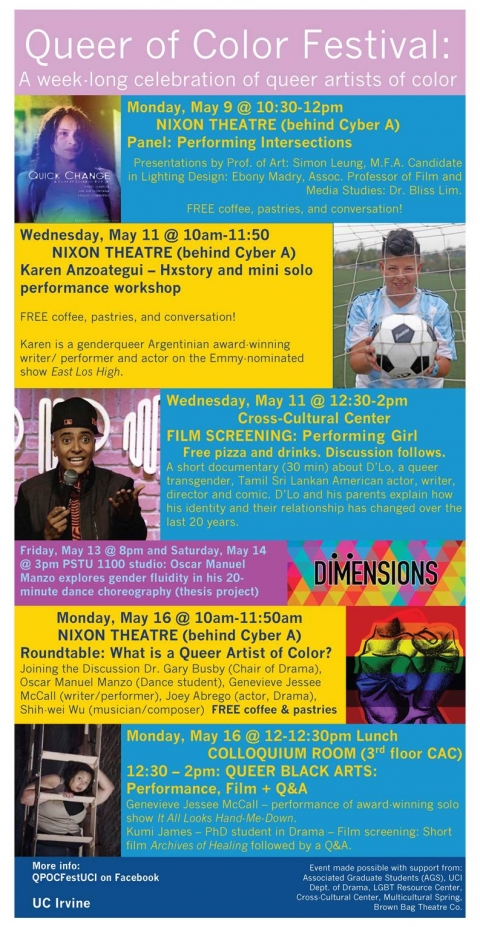 Queer of Color Festival:
A week-long celebration of queer artists of color

May 9 – May 16
The Queer of Color Fest is an event to celebrate queer of color artists and scholars, to provide a venue to showcase their work (films, performances, music, art, writing, research, etc.), and to open up a safe space to hold much needed discussions of intersectionality and how intersections of identity affect work generated by queer of color individuals.
Free admission. Public is welcome.
For more information, please visit:
https://www.facebook.com/qpocfestuci
Panel: Performing Intersections
Monday, May 9
10:30am-12:00pm
Nixon Theatre (behind Cyber A Café)
Presentations by Prof. of Art Simon Leung, M.F.A. Candidate in Lighting Design: Ebony Madry, Assoc. Professor of Film and Media Studies: Dr. Bliss Lim.
Free coffee, pastries, and Conversation!
Karen Anzoategui – Hxstory and mini solo performance workshop
Wednesday, May 11
10:00am – 11:50am
Nixon Theatre (behind Cyber A Café)
Karen is a genderqueer Argentinian award-winning writer/performer and actor of the Emmy-nominated show East Los High.
Free coffee, pastries, and conversation!
Film Screening: Performing Girl
Wednesday, May 11
12:30pm-2:00pm
Cross Cultural Center
A short documentary (30 min) about D'Lo, a queer transgender, Tamil Sri Lankan American actor, writer, director and comic. D'Lo and his parents explain how his identity and their relationship has changed over the last 20 years.
Free pizza and drinks. Discussion follows.
DIMENSIONS
Friday, May 13
8:00pm
Saturday, May 14
3:00pm
PSTU 1100 Studio
Oscar Manuel Manzo explores gender fluidity in his 20-minute dance choreography (thesis project).
Roundtable: What is a Queer Artist of Color?
Monday, May 16
10:00am – 11:50am
Nixon Theatre (behind Cyber A Café)
Joining the Discussion Dr. Gary Busby (Chair of Drama), Oscar Manuel Manzo (Dance student), Genevieve Jessee McCall (writer/performer), Joey Abrego (actor, Drama), Shih-wei Wu (musician/composer).
Free coffee and pastries.
Performance, Film + Q&A
Monday, May 16
12:30pm-2:00pm
Colloquium Room (3rd floor CAC)
Genevieve Jessee McCall – performance of award-winning solo show It All Looks Hand-Me-Down. Kumi James – PhD student in Drama – Film screening: Short film Archives of Healing followed by a Q&A.