On the Passage of a Few People Through a Rather Brief Period of Time
On the Passage of a Few People Through a Rather Brief Period of Time
Curated by Juli Carson
Artists: Mary Kelly, Sharon Hayes, Every Ocean Hughes (b. Emily Roysdon), Damir Avdagic, Abigail Collins, Kerry Tribe, Latipa (b. Michele Dizon), Karl Haendel, Meleko Mokgosi
Jan. 20-April 7, 2024
Opening Reception: Saturday, Jan. 20, 2 p.m.
On the Passage of a Few People through a Rather Brief Period of Time is organized in coordination with the release of Mary Kelly's Concentric Pedagogy: Selected Writings, edited by Juli Carson and published by Bloomsbury Press. Following the book's lead, the exhibition focuses on "project-based" work by a younger generation of artists who have worked closely with Kelly. The exhibition position's Kelly's WLM Demo Remix as its thesis. Produced for her Love Songs project, featured in documenta 12 (2007), WLM is a 90 second projected film-loop with a slow dissolve creating a bridge between past and present representations of the 1970 Women's Liberation demonstration in New York, producing a visual palimpsest of the political "there-then," in the "here-now." In dialogue with the other works featured in this exhibition, WLM becomes a call to heed the repressive politics of the current moment, returning us to such historical pulse points as 1968, 1989, 2001, 2011, 2016 and 2020 as exemplars of resistance.
The exhibition takes its concept of a "political primal scene" from the timely intergenerational, on-line conversation that Kelly moderated for the Tate Modern in 2015. The conversation's title, On the Passage of a Few People through a Rather Brief Period of Time, was a nod to Guy Debord's 1959 semi-autobiographical Situationist film of the same name. Kelly's online conversation took a wide-angle view of the "discursive site," which is, as she put it, fundamentally intergenerational, and at the same time, historically specific. Accordingly, the conversation framed those who were born during or after World War II, whose children were born in the late 60s and 70s, and their grandchildren in the new millennium. As Kelly explains, "What is passed on, from one generation to another, seems to be both a practical question, as Hayden White put it, 'how to live in the present,' and a riddle to be deciphered, as Walter Benjamin's 'secret agreement' implies, the transmission of unconscious collective desire, which is, ultimately, the foundation of historical memory. Seen in this way, an era could be defined as the discursive footprint of shared aspirations left by a few people passing through an infinitely brief period of geological time."
Image: Mary Kelly, WLM Demo Remix, 2005 | 90 second black and white film loop | Dimensions variable | Collection, Centre for Contemporary Art Ujazdowski Castle, Warsaw.
---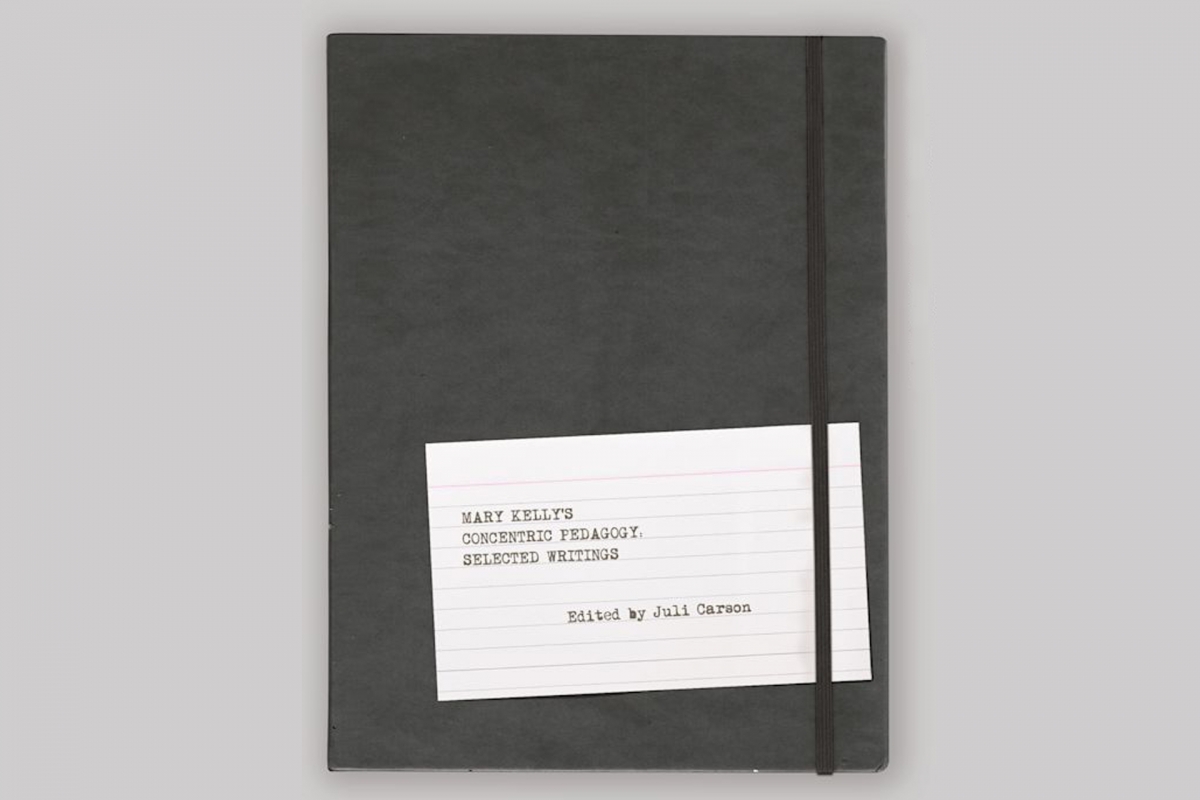 This book documents and illuminates an evolved practice at a point of tension where a method, itself rooted in one historical, revolutionary moment ca. 1968, addresses transmission and transformation over the radical ruptures and unforeseen conditions of a new century. Mary Kelly's project is both a creative intervention in the analysis of the studio as site of practice and transmission and an art historically significant intervention in the field of contemporary art practice as it has been inflected by major theoretical and political urgencies…Juli Carson has worked with the artist Mary Kelly to assemble documents, articles, teaching materials and artists' portfolios along with the record of a historic participatory on-line event, all of which radically expands the interface of practice, thought, transmission and theoretical intervention. This unique volume is at once an archive of Mary Kelly's pedagogy in studio practice at a historic moment of the interaction of feminism and post-conceptual art making, and an intellectual portrait of one historic pedagogical undertaking in art education, Mary Kelly's "concentric pedagogy."

- Griselda Pollock, art historian and cultural analyst of international, postcolonial feminist studies in visual arts and visual culture
---
Department of Art: 949-824-4917 | art.arts.uci.edu | stuart@uci.edu
University Art Galleries: 949-824-9854 | uag.art.arts.uci.edu | gallery@uci.edu
Gallery hours: Tuesday-Saturday, noon-6 p.m.
Also open Sunday, April 7.

Free admission
Please visit our secure direct giving page and make a gift to support the Department of Art today!
Make a Gift
Dates:
Saturday Jan 20, 2024, 12:00 pm

to

Sunday Apr 7, 2024, 6:00 pm
Sunday Apr 7, 2024,

12:00 pm

to

6:00 pm
Reception Date:
Saturday Jan 20, 2024, 2:00 pm