Parade
THEM! Drama Series
Parade
Music and Lyrics by Jason Robert Brown
Book by Alfred Uhry
Myrona DeLaney, Director
Andrew Palermo, Choreographer
Daniel Gary Busby, Music Director
November 12 – 20, 2016
Irvine Barclay Theatre

Parade tells the heart-wrenching, true story of Leo Frank: a Brooklyn-raised Jewish man living in Atlanta who was convicted of the rape and murder of his thirteen-year-old employee, Mary Phagan, in 1913. Because Frank's trial was replete with faulty testimony and lacked any clear evidence, Georgia's governor eventually commuted his sentence from death to life imprisonment. Despite this ruling, a lynch mob hanged Frank in Mary Phagan's hometown of Marietta, Georgia. The momentous case drew national attention to Anti-Semitism, and was pivotal to the founding of the Anti-Defamation League (ADL) as well as the revival of the Ku Klux Klan in the South. Parade sits at the crux of north/south, black/white, rich/poor, Jew/gentile polarities, against the evolving backdrop of the Civil (rights) War.
Performances:
Evenings: Nov. 12, 17, 18, 19 @ 8 p.m.
Evening: Nov. 16 @ 7:30 p.m.
Matinees: Nov. 13*, 19, 20 @ 2 p.m.
*Ticketholders: Please join us for a post-performance TalkBack with the creative team and cast.
Tickets:
General $22
Seniors, Groups 10+, UCI Faculty & Staff $20
UCI Students & Children under 17 $12
Click on the images below to read the articles.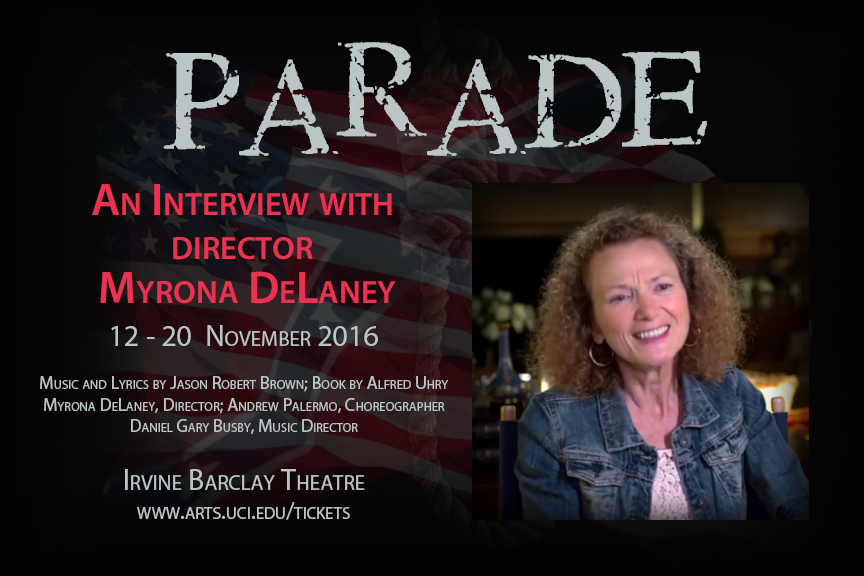 THEM!
Daniel Gary Busby, Artistic Director
UCI Drama's 2016 – 17 season, THEM!, explores our tendency – both as individuals and as societal groups – to separate and cast blame on "The Other." Through a series of plays and musicals that investigate religious persecution and genocide, the castigation of physical difference, interpersonal alienation, and our xenophobic reaction to other cultures culminating in war, we examine the ways in which we so often look to identify a scapegoat rather than find mutual understanding and acceptance. Present throughout the plays of the season we hear the voices of "them."
Dates:
November 12, 2016 - 8:00 pm
November 13, 2016 - 2:00 pm
November 16, 2016 - 7:30 pm
November 17, 2016 - 8:00 pm
November 18, 2016 - 8:00 pm
November 19, 2016 - 2:00 pm
November 19, 2016 - 8:00 pm
November 20, 2016 - 2:00 pm