The Art of Performance in Irvine
The Art of Performance in Irvine
Curated and Directed by Ulysses Jenkins and Deborah Oliver
October 27 & November 3, 2016
Thursday, October 27, 2016: Fallen Fruit
Thursday, November 3, 2016: It's Your Party by Nancy Buchanan
Experimental Media and Performance Lab (xMPL)
The second annual event includes two nights of live art and video featuring prominent UCI Art Department Alumni Nancy Buchanan and David Burns with Austin Young of Fallen Fruit.

It's Your Party
Collaborative performance organized by Nancy Buchanan
with Stephanie Allespach, Amy Alexander, Arshia Haq,
and Marjan Vayghan
Thursday, November 3, 2016
7:00 — 9:00 pm
Durational event; entry at 7, 7:20, 7:40, 8, 8:20, 8:40
Free Admission
Experimental Media and Performance Lab (xMPL)
Presented by Ulysses Jenkins
Much of the world is anxious to see what directions our powerful government will take following the upcoming Presidential elections. While our country is much observed by others, what do we, as citizens, know of the consequences of our government's actions in other places? Or their history? How often are we presented with simplified clichés? This durational performance, inspired by our ongoing "war on terror" and its consequences, is organized by Nancy Buchanan in collaboration with Stephanie Allespach, Amy Alexander, Arshia Haq and Marjan Vayghan.
Nancy Buchanan received her BA and MFA from UCI. Her work encompasses a variety of media; over the years, she has received honors for her work in performance and video. Buchanan was honored to be invited by Professor Ulysses Jenkins to design work for the xMPL space. She is thrilled to return to UCI to orchestrate this event. The option of an ongoing event in which viewers may come and go as they please seems appropriate for these times. As Buchanan began research for this piece, she was struck by similarities between documents belonging to her physicist father, Louis N. Ridenour, and today's situation. Questions of war and peace, weapons stockpiles, and generalized public fear seem unending.
Stephanie Allespach is a German-American artist who lives and works in Los Angeles and Berlin. Her projects explore concepts of political engagement within the poetry of chance, a lens-based practice of documentary observation and everyday theatricality via photography, collage, drawing and video. She has shaped the overall design of the "Party" with Buchanan, and will present collaged video of artist Mira Hunter (née Burke). Hunter is a Canadian artist working in multi-media installation and performance. She is a second-generation Sufi Mevlevi (the Whirling Dervish order was established by the 13th century Sufi poet Rumi) who began her traditional training at the age of 16. She currently studies Sufism under Sherif Baba Catalkaya.
Amy Alexander is a digital media, audiovisual and performance artist who has also worked in film, video, music, tactical media and information technology. Alexander's projects have been exhibited and performed internationally in festivals and museums as well as on the Internet, in clubs and on the street. She is an Associate Professor of Visual Arts at the University of California, San Diego. She will perform using PIGS, her software/hardware/percussive framework that uses silent percussion to manipulate expressive video in performance.
Arshia Haq is a filmmaker, writer and DJ based in Los Angeles. She is the founder of Discostan, which presents musical narratives from North Africa, the Middle East, South and Southeast Asia. Topics include migration, nostalgia, homeland, borders, often within realms of Islamic influence, through lenses of traditional forms and kaleidoscopic reinventions of pop culture. For this "Party," she will perform a live mix that will include her own sound art. Currently, she has been conducting independent field work in various areas of Pakistan documenting video and audio of Sufi spaces and practices, and will be releasing an album of field recordings in early 2017. 
Artist, writer, and fashion designer, Marjan Vayghan is also a curator, and the founder of Building Bridges, which links US artists to artists in Tehran, Iran. Her work combines personal memory, familial intimacy and transnational political consciousness. Her grandparents' struggle during World War II and the family's exile from Iran have brought a spirit of hope to her work. Vayghan address the politics and processes of "misinformation," and draws diverse communities together to consider these misidentifications collectively within various settings. She is especially concerned with representations of Middle Eastern women in relation to the Western mainstream and corporate media.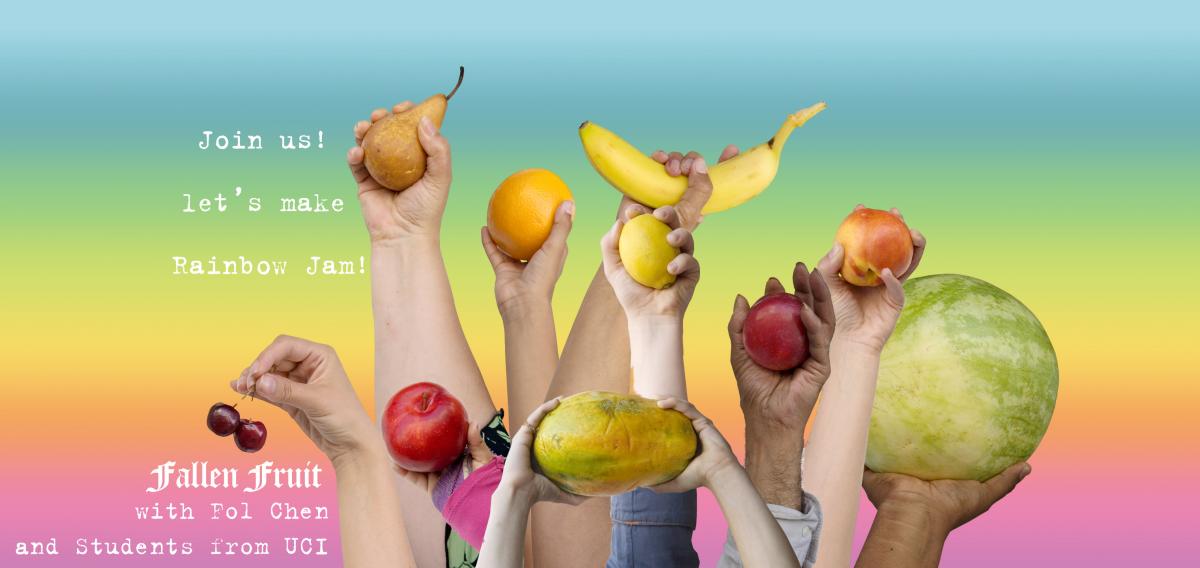 Fallen Fruit
Thursday, October 27, 2016
7:00 pm
Experimental Media and Performance Lab (xMPL)

Rainbow Jam
By Fallen Fruit with Fol Chen
Rainbow Jam is a collaborative artwork, performance score and video created by Fallen Fruit (David Burns and Austin Young) with recorded audio and soundscape by Fol Chen (Adam Goldman and Sinosa) .
Rainbow Jam is a performance script inspired by performance scores from 20th century art actions-scripts.  Rainbow Jam is a meditation on paradise, meanings of community and symbolic metaphors about a world that is perfect. Everyone attending collaborates on this artwork; the collective reflections become a poetic series of instructions on how we envision a 21st century world and are performed and recorded  live for camera with an ambient soundscape.
About Fallen Fruit
Fallen Fruit is a collaborative art project that began in Los Angeles in 2004 by making maps of "public fruit" – fruit that grows on or over public property. Since this time the projects have expanded to include diverse site-specific artworks that embrace public participation, temporary art installations, and social media focused actions. Fallen Fruit's art works encourage the public to experience their city as a fruitful, generous place, inviting people to engage in sharing and collectively explore the meaning of community and collaboration. Recent exhibition projects include commissioned works by LACMA, Queensland Art Gallery/Gallery of Modern Art, Athens Biennale, Prospect 3+, Bemis Center for Contemporary Art, Portland Art Museum, Wexner Center for the Arts, among others.  Fallen Fruit was originally conceived by David Burns, Matias Viegener and Austin Young. Since 2013, David and Austin have continued the collaborative work.  Fallen Fruit uses fruit and public space to change the way you experience the world. For more information, visit ‎fallenfruit.org
About Fol Chen
Los Angeles-based Fol Chen have released three studio albums, performed on four continents, and have presented projects at LACMA, the Walker Art Center, Machine Project, and the Annenberg Space for Photography. Fol Chen's explorations of the limits and uses of popular music have drawn praise from The Wall Street Journal, The New York Times, Wired, and Pitchfork, as well as from the godfather of experimental pop music, David Byrne. They have remixed David Bowie, Sufjan Stevens (who owns their label, Asthmatic Kitty Records), and legendary club producer Junior Vasquez. The group also covered Prince for SPIN Magazine's "Purplish Rain" compilation, and teamed with electronic interface designers Monome on a limited edition gestural sound toy. cargocollective.com/folchen
Dates:
Thursday Nov 3, 2016, 7:00 pm