Pioneer of the electric harp Zeena Parkins to perform at UCI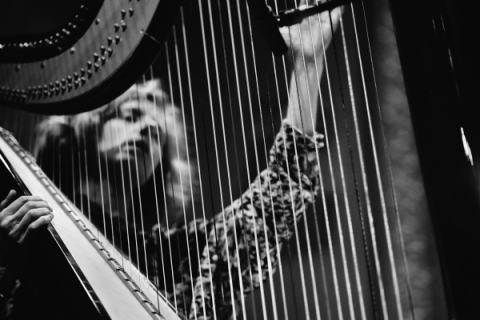 Irvine, Calif., April 16, 2018 –The Gassmann Electronic Music Series at UC Irvine will present a concert and improvisation workshop by composer, improviser, and pioneer of the electric harp Zeena Parkins.
Ms. Parkins will perform her original work titled Captiva, a multi-movement composition that explores a compendium of possibilities on the acoustic harp, deploying improvisational strategies on composed fragments, triggering new material. The concert will be held Friday April 20, 2018 at 8:00 in Winifred Smith Hall in the Claire Trevor School of the Arts on the campus of UC Irvine. The event is free; no ticket is required.
Earlier that same day, Friday, April 20, 2018, at 1:00 pm, Zeena Parkins will lead an Improvisation Workshop for musicians, held in Room 218 of the Music and Media Building at UCI. The workshop is free and open to all.
Zeena Parkins is a pioneer of contemporary harp practice and performance, who reimagines the instrument as a "sound machine of limitless capacity." Parkins has extended the language of the acoustic harp with the inventive use of unusual playing techniques, preparations, and layers of electronic processing. Parkins's compositions have been commissioned by Nextworks Ensemble, Merce Cunningham Dance Company, Roulette Intermedium, the Eclipse Quartet, Bang on a Can, the Whitney Museum, and the Tate Modern. She has released several solo records featuring her electric and acoustic harp playing, and has released her compositions and collaboartive projects on Tzadik Recordings. As a collaborator, she has worked with musicians such as Fred Frith, Björk, Ikue Mori, Dame Evelyn Glennie, Maja Ratkje, Hild Sofie Tafjord, John Zorn, Butch Morris, Chris Cutler, Elliott Sharp, Nels Cline, William Winant, Anthony Braxton, Pauline Oliveros, Yoko Ono, and Christian Marclay. http://zeenaparkins.com/
The Gassmann Electronic Music Series presents an annual season of concerts, lectures, panels, and workshops focusing on Music and Computers. The events are held at the Music Department in the Claire Trevor School of the Arts at the University of California, Irvine. The producer and director of the Gassmann Electronic Music Series is professor Christopher Dobrian. The Gassmann Electronic Music Series is funded by the Gassmann Electronic Music Studio and the UCI Department of Music. http://music.arts.uci.edu/dobrian/gemseries/