Innovative Composer-Percussionist/Improviser Lukas Ligeti Makes His UCI Debut with Between Many Worlds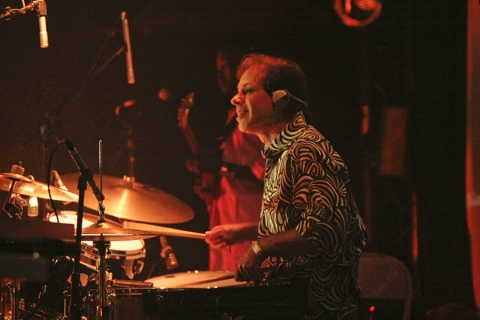 Innovative Composer-Percussionist/Improviser Lukas Ligeti Makes His UCI Debut with Between Many Worlds
Irvine, Calif. (April 24, 2017) – Award-winning composer-percussionist/improviser Lukas Ligeti will make his UCI Claire Trevor School of the Arts performance debut with the Faculty Artist Series concert "Lukas Ligeti: Between Many Worlds." Ligeti joined the Department of Music faculty in 2015 as a core faculty member of UCI's new, innovative Ph.D. program in Integrated Composition, Improvisation, and Technology. The concert will take place on Friday, May 19, at 8:00 p.m. in Winifred Smith Hall.
Lukas Ligeti is known for the innovative ideas and concepts in his music, and for the extreme breadth of his creative output. Before coming to UCI, Ligeti spent 17 years as a composer and musician in New York City, where he established himself as one of the most original musical minds of the "Downtown" experimental music scene. But, as opposed to many other composers who seek new forms of expression, his music never forgets the listener: it is evocative, playful, and adventurous, always breaking barriers between styles and genres. Ligeti works with symphony orchestras and with traditional musicians from Africa; with jazz improvisers and classical soloists; with ancient instruments and the newest computer technology.
The first half of the concert features two recent chamber music compositions. Opening the evening will be the West Coast premiere of language:PROUN:music for voice and four instruments, performed by soprano Ariadne Greif and members of the ground-breaking L.A.-based music collective wild Up. Here, Ligeti investigates the rhythms of naturally free-flowing speech, creating new forms of rhythmic perception and interplay. Commissioned by the Hungarian Cultural Institute as a response to an exhibition of art by the great Hungarian painter and sculptor László Moholy-Nagy, the work premiered in New York City in August 2016.
This will be followed by Thinking Songs, a 30-minute tour de force for solo marimba, performed by the incomparable virtuoso Ji Hye Jung. Commissioned by a consortium of 16 leading American marimba players, this five-movement suite explores voice-leading and techniques from different traditions, pushing boundaries to such an extent that, as Ligeti states, "it's impossible to tell whether we are in some imaginary African avant-garde landscape or firmly rooted in the West and Bach's world of counterpoint." Likely the most demanding piece ever written for the instrument, Ms. Jung, who directs the percussion studio at Vanderbilt University in Nashville, has said that she had to "develop a new section of her brain" to perform this work.
The evening will end with a set by Ligeti's 7-piece band Notebook, founded in 2009 to explore intersections of composition and improvisation. The ensemble will perform, among others, its signature piece Kaleidoscope Point, featuring polymetric drumming, West African-influenced melodies and exciting approaches to ensemble interplay. Members of Notebook include luminaries of New York City's jazz and experimental music scene; for example, saxophonist Daniel Blake has recently been heard in the bands of both Esperanza Spalding and Julian Lage. Neither classical chamber group nor jazz band, Notebook is a vehicle for those of Ligeti's ideas that are so eclectic that he simply had to start a new ensemble to be able to realize them.
Performers for wild Up include Andrew Tholl (violin), Derek Stein (cello), Matthew Barbier (trombone), and Matthew Cook (vibraphone).
Performers for Notebook include Daniel Blake (saxophone), Ricardo Gallo (synthesizer), Lukas Ligeti (drums), Eyal Maoz (guitar), Tom Mcnalley (guitar),
Rick Parker (trombone), and Anna Savery (violin).
"Lukas Ligeti: Between Many Worlds" Performance and Ticket Information
Winifred Smith Hall, UC Irvine, Claire Trevor School of the Arts Campus – Building 710
Parking: Mesa Parking Structure, 4000 Mesa Road, Irvine 92617
Friday, May 19, 2017 at 8:00 pm
General Admission $16 / UCI Students & Children under 17 $6
Box Office (949) 824-2787 or www.arts.uci.edu/tickets.
About UCI Claire Trevor School of the Arts: As UCI's creative laboratory, the Claire Trevor School of the Arts explores and presents the arts as the essence of human experience and expression, through art forms ranging from the most traditional to the radically new. The international faculty works across a wide variety of disciplines, partnering with others across the campus.  National-ranked programs in art, dance, drama, and music begin with training but end in original invention. Students come to UCI to learn to be citizen-artists, to sharpen their skills and talents, and to become the molders and leaders of world culture. For more information, visit www.arts.uci.edu.
About the University of California, Irvine: Founded in 1965, UCI is the youngest member of the prestigious Association of American Universities. The campus has produced three Nobel laureates and is known for its academic achievement, premier research, innovation and anteater mascot. Led by Chancellor Howard Gillman, UCI has more than 30,000 students and offers 192 degree programs. It's located in one of the world's safest and most economically vibrant communities and is Orange County's second-largest employer, contributing $5 billion annually to the local economy. For more on UCI, visit www.uci.edu.