"East Meets West" International Dance and Music Festival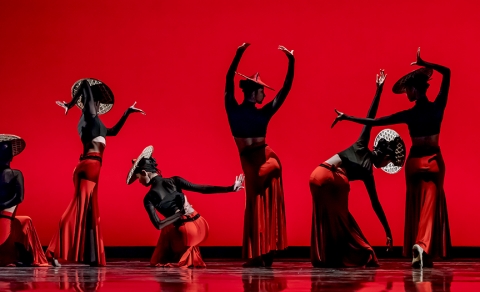 "EAST MEETS WEST" INTERNATIONAL DANCE AND MUSIC FESTIVAL PRESENTS ITS FOURTH ANNUAL PERFORMANCE AT THE IRVINE BARCLAY THEATRE
Irvine, Calif. – In its fourth year, the "East Meets West" Festival is a unique collaborative arts experience, showcasing dance works by students and professional choreographers. This year's program features UCI Dance, Southland Ballet Academy, classical Indian dance soloist Sukanya Kumar, Beijing Dance Academy, and Yaya Dance Academy. These professional and pre-professional artists are from Japan, India, Malaysia, China, and the United States. This performance is a special opportunity to witness the festival's first time collaboration with musical artists, including award-winning soprano, Luwa Ke and Jing Hu player, Shunxiang Zhang.  This exchange includes open master classes, seminars, and workshops with the CTSA Dance Department's partner universities and concludes with two performances.  These performances will take place on Tuesday, October 22 at 2:00 p.m. and 7:30 p.m. at the Irvine Barclay Theatre.
"East Meets West" Artistic Directors Lisa Naugle and Tong Wang have cultivated this special event and many new artists with special thanks to the event's Founding Chair, Ruth Ding, who emphasizes a focusing on the "beauty and love in this world."  Ding's helping hand in this project has been a push towards more collaboration and uniting of cultures through the arts.
This event is sponsored by the Claire Trevor School of the Arts at the University of California, Irvine and OC Music & Dance.
Performances and Ticket Information:
Irvine Barclay Theatre, 4242 Campus Dr, Irvine CA 92612
Matinee Performance: October 22 @ 2 p.m.
Evening Performance: October 22 @ 7:30 p.m.
General admission is $25, Seniors, Groups 10+, Faculty and Staff are $21, Arts Subscribers are $19, and UCI Students and Children under 17 are $12.
Tickets purchased through the Irvine Barclay Box Office will incur a $1 fee per ticket. Tickets can be purchased through the Claire Trevor School of the Arts Box Office, website, (949) 824-2787. Self-parking is located at 113 Pereira Dr, Irvine, CA 92697 in the Student Center parking lot.