Beall Center's Free Family Day On Sat., October 18, 11 a.m. to 4 p.m.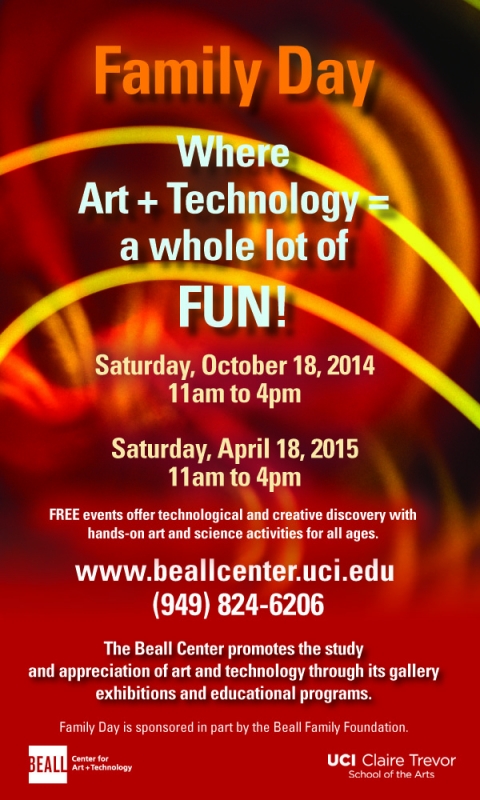 IRVINE, Calif. (October 14, 2014)
-- The Beall Center for Art + Technology at UC Irvine's Claire Trevor School of the Arts will have its free Family Day on Sat., October 18 from 11:00 a.m. to 4:00 p.m. around the Arts Plaza of the Claire Trevor School of the Arts at UC Irvine. Children and adults of all ages enjoy hands-on art and technology projects and experience an introduction to new media art relating to the Beall Center's many ongoing exhibitions and initiatives. Scheduled Activities Include:
Beall Center Exhibition - "Eddo Stern: New Works", presents five interactive game-based projects, the epitome of art + technology.
University Art Gallery Exhibition - "Ed Moses: Cross-Section", a solo exhibition of five decades of paintings by this west coast icon, and UCI School of the Arts original faculty member in Studio Art.
Optricks-Optobotics - Discover light and its "magical" properties from the Optics
Institute of SoCal and the UC Irvine Photonics Society.  OSSC.org / OISC.net.  Presentation at 12pm & 1pm in Winifred Smith Hall
Paper Rocket Make & Launch - Create & blast-off paper rockets.  How high will it fly?  Provided by Madly Making Orange, producers of the OC Mini Maker Faire. OCMMF.com
Mathobotix - Inspiring an appreciation of technology in young people through STEAM-based courses in robotics using Lego Mindstorms/EV3.
Expressive Robotics - Learn about the Beall Center's middle and high school summer robotics intensive focused on creative programming and building with a DIY approach.
Savoy Academy - Participants will use "recipe cards" to experience programming using either Scratch or Python. savoyacademy.com
ANTXplore - Demonstrations and display of some of the interactions between art, nature, and technology; including fractals, biological-inspired art, and scientific studies. antxplore.com
Steam Powered Education - Build an old-fashioned, wooden, light projector that Makers can choose whether to incorporate a Halloween theme, or project any image of their choosing. tinyurl.com/SteamPoweredEducation.
Inspire Charter Schools - Make a scary, or not-so-scary Halloween eyeball and have fun experimenting with the combination of science and magic tricks. Online Independent Study for K-12th grade: inspireschools.org / tinyurl.com/SchoolatHomeSoCal
Download the Kaleri App - Join a growing vibrant art community, and learn more about Eddo Stern and the current Beall exhibition.  www.kaleri.com.
Design Model Making & Prototyping - Meet individuals from Irvine Valley College Advanced Technology & Education Park (ATEP).
Plus… Additional presenters and hands-on projects in and around the Arts Plaza.
 
Driving and parking instructions:
www.arts.uci.edu/directions. 
For more information about Family Day: 
www.beallcenter@uci.edu
or (949) 824-6206. The Beall Center received its initial support from the Rockwell Corporation in honor of retired chairman Don Beall and his wife, Joan, the core idea being to merge their lifelong passions – technology, business and the arts – in one place.  Today major support is generously provided by the Beall Family Foundation. The Beall Center's 2014-15 exhibitions are supported by the Andy Warhol Foundation for the Visual Arts, The Beall Family Foundation, and VIZIO.
Beall Center for Art + Technology