Beall Center's Free Family Day Saturday, April 18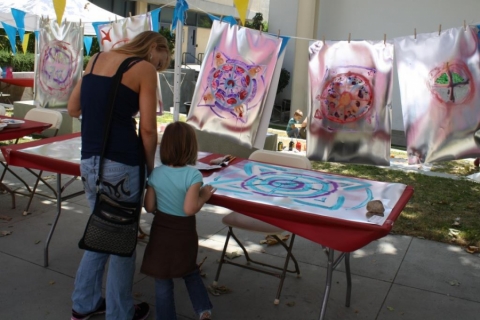 UC IRVINE'S CLAIRE TREVOR SCHOOL OF THE ARTS PRESENTS BEALL CENTER'S FREE FAMILY DAY ON SAT., APRIL 18, 11 A.M. TO 4 P.M.
IRVINE, Calif. (April 7, 2015) - T
he Beall Center for Art + Technology at UC Irvine's Claire Trevor School of the Arts will have its free Family Day on Sat., April 18 from 11:00 a.m. to 4:00 p.m. around the Arts Plaza of the Claire Trevor School of the Arts at UC Irvine. Children and adults of all ages enjoy hands-on art and technology projects and experience an introduction to new media art relating to the Beall Center's many ongoing exhibitions and initiatives. Scheduled Activities Include:
Beall Center Exhibition "Play: In Three Acts" highlighting three interactive works by Nina Waisman, Joe McKay and David Rokeby.
Optricks & Optobotics: Discover light and its "magical" properties from the Optics Institute of SoCal and the UC Irvine Photonics Society.  OSSC.org / OISC.net.  Presentation at 12pm & 1pm in Winifred Smith Hall.
Paper Rocket Make & Launch: Color, cut-out and build paper rockets then launch them with air powered launcher. Provided by OC Mini Maker Faire.com.
Savoy Academy: Participants will use "recipe cards" to experience programming using Scratch or Python. savoyacademy.com.
CTSA Summer Academies: Celebrate UCI and make a UCI origami LED light, while you learn about middle and high school summer programs in Art, Dance, Drama, Music and Robotics. Outreach.arts.uci.edu/summer-academies.
ANTXplore: Demonstrations and displays on the interactions between art, nature, and technology around ants and science.  ANTxplore.com.
Steam Powered Education: Build a plexiglass kaleidoscopes using assorted materials provided by STEAM.poweredEducation.com.
Inspire Charter Schools: Families will be supplied with items and guidance to create a bug with glowing LED lights for eyes. Online Independent Study for K-12th grade. inspireschools.org
Download the Kaleri App: Join a growing vibrant art community, and learn more about exhibitions in and around Orange County.  www.kaleri.com.
Design Model Making & Prototyping: Learn what's happening at the Irvine Valley
College Advanced Technology & Education Park (ATEP).
Plus… More hands-on projects around the Arts Plaza, and food and refreshments available for purchase at the CyberA Café.
Driving and parking instructions:
www.arts.uci.edu/directions. 
For more information about Family Day: 
www.beallcenter@uci.edu
or (949) 824-6206.
The Beall Center received its initial support from the Rockwell Corporation in honor of retired chairman Don Beall and his wife, Joan, the core idea being to merge their lifelong passions – technology, business and the arts – in one place.  Today major support is generously provided by the Beall Family Foundation
. The Beall Center's 2014-15 exhibitions are supported by the Andy Warhol Foundation for the Visual Arts, The Beall Family Foundation, and VIZIO. Reimaging Creativity for the 21st Century. Since its founding in 1965 as one of UC Irvine's original schools, the School of the Arts (renamed for actress Claire Trevor in 2000) has become one of the nation's leading educators in visual and performing arts. Awarded the "Best Arts Organization" in Orange County by the 2014 Coast Community Awards, the School offers undergraduate and graduate degrees in Art, Dance, Drama and Music, a minor in Digital Arts, and one of the few university doctoral programs in Drama.  The Claire Trevor School of the Arts is located at 4000 Mesa Road, Irvine, CA  92617. For more information, please visit us at
www.arts.uci.edu
. For maps, driving directions and parking information go to
www.arts.uci.edu/directions
.