"East meets west" international dance festival presents two performances nov. 5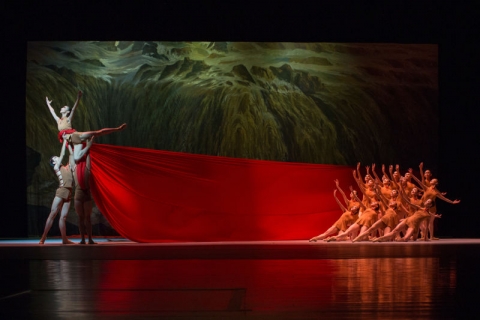 "EAST MEETS WEST" INTERNATIONAL DANCE FESTIVAL PRESENTS TWO PERFORMANCES NOV. 5 AT THE CLAIRE TREVOR THEATRE
Irvine, Calif., October 28, 2016 – Dancers from UC Irvine's Claire Trevor School of the Arts Department of Dance, Beijing Normal University, and Shanghai Normal University will perform a variety of pieces inspired by the traditional dances from both the U.S. and China. This is a unique opportunity for the Orange County community to experience the joyful display of the culture's colorful costumes, music and talent. There will be a matinee and evening performances on Saturday, Nov. 5 at 2:00 p.m. and 7:30 p.m. at the Claire Trevor Theatre on campus.
The event is sponsored by the Claire Trevor School of the Arts at University of California, Irvine, Charlie Zhang, Ruth Ding, Dr. Lin Shao Quan, Ying Foundation, cheer Pan, Ya ya, Huang Dong Ping, Luo Ming, Wu Li and Ma Xiao Yu. 
Performances and Ticket Information
Claire Trevor Theatre, UC Irvine, 4002 Mesa Rd, Irvine, CA 92697
Matinees: November 5 @ 2 p.m.
Evening: November 5 @ 7:30 p.m.
General admission is $20 per person; students and children under 17 are $15 each. Tickets can be purchased through the Claire Trevor School of the Arts Box Office, (949) 824-2787 or email artstix@uci.edu.  Self-parking is located at 4000 Mesa Drive, Irvine 92617. 
About UCI Claire Trevor School of the Arts: As UCI's creative laboratory, the Claire Trevor School of the Arts explores and presents the arts as the essence of human experience and expression, through art forms ranging from the most traditional to the radically new. The international faculty works across a wide variety of disciplines, partnering with others across the campus.  National-ranked programs in art, dance, drama, and music begin with training but end in original invention. Students come to UCI to learn to be citizen-artists, to sharpen their skills and talents, and to become the molders and leaders of world culture. For more information, visit www.arts.uci.edu.
About the University of California, Irvine: Founded in 1965, UCI is the youngest member of the prestigious Association of American Universities. The campus has produced three Nobel laureates and is known for its academic achievement, premier research, innovation and anteater mascot. Led by Chancellor Howard Gillman, UCI has more than 30,000 students and offers 192 degree programs. It's located in one of the world's safest and most economically vibrant communities and is Orange County's second-largest employer, contributing $5 billion annually to the local economy. For more on UCI, visit www.uci.edu.