Indeed It's Our Town
South Coast Repertory continues to foster a professional pipeline to retain local talent from UCI
By Matt Coker
When David Ivers, the artistic director of South Coast Repertory (SCR), approached Beth Lopes about directing a rival of Thornton Wilder's classic play Our Town in December 2019, she jumped at the opportunity.
Unfortunately, the Tony Award-winning theater space in Costa Mesa was forced to cancel several of the production dates due to COVID-19.
"All during the pandemic, I couldn't stop thinking about it, because it's truly a play that is ultimately about connection and about appreciating the present moment," said Lopes, a veteran SCR director who received her M.F.A. at UCI in 2011. "Those things felt so much more potent after the last several years that we've lived through."
So, when Ivers, who is on a mission to nurture talent in SCR's backyard that includes nearby UCI, informed Lopes that Our Town was on the 2021-22 season schedule, and that he still wanted her to direct it, she enthusiastically re-jumped in.
"I was so relieved and grateful to work on his play," she said, "because it felt like the play that we all needed to hear and work on and see right now."
The two-season delay was a blessing in the sense that Our Town was ultimately staged locally as part of a nationwide celebration of Wilder's birth 125 years ago. The Pulitzer Prize-winner opened May 13 to critical acclaim (as you will read below), and it nearly made it to the scheduled June 4 closing date before cast and crew absences from COVID's reemergence nixed the final four performances.
Before the final curtain fell, the successful Mainstage production had featured so many connections to Claire Trevor School of the Arts (CTSA) that you half expected a wag to change the title to Our Campus.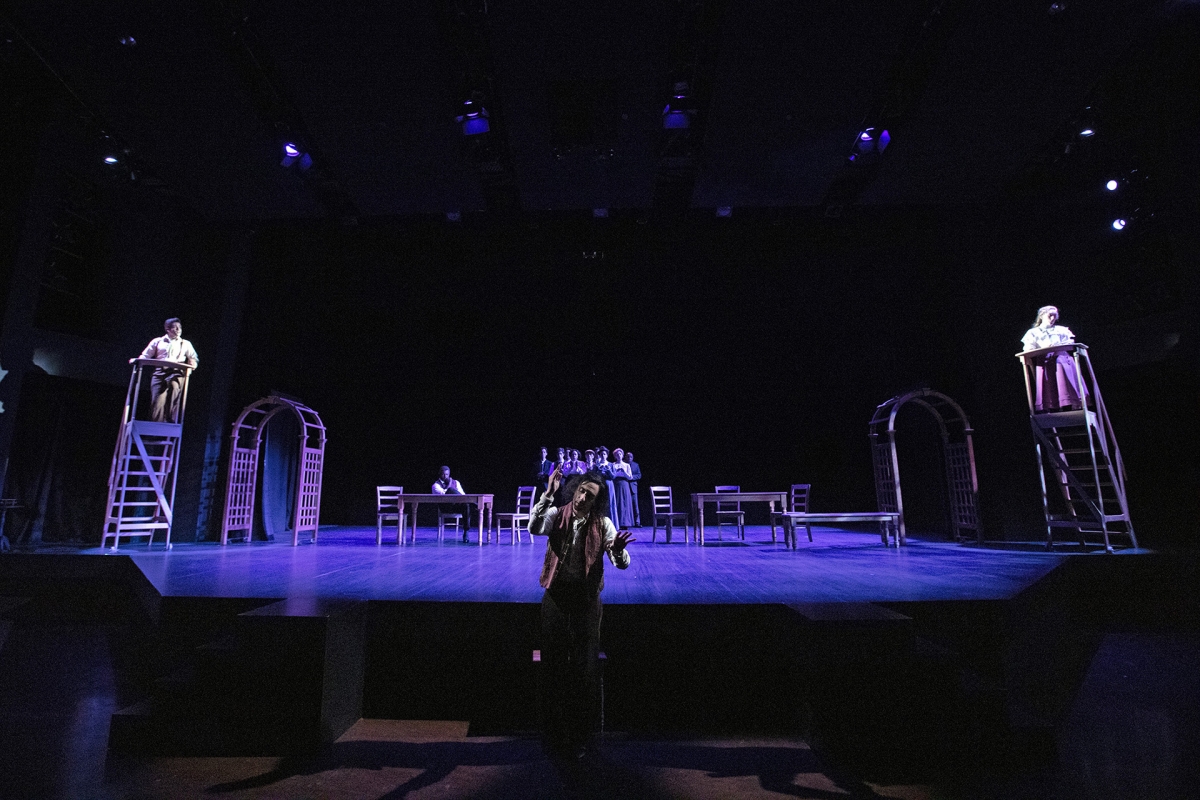 Image: South Coast Repertory's 202​2 production of
​​Our Town
 by ​Thornton Wilder. (Photo by ​​Matt Gush/SCR.)
Hometown Connections
Our Town begins on May 7 – which was the day of the SCR play's first preview – only it is 1901 instead of 2022 and the setting is Grover's Corners, New Hampshire, rather than Orange County's South Coast Metro area. Audiences saw teenagers George Gibbs (played by Evan Lugo) and Emily Webb (Grace Morrison) go from friends to dating couple to husband and wife — while they, their families, and other townspeople came to terms with the meaning of their lives. The narrator was the stage manager of the play within a play, portrayed by SCR founding actor Hal Landon Jr.
Michael Quintos picked up on the relevancy of the Our Town plot to what's happening today in his Broadway World review of SCR's "superb new production" with "a terrific ensemble cast and high-caliber production values."
"This kind of deep inward contemplation feels awfully familiar as I took in Our Town with fresh eyes," he writes. "During the start of the pandemic (that is sadly still ongoing), many of us — locked indoors to quarantine by ourselves — were given a lengthy stretch of time to stew in our own thoughts and feelings, and to re-examine what's important. Alone and isolated from others, this forced solitude gave way to epiphanies and other personal realizations about our lives thus far."
In his Newport Beach Independent review, Eric Marchese called the production "the quintessential South Coast Repertory show" and singled out Lopes – who for a decade has been associate art director of the New Swan Shakespeare Festival – for praise.
"Director Beth Lopes delivers a Grover's Corners that's endearing without syrupy over-sentiment, yet also not too prosaic or gritty, its fanciful bits of idealized whimsy expertly meshed with some hard truths about life," Marchese writes.
In his review for Stage and Cinema, Mark Wheeler delivered hosannas to Lugo and Morrison, who like Lopes are connected to CTSA. Morrison earned her M.F.A. in drama at UCI in 2016 and performed in several New Swan productions, including many directed by Lopes. Lugo, who will earn his M.F.A. in drama in June, is part of New Swan's cast this summer.
"Even with their smartphones in their pockets, the kids in the audience had no problem relating to characters from over a century ago," Wheeler writes. "And while, at first, I thought Morrison and Lugo seemed slightly old for their roles, they quickly lost themselves in them, winning me over in the process. Morrison, as Emily, in the flurry of young love, alternates between headstrong and second-guessing. Meanwhile, Lugo's George is eyes-aflutter and smitten. They're adorable together, and easy to cheer on."
Both actors made their SCR – and, for Lugo, his professional theater – debut with Our Town. Lopes last directed Morrison as Kate in the 2017 New Swan production of Taming of the Shrew. Lugo said Lopes told him that they were supposed to work together in a New Swan production of Julius Caesar that was also cancelled due to the pandemic.
"I've seen some of his work, but I had actually never worked with him before," said Lopes. "And he just knocked it out of the park at his audition and the callbacks. He embraced the work so beautifully that we decided to have him even though he hasn't graduated. I am so grateful to everyone at UCI for making that happen for us and for him."
Anteaters Galore
The director shared, "I love working with people from UCI. The whole Our Town design team was UCI as well. Funny enough, I am a longtime collaborator with costume designer Katie Wilson (M.F.A. in costume design, '06) and lighting designer Karyn Lawrence (B.A., '07 and M.F.A., '12). We've worked on together a bunch of New Swan productions, among other places."
Lopes continued, "Our Town's set designer was Efren Delgadillo Jr. (B.F.A. in studio arts, '00), who is the new head of scenic design at UCI. He was my art director mentor on She Kills Monsters, which I directed at UCI (in December 2020). I really liked what he had to say. I didn't know our sound designer John Nobori before Our Town. We hired him and then I found out that he was also an Anteater (B.A. in drama, '05)."
She said more Anteaters joined the SCR production due to the COVID-19 absences. No matter how many UCI students, grads, and faculty members were on stage or in the wings, Lopes said playing in front of a hometown crowd, with hometown cast and crew members, did not add any pressure for her – if anything, quite the opposite.
"I would say as far as the hometown element goes, that offered me more support," she said. "I think that everyone at UCI was so supportive, and a lot of them are faculty members who were not part of Our Town. I received an email from [CTSA Professor of Drama and Head of Directing] Keith Fowler, who was the head of the directing program when I was there, offering his congratulations."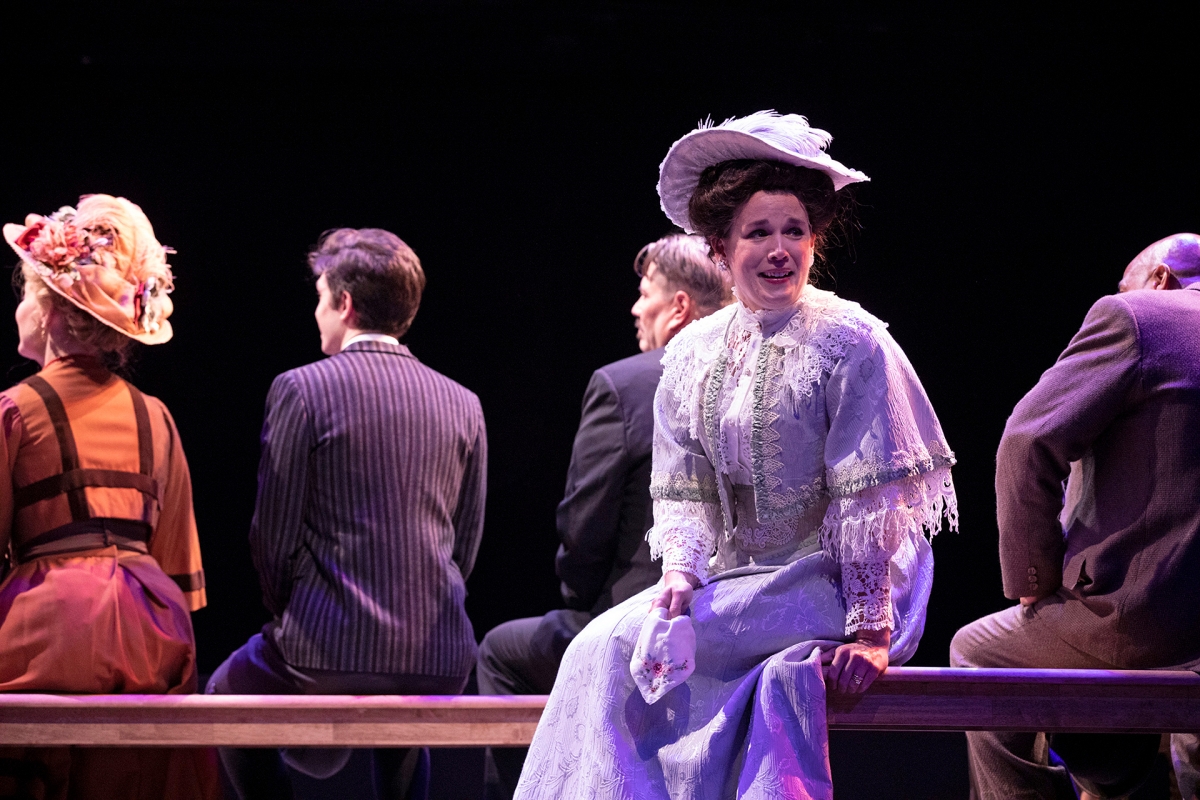 Image: Nicole Erb, M.F.A. '10, in South Coast Repertory's 202​2 production of ​​
Our Town
 by ​Thornton Wilder. (Photo by ​​Matt Gush/SCR.)
First-timer Lugo also appreciated the support, starting with that he received from Lopes, who let him know she would also cast him when she directs this summer's New Swan production of Pericles.
"Oh man, Beth has been incredible," said Lugo. "She is an actor's director. What I mean is, she knows how to talk to actors, because she was an actor herself before. She just knows how to communicate well, be really clear and have specific ideas, but she also lets you have the freedom to explore what works best for you. She finds a nice balance between those two things, which I really appreciate, and I know the cast does as well."
He continues, "She also does a really great job of just bringing her humanity to the work. She really makes everybody feel very supported and very welcomed. And that opens the door to creativity. You know, it's hard sometimes, especially with a show like this where you must be vulnerable. Beth creates an environment where you're able to do your best work. So, it's been such a pleasure working with her, and I'm excited that I get the privilege to work with her again this summer."
One thing many critics noticed was the solid chemistry between Lugo and Morrison, who had not met until they read together at an Our Town callback.
"I would agree that our chemistry was pretty strong onstage," said Lugo. "Grace is incredible. She made my job a lot easier because she is so good. Honestly, the whole cast was pretty incredible."
He appreciated the UCI connections to Our Town and beyond: "Something great that has come out of my program is I've met a lot of really great people. Having that connection to UCI led me to Our Town. Connecting with all these other UCI alums in the show was cool. It just emphasized how small the acting world, especially in theater, is. It is crazy that I just met all these people because it really did feel like such a tightknit little family that we made."
That family included the actors in the roles of Mrs. Soame and Howie Newsome (Nicole Erb and Paul Culos, who each earned an M.F.A. in acting at UCI in '10), as well as Sam Craig (Jo Lopez, who received B.A.s in history and gender & sexuality studies and was part of the TRIO Scholars Program at UCI).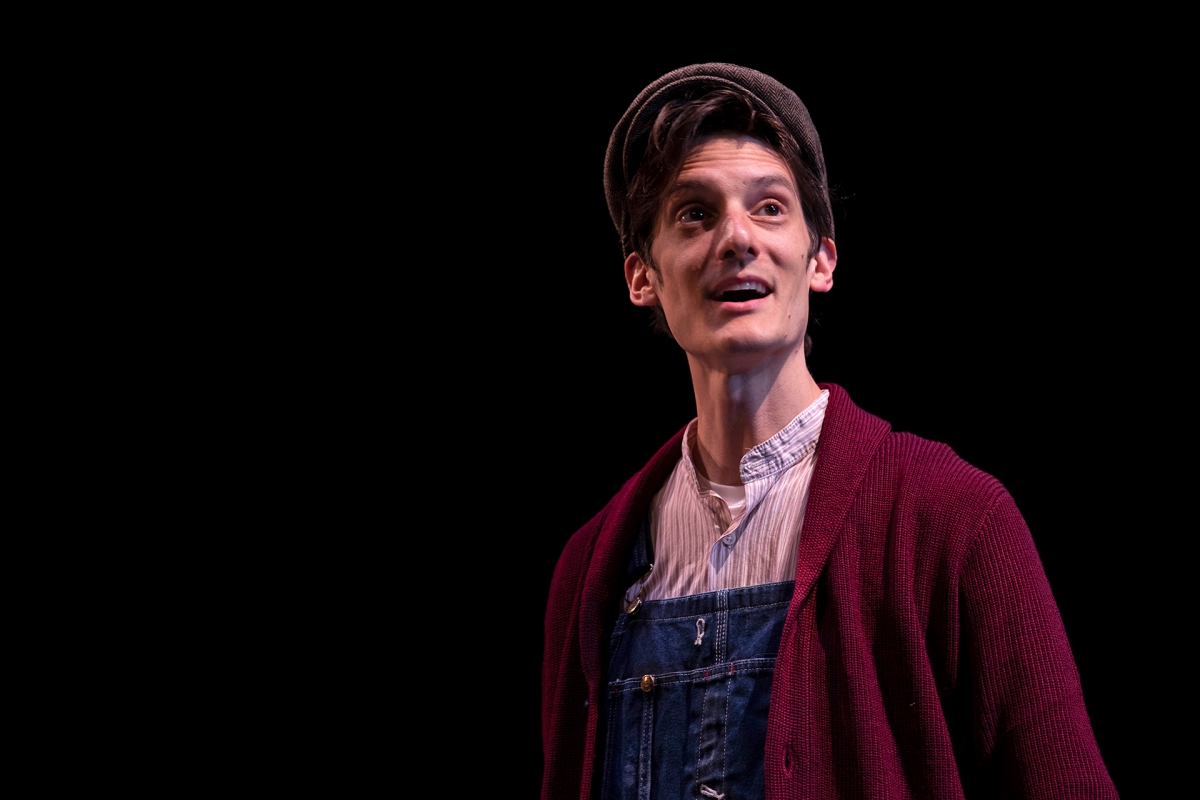 Image:

​Paul Culos, M.F.A. '10, in South Coast Repertory's 202​2 production of ​​
Our Town
 by ​Thornton Wilder. (Photo by ​​Matt Gush/SCR.)
Lugo, who hails from the Detroit metropolitan area, discovered that he, Culos and Elyse Mitro, who played Mrs. Webb, have another connection: Western Michigan University, where they all did their undergraduate studies.
"One of my faculty members at Western, her name's Kate Thomsen," said Lugo. "She also went to Western for her undergrad, but she also went to UCI for her M.F.A. So, I sort of had heard about the program from her. We had other Western alums that went straight to UCI; I probably know like five or six people above me who did that. It's kind of like there's a pipeline between Western and UCI."
A pipeline Lopes hopes will continue operating is the one between UCI and SCR.
"We just had so many Anteaters involved that I hope that it keeps going, that that was really just the beginning and that the relationship between the two organizations continues to strengthen and grow."
---
Our Town was staged as part of a nationwide celebration of Thornton Wilder's birth 125 years ago and ran from May 13 until the end of May, when it was closed due to COVID-related issues. To view all upcoming shows at SCR, visit scr.org for tickets or more information.