PSICA Intercollegiate Choral Festival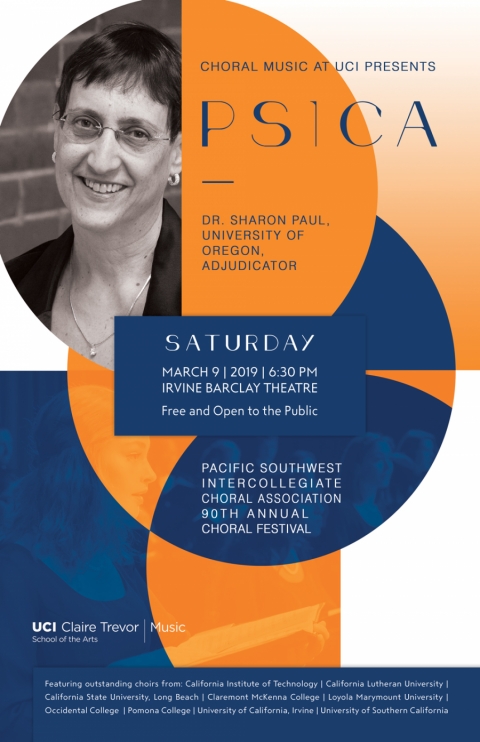 PSICA Intercollegiate Choral Festival
Saturday, March 9, 2019
6:30 pm
Irvine Barclay Theatre
Celebrating its 90th anniversary, the Pacific Southwest Intercollegiate Choral Association holds a festival every year where choirs from all twelve member universities perform for each other and build community. This year's festival features adjudicator and guest conductor Dr. Sharon J. Paul.
About the Adjudicator
Sharon J. Paul holds the Robert M. Trotter Chair of Music at the University of Oregon, where she serves as Director of Choral Activities and Chair of Vocal and Choral Studies. Her teaching includes graduate courses in choral conducting, repertoire, and pedagogy, along with conducting the internationally award-winning Chamber Choir. Dr. Paul has presented interest sessions at regional, state, division, national, and international conferences. She appears frequently as adjudicator, clinician, and honor choir director throughout the United States and abroad, with recent appearances in Minnesota, Colorado, Pennsylvania, Nevada, Utah, Washington, and Singapore, and upcoming engagements in Estonia, Sweden, and New Mexico. In the fall of 2014 she received the University of Oregon's Fund for Faculty Excellence Award. Her upcoming book, Art and Science in the Choral Rehearsal, is scheduled for publication with Oxford University Press.
Free Admission.