Claire Trevor Society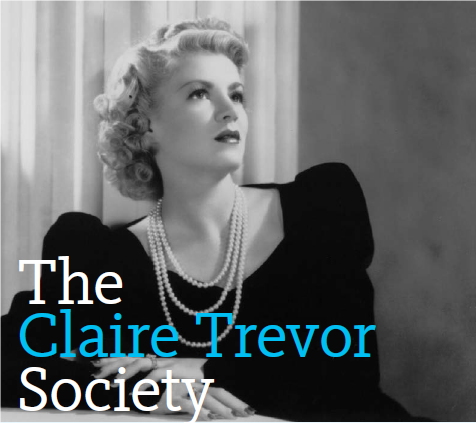 Named after the leading lady of our school, the Claire Trevor Society celebrates current supporters who demonstrate the passion and commitment to the arts, exemplified by Ms. Trevor, by giving $1,500 or more annually to the Claire Trevor School of the Arts (CTSA).
"We felt it was critical to honor Claire Trevor's leadership and generosity in addition to recognizing current donors who carry on the tradition," said Cheryll and Richard Ruszat, founding members of the Claire Trevor Society.
Claire Trevor was a legendary Oscar and Emmy Award-winning actress whose career included work in film, on stage, radio and television. As a passionate advocate for the arts and arts education, it was only natural that she became deeply devoted to the arts at her local Orange County research university, UC Irvine.
Ms. Trevor sat in on rehearsals and interacted with student actors and faculty regularly. She liked getting to know the students and seeing their work. She often spoke of the important role the arts played in her life and believed that using one's imagination to its fullest is necessary to live a happy life. Students and faculty cherished her presence and valued her wise professional advice she generously shared. Ms. Trevor's commitment to the students never wavered.
In 2000, our school became the Claire Trevor School of the Arts when Ms. Trevor's stepsons, Peter and Donald Bren, acknowledged her legacy as an artist and her commitment to future artists and performers with a transformational gift to support three endowed professorships, expanding the arts educational outreach programs, and each department's greatest needs. Ms. Trevor's passion and dedication lives on in the work happening in our classrooms, studios, and stages each and every day.
---
Society Tiers & Courtesies

Annual gifts to the Claire Trevor School of the Arts (CTSA), at qualified society tiers, will be celebrated by the Claire Trevor Society. Gifts may be designated to the Dean's Excellence Fund, the Dean's Scholarship Fund, to a department, or any area that you are passionate about at CTSA.
Advocate
$1,500 - $2,499
Invitation to 4 signature Society events a year
A Society lapel pin
Spotlight in the Society E-Newsletter
Recognition on Society website
Advance electronic distribution of season brochure
Listing in Annual Honor Roll
The Society annual impact report
Priority seating for tickets and subscriptions*
* Subject to availability
Fellow
$2,500 - $4,999
Fellow Society members receive all of the benefits of the previous tier
Early exhibition viewings
Opportunity to audit a lecture/workshop
Group behind-the-scenes tour of a department/program/gallery
Signed publication or program selected by the Dean
Benefactor
$5,000 – $9,999
Benefactor Society members receive all of the benefits of the previous tiers
Profile in a school publication
Volunteer leadership opportunities
Private insiders tour of a department/program/gallery
Patron
$10,000 - $24,999
Patron Society members receive all of the benefits of the previous tiers
Concierge service for the Arts & UCI campus
Acknowledgment from the stage/podium
Selected invitations to Dean's Advisory Council events
Selected invitations to high-level UCI events
Investor
$25,000+
Investor Society members receive all of the benefits the previous tiers
Personalized impact report & annual giving summary
Interactive immersive arts production experience
Exclusive guest of Dean at a cultural event
Opportunity to host a private performance or show
Questions? Call (949) 824-8750 or email artsinfo@uci.edu
Society Courtesies are subject to change at any time at the sole discretion of the UCI Claire Trevor School of the Arts.
More Information
About CTSA
Giving