The Black Virtuoso Tradition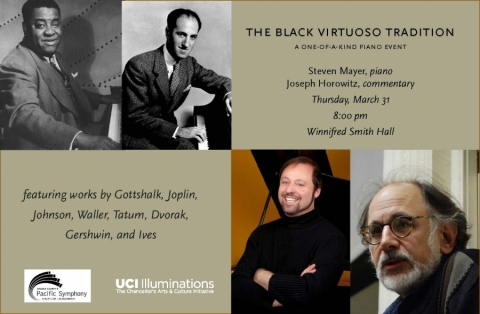 The Black Virtuoso Tradition
A one-of-a-kind piano event
Sponsored by ILLUMINATIONS
Steven Mayer, piano
Joseph Horowitz, commentary
featuring works by Gottshalk, Joplin, Johnson, Waller, Tatum, Dvorak, Gershwin, and Ives
Thursday, March 31, 2016
8:00 pm
Winifred Smith Hall
STEVEN MAYER
"Piano playing at its most awesome" -- The New York Times
With commentary by
JOSEPH HOROWITZ
"A force in classical music today, a prophet and an agitator" -- The New York Times
Program features virtuoso piano works by ART TATUM, SCOTT JOPLIN, FATS WALLER, GEORGE GERSHWIN — and others galvanized by the music of Black America.

This concert is part of an Ives/Gershwin festival produced by the Pacific Symphony Orchestra with funding from the National Endowment for the Humanities.
Steven Mayer will perform Ives's "Concord" Sonata, with readings by Ives, Emerson, and Thoreau, at 2 pm on Sunday, April 3, at the Musco Center for the Arts, Chapman University.
Free and open to the public. Parking at Mesa Parking Structure.
Event information: Julia Lupton, jrlupton@uci.edu