Lecture-Recital by David Kim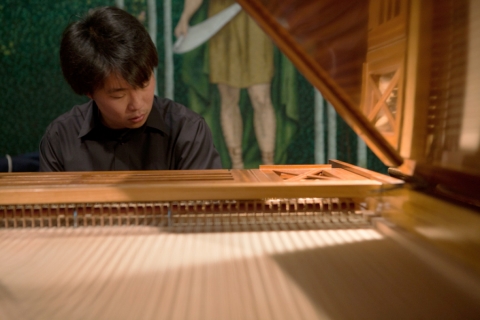 Lecture-Recital by David Kim
Friday, November 6, 2015
1:30 pm - 2:50 pm
Winifred Smith Hall
Pianist David Hyun-su Kim will perform Robert Schumann's Carnaval (1835) on a mid-19th-century Viennese piano, and lecture on how older instruments can afford different, occasionally inspiring insights into musical process.
Hailed by Malcolm Bilson as a musician "who will doubtless make an important contribution to the musical life of this country," David Hyun-su Kim holds degrees from Harvard, Yale, and Cornell Universities, and a doctorate from the New England Conservatory of Music in Boston. He is currently a Professor of Music at Whitman College, where he teaches piano, theory, and performance studies. 
He will be performing a fortepiano built by R. J. Regier. The instrument is modeled after several fortepianos by Conrad Graf from c. 1830, and one of the earliest instruments built with a Bösendorfer label (c. 1828).
Free admission.  Open to the public.
Learn more about David Kim at davidkimpiano.com
Dates:
November 6, 2015 - 1:30 pm