UCI Reunion - Claire Trevor School of the Arts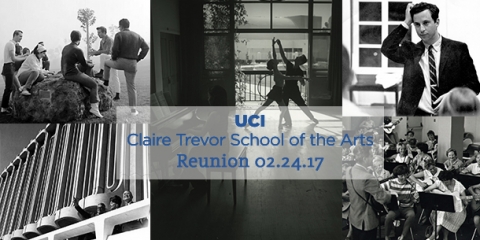 UCI Reunion
Homecoming Weekend 2017
February 24, 2017
9:00 am - 5:00 pm
 
Schedule of Events for Claire Trevor School of the Arts
2:30 pm, Student Center
"Dean's Showcase"
TED style showcase featuring three university Deans and a performance from the Claire Trevor School of the Arts BFA in Music Theatre Singers.
4:00 pm and 5:00 pm Panels, Student Center
"Frontiers of Creativity"
As we move into the 21st century, we must continue to explore the evolving nature of creativity—and its relation, both to art and to everyday life.  The panel explores aspects of both traditional and emergent creative forms, and their rich dialogue with culture and society.
CTSA Panel Members:
Stephen Barker, Dean Claire Trevor School of the Arts, "Creativity vs. Innovation"
Vincent Olivieri, Associate Dean for Graduate Affairs & Associate Professor of Drama, "Art & Design"
Kelli Sharp, Associate Professor of Dance Science, "Dance & Science"
John Crawford, Associate Dean for Research Creation & Professor of Dance, "New Media in the Arts"
Jesse Jackson, Assistant Professor of Art, "New Design Technologies"
Gary Busby, Chair of the Department of Drama & Associate Professor, "Musical Performance"
Classroom Sessions
Department of Art:
2:00 pm - 3:30 pm
Art 260 (Arts Campus)
Basic Concepts and Techniques for Drawing the Human Figure
Mara Lonner, Lecturer of Art, Drawing, Painting, 3D Design
Workshop Description:
Drawing ourselves has been an important human activity for millennia. Representing the human form has been used for communication, ritual, metaphor and for simply the fun of capturing our likeness. Drawn images not only give us insight into the past, but they create an important bridge between then and now. Imagine pressing the palm of your hand against the rough surface of a cave, covering the image of a hand stenciled on that very rock thousands of years ago: our contemporary flesh merging with the spirit of that ancient hand. One reason that drawing the human form has persisted is the wonderful creative flow resulting from the interplay of perception and physical contact with materials.
You are invited to participate in the first 90 minutes of my winter quarter course in Advanced Figure Drawing. You will be provided materials and instruction on observing and drawing a live (clothed) model. No previous drawing experience is necessary. 
Department of Drama:
9:00 am – 11:50 am
PSTU 1110 (Studio 5)
Music Theatre Audition Techniques Class
Gary Busby, Department of Drama Chair, Associate Professor
Department of Dance:
Observation of the following Dance Technique classes
Dance Studio PSTU 1110
8:00 – 9:50 am: Modern III
10:00 – 11:50 am: Modern/Contemporary Dance
Guest Artist Jonathan Ashbury (Lar Lubovitch Company Member)
12:00– 1:50 pm: Ballet IV/V
Tong Wang, Assistant Professor of Dance, Ballet, Men's Ballet, Partnering
Guests who attend are welcome to 4 complimentary tickets to the "Dance Visions 2017" Faculty Concert in the Irvine Barclay Theatre.
Department of Music:
1:00 pm – 1:50 pm
Music & Media Building - Room 316
"The Theory of Everything, Musically Speaking"
Amy Bauer, Associate Professor, Music Theory
1:30 pm
Music Collaboration Laboratory, Room 190 Arts Instruction Technology Resource Center
An introduction to the capabilities of the new Music Collaboration Laboratory
Christopher Dobrian, Professor of Music
2:00 pm
The Gassmann Electronic Music Series
Surround Sound in Modern Cinema: Screening of Gravity in 7.1 surround with introduction by Professor Vincent Olivieri
Join the Department of Music for a lecture on surround sound by sound design professor Vincent Olivieri, and a screening of the 2013 film Gravity, starring Sandra Bullock and George Clooney, directed by Alfonso Cuarón, with multichannel music composed by Steven Price.
Christopher Dobrian, Professor of Music and Vincent Olivieri, Professor /Associate Dean for Graduate Affairs
Dean's Reception
4:00 pm
Contemporary Arts Center Lobby
Join Dr. Stephen Barker, Dean of the Claire Trevor School of the Arts for a "Meet the Dean" reception. Light refreshments will be served.
Dates:
February 24, 2017 (All day)