M. Lamar: Lordship and Bondage: The Birth of the Negro Superman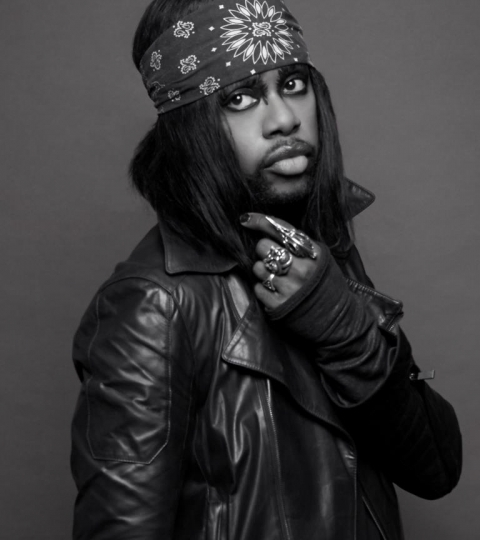 M. Lamar: Lordship and Bondage: The Birth of the Negro Superman
Thursday, March 2, 2017
7pm
Winifred Smith Hall
Free Admission
With a libretto that draws from G.W.F Hegel's "Lordship and Bondage" from Phenomenology of the Spirit, Friedrich Nietzsche's "Übermensch" from Thus Spoke Zarathustra, and Sun Ra's interviews and writings on discipline and freedom, this piece engages African Americans' experiences of enslaved and liberated consciousness. It is a melodramatic epic solo expressing and enacting a becoming of Black mind, body, and soul beyond the violence of both slavery and liberty.
M. Lamar is a composer who works across opera, metal, performance, video, sculpture and installation to craft sprawling narratives of radical becomings. Born May 29th 1984, Lamar holds a BFA from The San Francisco Art Institute and attended the Yale School of Art, sculpture program, before dropping out to pursue music. Lamar's work has been presented internationally, most recently at National Sawdust New York, The Kitchen New York, MoMa PS1's Greater New York, Merkin Hall, New York, Issue Project Room New York, The Walter and McBean Galleries, San Francisco; Human resources, Los Angeles;Wesleyan University; Participant Inc., New York; New Museum, New York; Södra Teatern, Stockholm; Warehouse9, Copenhagen; WWDIS Fest, Gothenburg and Stockholm; The International Theater Festival, Donzdorf, Germany; Cathedral of Saint John the Divine, New York; Performance Space 122, New York; and African American Art & Culture Complex, San Francisco; among others. Mr. Lamar continues to study classical and bel canto technique with Ira Siff, and is a recipient of a 2016 Jerome Fund Grant for New Music (JFund), a 2016 NYFA Fellowship in Music and Sound and grants from Material Vodka 2016, the Rema Hort Mann Foundation (2015), Harpo Foundation (2014-2015), and Franklin Furnace Fund (2013–14).
Sponsored by Illuminations and Campus Climate Council, with additional support from Postmodern Culture and Departments of Music, Comparative Literature, Anthropology, Gender and Sexuality Studies, Asian American Studies, History, Spanish and Portuguese, English, East Asian Languages and Literatures, and the Graduate Program in Culture and Theory.