Free John Cage & Fluxus Performances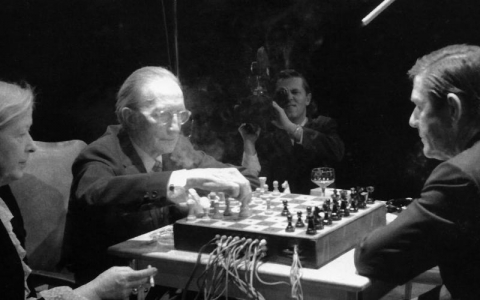 Free John Cage & Fluxus Performances
Thursday, February 15, 2018
7:00 p.m.
xMPL (Experimental Media Performance Lab)
Contemporary Arts Center
The Beall Center for Art + Technology, UCI Department of Art, and Integrated Composition, Improvisation, and Technology program invite you to a dynamic evening of live John Cage and Fluxus performances. Scores from John Cage's 1970s "Song Books," and a re-staging of his famed 1968 performance, "Reunion" will be performed by UC Irvine students, as well as assorted scores by Fluxus artists.
In his seminal course at the New School for Social Research, Cage taught young artists how to write event scores using chance operations, found sound, and everyday objects to produce live performances. To define this idea, John Cage coined the term "indeterminancy" during a series of lectures he gave in 1956, in which he outlined how indeterminacy played a role in performances since the era of Bach. His description was, "a performance of a composition which is indeterminate of its performance is necessarily unique. It cannot be repeated. When performed for a second time, the outcome is other than it was. Nothing therefore is accomplished by such a performance, since that performance cannot be grasped as an object in time." This event will include live performances that underline his revolutionary concept.
This event is now "SOLD OUT!" If you would like to join the Wait List - you may do so using the link below. Alternatively, there will be a stand-by line starting at 6:30pm on the night of the event - priority entry will be given to those registered on the Wait List. Thank you!!
We would like to thank the The John Cage Trust (Red Hook, NY), and the Beall Family Foundation for their generous support of this performance and related exhibition, "Drawn from a Score," which is open to the public at the Beall Center for Art + Technology through February 25, 2018. Center hours are Monday - Saturday, 12-6pm. Admission to the exhibition is also free.
Dates:
February 15, 2018 - 7:00 pm