Beall Center for Art + Technology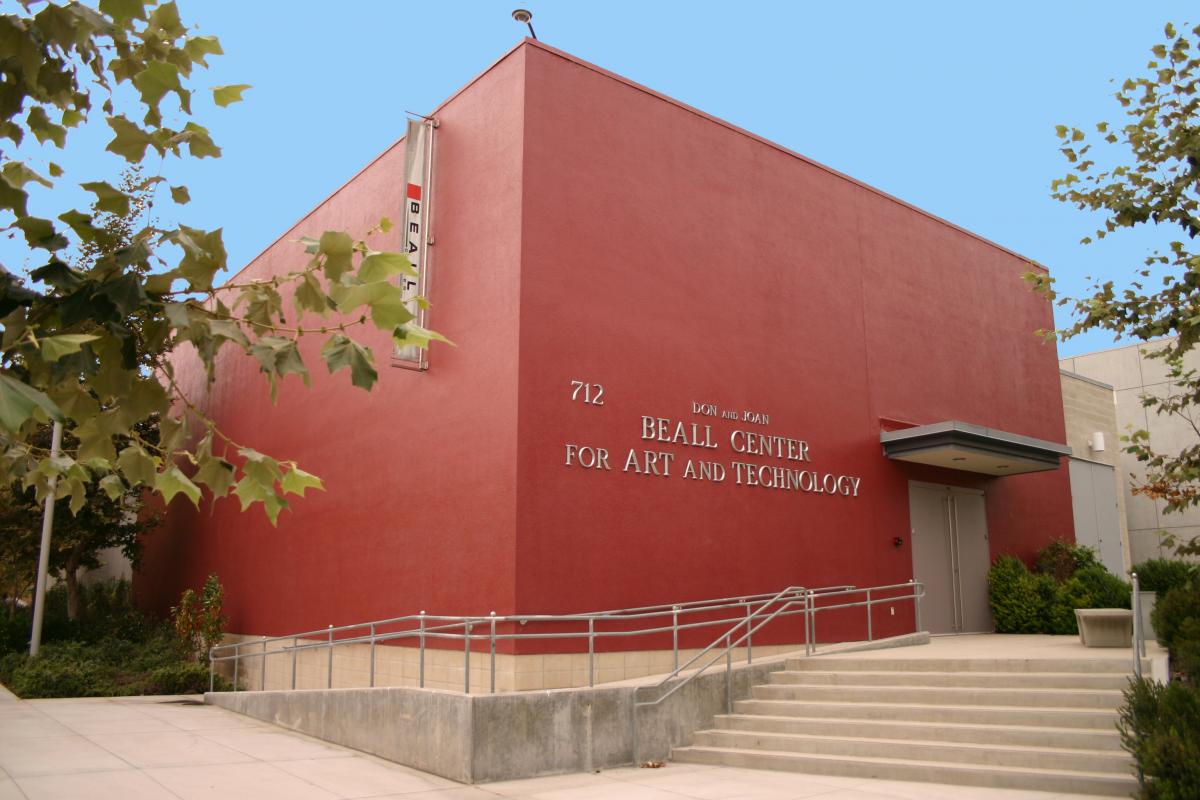 In 1997 when the art world began witnessing emerging innovations that combined art and technology, a group headed by the former dean of UC Irvine's School of the Arts approached the Rockwell Foundation with the proposal to establish a center on campus dedicated to interdisciplinary research and exhibitions in contemporary media arts.

A year later, to honor retiring Chairman Donald R. Beall and his wife, Joan, Rockwell International Corporation approved that proposal and awarded the School a major gift to support the founding and infrastructure of the Donald R. and Joan F. Beall Center for Art + Technology.

The Center was physically located within the School of the Arts campus and its intent was to promote interdisciplinary collaborations between the University's arts, engineering, sciences and business programs – all of which contribute to the development and applications of multimedia.

When completed, the Beall Center became the only exhibition center within the UC system to solely focus on contemporary new media arts and the only space of its kind in Southern California.

Contemporary media art is a genre that encompasses artworks created with emerging media technologies, including, but not limited to, digital art, computer graphics, computer animation, virtual art, Internet art, interactive art technologies, computer robotics, science, and art as biotechnology.

While media art may appear to be a new art form rising from the burgeoning computer age of the 1980s and 1990s, its roots can be traced as far back as 180 AD with the creation of an elementary zoetrope thought to have originated in China or the more often referenced 1800's zoetrope that used moving photographic images both as a study in physics and as a visual art form.

Leaping forward, the 1960s saw the beginnings of experimental video art developments by Nam June Paik and multimedia and experimental performances by Fluxus. The 1980s experienced real-time computer graphics and the emergence of the video game, followed by the computer and Internet explosion of the 1990s.

The Beall Center's inaugural exhibition opened in the fall of 2000 with SHIFT_CTRL: Computers, Games and Art, a groundbreaking exhibit that examined games, gaming, and related new technologies.

Since its opening, the Beall Center has showcased professional exhibits, undergraduate and graduate exhibits, youth and outreach events, and has represented artists, researchers and students of higher education practicing in various genres of contemporary media arts.

In the fall of 2009 the Beall Center received important works by world renowned and pioneering video artist Nam June Paik (1932-2006) on loan from a private collector and the Santa Barbara Museum of Art. Media Alchemy showcased Nam June Paik's later works in an inviting intimate setting.

When stripped down, the Beall Center is a big black box of approximately 2500 sq. ft. and consists of grids for lights, electricity, and provides online connectivity – the tools and materials necessary for media art exhibits.

Art at the Beall Center is experimental in nature. Most galleries and museums do not have the infrastructure, technological know-how and/or the time to trouble shoot technological problems that sometimes occur in exhibiting these types of media art. Luckily the Beall Center was built as a technology-based art center and the infrastructure is in place to allow for trouble-shooting and immediate repairs.

Thanks to its continued uniqueness, the Beall is as important today as it was when it opened years ago.

While the Beall Center received its initial support from the Rockwell Corporation in honor of retired chairman Don Beall and his wife, Joan, it is with much gratitude that major support today is generously provided by the Beall Family Foundation.
For more information about the Beall Center for Art + Technology, visit the website: click here

Christa Sommerer & Laurent Mignonneau
Curated by by David Familian
 
February 9 – May 25, 2019
See below for holiday closures
Beall Center for Art + Technology
Opening Reception: Saturday, February 9, 2– 5 p.m.
The Beall Center for Art + Technology is proud to present a retrospective of work by intermedia collaborators Christa Sommerer and Laurent Mignonneau. The first of its kind in the United States, this exhibition will feature a selection of works from 1992-2018; a curated survey that highlights their joint practice of nearly thirty years.
 
With a shared interest in artificial life and intelligence, Sommerer and Mignonneau draw upon their disparate backgrounds to produce deeply engaging and sensory experiences. By wedding Sommerer's background in botany, anthropology, and sculpture with Mignonneau's studies in video and modern art, the duo design interfaces that generate open-ended, embodied encounters with living systems and science. For example, in "Interactive Plant Growing" (1992), the artists employ Erkki Huhtamo's notion of a "tactile gaze" to achieve both visual and physical interactivity with the viewer: a human hand needs to touch the real, living plants in order to trigger a projection of digital flora counterparts in the installation. Similarly, in "Fly Simulator" (2018) and "Neuro Mirror" (2018), the resulting artwork is unique visual feedback that is reliant on user input and activation (i.e. wearing and manipulating a VR headset, or gesturing in front of a video camera), as well as conceptual aspects of human sentience like memory, emotive perception, and creative visualization. Despite the number of years elapsed between the creation of these works, each piece demonstrates the essential quality of engagement that connects the artists' work to the physical world.
 
As their research and art often posits, technology increasingly plays a fascinating and complicated role in the archaeology, imitation, and manipulation of nature – despite the generative qualities they both share. 
 
Christa Sommerer and Laurent Mignonneau completed their PhD degrees from CAiiA-STAR, University of Wales College of Art, Newport (UK) and Kobe University (Japan), respectively. Sommerer and Mignonneau's works have been featured in more than 300 exhibitions, and are included in media museums and collections around the world. They are the recipients of several media arts awards, including the "Golden Nica" Prix Ars Electronica Award for Interactive Art in 1994 (Linz, Austria), the "Ovation Award" of the Interactive Media Festival 1995 (Los Angeles, USA),  the "Multi Media Award '95" of the Multimedia Association Japan, and the 2001 "World Technology Award" in London. They have published numerous research papers on artificial life, interactivity and interface design, and have lectured extensively at international universities and events. They are Professors at the University of Art and Design in Linz, Austria, where they also head the Department for Interface Culture at the Institute for Media.
 
There will be a related event to this exhibition, FREE with registration:
"LASER Talk: ARTificial Life + Intelligence" - February 7, 2019, 5:30-7:30pm, UCI Applied Innovations
This exhibition is possible due to the generosity of the Beall Family Foundation. For more information about public events related to this exhibition, please visit the "Events" page of our website.

712 Arts Plaza | Irvine, CA 92697 | beallcenter.uci.edu
Gallery Hours | Monday - Saturday | 12–6 p.m.
Free admission and docent-led tours, open to the public.
Holiday Closures:
February 18, 2019
March 23-31, 2019
The Beall Center received its initial support from the Rockwell Corporation in honor of retired chairman Don Beall and his wife, Joan, the core idea being to merge their lifelong passions – technology, business and the arts – in one place. Today major support is generously provided by the Beall Family Foundation.
February 9 (All day)

to

May 25 (All day)
,
February 9 - 2:00 pm
View this Event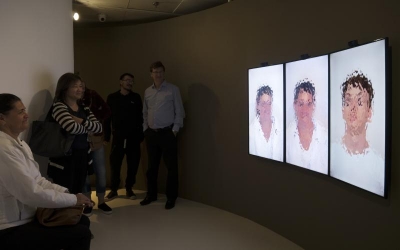 S.T.E.A.M. Summer Camps
June 24 - August 9, 2019
Various Camp options and date ranges
Beall Center for Art + Technology
Unleash the power of S.T.E.A.M. (science, technology, engineering, art, and math) and the Four Cs of 21st Century Learning (critical thinking, communication, collaboration, and creativity) this summer as you work on creative projects at the Beall Center for Art + Technology! Book early, because our sessions often sell out!
Learn more about the Beall Center Summer Academies in the Arts by folowing the link below.

June 24 (All day)

to

August 9 (All day)
View this Event