Beall Center for Art + Technology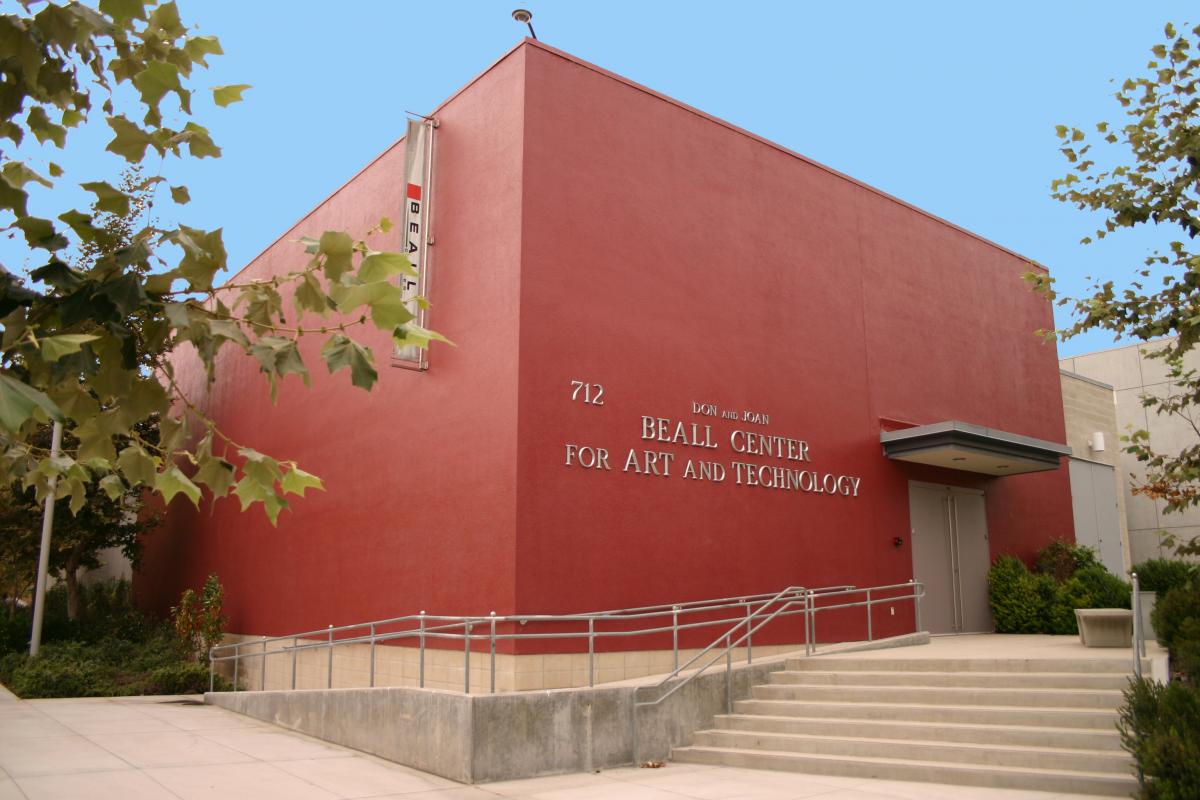 In 1997 when the art world began witnessing emerging innovations that combined art and technology, a group headed by the former dean of UC Irvine's School of the Arts approached the Rockwell Foundation with the proposal to establish a center on campus dedicated to interdisciplinary research and exhibitions in contemporary media arts.

A year later, to honor retiring Chairman Donald R. Beall and his wife, Joan, Rockwell International Corporation approved that proposal and awarded the School a major gift to support the founding and infrastructure of the Donald R. and Joan F. Beall Center for Art + Technology.

The Center was physically located within the School of the Arts campus and its intent was to promote interdisciplinary collaborations between the University's arts, engineering, sciences and business programs – all of which contribute to the development and applications of multimedia.

When completed, the Beall Center became the only exhibition center within the UC system to solely focus on contemporary new media arts and the only space of its kind in Southern California.

Contemporary media art is a genre that encompasses artworks created with emerging media technologies, including, but not limited to, digital art, computer graphics, computer animation, virtual art, Internet art, interactive art technologies, computer robotics, science, and art as biotechnology.

While media art may appear to be a new art form rising from the burgeoning computer age of the 1980s and 1990s, its roots can be traced as far back as 180 AD with the creation of an elementary zoetrope thought to have originated in China or the more often referenced 1800's zoetrope that used moving photographic images both as a study in physics and as a visual art form.

Leaping forward, the 1960s saw the beginnings of experimental video art developments by Nam June Paik and multimedia and experimental performances by Fluxus. The 1980s experienced real-time computer graphics and the emergence of the video game, followed by the computer and Internet explosion of the 1990s.

The Beall Center's inaugural exhibition opened in the fall of 2000 with SHIFT_CTRL: Computers, Games and Art, a groundbreaking exhibit that examined games, gaming, and related new technologies.

Since its opening, the Beall Center has showcased professional exhibits, undergraduate and graduate exhibits, youth and outreach events, and has represented artists, researchers and students of higher education practicing in various genres of contemporary media arts.

In the fall of 2009 the Beall Center received important works by world renowned and pioneering video artist Nam June Paik (1932-2006) on loan from a private collector and the Santa Barbara Museum of Art. Media Alchemy showcased Nam June Paik's later works in an inviting intimate setting.

When stripped down, the Beall Center is a big black box of approximately 2500 sq. ft. and consists of grids for lights, electricity, and provides online connectivity – the tools and materials necessary for media art exhibits.

Art at the Beall Center is experimental in nature. Most galleries and museums do not have the infrastructure, technological know-how and/or the time to trouble shoot technological problems that sometimes occur in exhibiting these types of media art. Luckily the Beall Center was built as a technology-based art center and the infrastructure is in place to allow for trouble-shooting and immediate repairs.

Thanks to its continued uniqueness, the Beall is as important today as it was when it opened years ago.

While the Beall Center received its initial support from the Rockwell Corporation in honor of retired chairman Don Beall and his wife, Joan, it is with much gratitude that major support today is generously provided by the Beall Family Foundation.
For more information about the Beall Center for Art + Technology, visit the website: click here

Expressive Robotics
Session 1: July 9  - 20, 2018
Session 2: July 30 - August 10, 2018
Camp Hours: 10am - 4pm, Monday - Friday
*No class during the July 4th holiday
Unleash the power of S.T.E.A.M.! Using the combined principles of science, technology, engineering, art, and math, work with a team to build a robotic structure that moves expressively. No prior experience required.
Fee: $899.00
Age: 13-19
Registration Deadline: Saturday, July 7, 2018
MORE INFO:  http://beallcenter.uci.edu/steam-summer-camps
July 9 - 9:00 am

to

July 20 - 4:00 pm
,
April 30 (All day)
,
July 30 (All day)
,
April 27 (All day)
,
August 10 (All day)
View this Event
LASER Talk: Empathy in Machine Learning
NEW DATE
Thursday, October 4, 2018
5:30 – 7:30 p.m.
UCI Applied Innovation
As Machine Learning reaches new heights, how are programmers and developers addressing human-like interfaces, interactions, and decision-making – specifically, when it comes the emulation of empathy? Conversation may include philosophical and ethical topics, in addition to the creative and computational aspects of this growing practice. Speakers will be recruited from the departments of Fine Art, Computer Science/Informatics, and Psychology – in addition to representatives from businesses dealing with Machine Learning.
Free admission; reservation required
Jointly sponsored by UCI Illuminations and the Beall Center for Art + Technology

The Beall Center received its initial support from the Rockwell Corporation in honor of retired chairman Don Beall and his wife, Joan, the core idea being to merge their lifelong passions – technology, business and the arts – in one place. Today major support is generously provided by the Beall Family Foundation.
October 4 (All day)
View this Event