Professor Joe Lewis in Artists' Talk at Sacramento State
Professor Joe Lewis in Artists' Talk at Sacramento State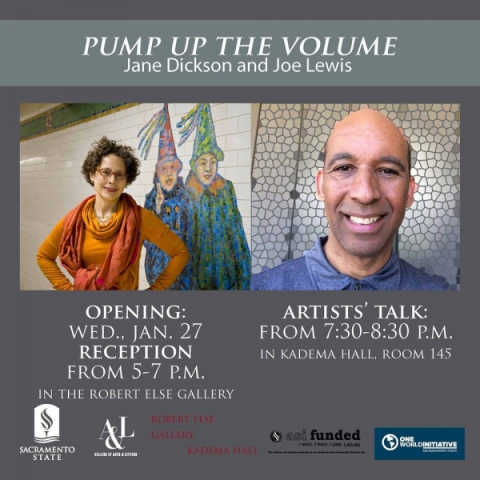 Pump Up the Volume is Jane Dickson and Joe Lewis' celebration of hip hop's ascension into a global movement from its earliest moments that they witnessed in the South Bronx. The exhibition consists of approximately 60+ discrete pieces, including portraits of important genre artists, dating from 1979 - 2015. There is also an audio component overlay of 278 songs (18 hours of music) tracing the history of hip-hop music from the Bronx.
Today, from Soweto to Dallas, Mogadishu to Hong Kong, Cairo to Nome; from La Scala to Remy Martin, Nike to Pepsi, and BMW to the Ballet; wherever you are, Street Art, Hip Hop, Graffiti, and Break Dancing are ubiquitous global currency.
 Who would have believed in the 1970s that The South Bronx was the weed in the crack of the pavement of the Western Aesthetic canon whose growth would shatter the dominance of that cultural narrative? That essentially teenage voices, sights, and movements could shake the very foundations of global art and society? And not just any voices. Black, Brown, Yellow, and yes, a few White voices too. Voices from underserved and unrepresented neighborhoods abandoned by the powerful that rose up to prove that one group's vision could not maintain a stranglehold on the development and implementation of aesthetic criteria.
Jane Dickson arrived in Times Square in 1978 and began working on projects at Fashion Moda in the South Bronx in 1979. She created City Maze there in 1980 with Graffiti artists Crash and Noc and began collaborating with her future husband, Charlie Ahearn on the first hip hop movie "Wild Style" in 1981. Often working on industrial materials, her paintings examine the conventions and disjunctions of contemporary American life, from the crowded theatricality of street life in New York. More than 30 museums including the Metropolitan Museum, the Whitney, MoMA, and the Brooklyn Museum own her work
Lewis's works are reflections of his introduction to hip-hop and street culture. He grew up on B'way during the golden age of the pop music business and subsequently wound up in the South Bronx at Fashion Moda curating and producing art, performance and music. Primarily using text, his focus is on "the Word"; its influence on animate and inanimate ideas, places and things like "revolution." He also considers ways one might get out of the ghetto for good. Sometimes, he muses on the mystical and supernatural meaning of everyday things when taken out of context, like a prep school boys dressing and acting like a "gangsters." Lewis has exhibited widely in the US and abroad. His work is in collections at the Studio Museum in Harlem, Los Angeles County Museum of Art, and Deutsche Bank.