UCI Drama Presents Sweet Smell of Success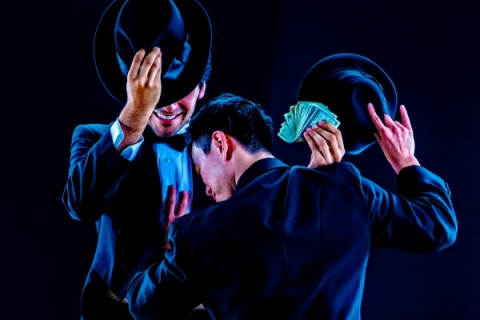 UCI'S PRODUCTION BRINGS TO LIFE THE BIRTH OF THE ORIGINAL TABLOID TALE
THE PUBLIC'S OBSESSION WITH CELEBRITY GOSSIP AND SCANDAL
 
"I usually get my stuff from people who promised somebody else that they would keep it a secret."  - Walter Winchell
IRVINE, Calif. (May 6, 2015) – UC Irvine's Claire Trevor School of the Arts Department of Drama presents Sweet Smell of Success May 30 – June 6, 2015 in the Claire Trevor Theatre.
In Sweet Smell of Success, the influential, unscrupulous JJ Hunsecker and the sleazy, driven press agent Sidney Falco join forces to bring the day's showbiz gossip and celebrities' latest scandals to the hungry public via The New York Globe, syndicated to 50 million readers across America. JJ Hunsecker is based on Walter Winchell, the most vicious, powerful, and highest paid newspaper columnist in the country. Winchell made 'the scoop' important morning news and his public loved him for it.
Featuring Craig Carnelia's acidic lyrics, a tangled, twisted script by John Guare, and the haunting jazz melodies of Marvin Hamlisch in his final musical score for Broadway, Sweet Smell of Success is a corrupt and cruel dispatch from the kill-or-be-killed wilds of 1950s Manhattan. This visually lush UCI Drama production is directed by Professor Myrona Delaney and music directed and conducted by Drama Chair Daniel Gary Busby, and will feature a full orchestra of hand-picked area musicians. This will mark the first time a university on the west coast has mounted this rarely performed work.
While the story and music are imminently accessible, with its gritty themes this is definitely no "fluff" musical. "I consider this a jazz opera," commented Dr. Busby, who is currently in rehearsal for the show. "The dynamic between the three lead characters personifies a thematic mash-up of King Lear, Macbeth, and Romeo and Juliet. In fact, it is an appropriate segue to our summer season at New Swan Shakespeare Festival." This final offering of the 2014 – 15 Drama Season "Love, Lust and Greed" most definitely hits on all aspects of this theme, traveling from humor and romance to tragedy and deception, and back again. The 2002 Broadway production of Sweet Smell of Success was nominated for eleven Drama Desk Awards and seven Tony Awards, including Best Musical. We hope you will join us for this dynamic and exciting musical finale to our Drama Season.
Claire Trevor Theatre
Directed by Myrona DeLaney
Choreographed by Andrew Palermo
Evenings:  May 30, Jun. 4, 5, 6 at 8:00 pm
Evening:  Jun. 3 at 7:30 pm
Matinees:  May 31* at 2:00 pm
* Ticketholders: please join us for a post-performance TalkBack with the creative team and cast.
General $20 / Seniors, Groups 10+, UCI Faculty & Staff $18 / UCI Students & Children under 17 $11
For tickets, call (949) 824-2787 or visit www.arts.uci.edu/tickets
Image by Paul R. Kennedy