Robert deMaine and Kevin Kwan Loucks perform for one night only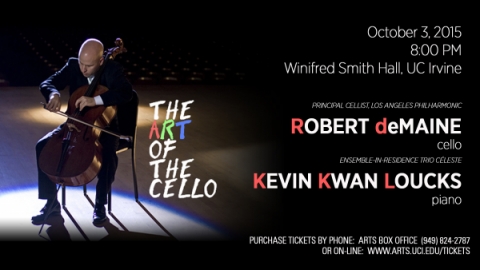 AMERICAN VIRTUOSO CELLIST ROBERT DEMAINE AND TRIO CÉLESTE'S PIANTIST KEVIN KWAN LOUCKS PERFORM FOR ONE NIGHT ONLY
IRVINE, Calif. (September 21, 2015) -- Chamber Music | OC in association with UCI Claire Trevor School of the Arts presents Los Angeles Philharmonic Principal Cellist Robert deMaine and Trio Céleste pianist Kevin Kwan Loucks in a special season-opening duo recital featuring Sergei Rachmaninoff's passionate Sonata for Cello and Piano. The concert will take place on Saturday, October 3, 2015 at 8:00 pm in Winifred Smith Hall on the Claire Trevor School of the Arts campus.
This is the inaugural event for the highly-anticipated third season for Chamber Music | OC. Guest artist, American virtuoso cellist Robert deMaine, is one of the finest and most versatile instrumentalists of his generation. DeMaine has appeared on the stages of Carnegie Hall and Lincoln Center, the Kennedy Center, Teatro Colón, Amsterdam's Concertgebouw, the Berlin Philharmonie, Vienna Konzerthaus, and Moscow's Tchaikovsky Hall, among others, and has performed to critical acclaim as soloist, recitalist, orchestral principal, recording artist, and chamber musician.  In 2012, deMaine was invited to join the Los Angeles Philharmonic as principal cello.
Robert deMaine will be joined by Chamber Music | OC Director and Trio Céleste pianist, Kevin Kwan Loucks.  Trio Céleste, is the Claire Trevor School of the Arts Ensemble-in-Residence and has established itself as one of the most exciting young chamber music ensembles in the country. Loucks has been hailed as "impeccable" (La Presse, Montreal), "a shining talent" (Völser Zeitung, Italy), and a pianist of "exhilarating polish, unity and engagement" (The Orange County Register, California). It will be an exciting evening of music performed by two exceptionally talented artists.
"There are few composers that have produced as many chamber music masterpieces as Schumann, Beethoven, and Rachmaninoff. These three musical giants made crucial contributions to the repertoire of cello and piano, and this soulful program exemplifies the romantic spirit of the genre," stated Kevin Kwan Loucks.  He also added "Robert deMaine is one of the greatest cellists on the planet and to hear him in a concert space as intimate as Winifred Smith Hall is a rare treat for concertgoers and music enthusiasts alike."
Tickets are $15 for general admission, $14 seniors, and $5 for students. Tickets may be purchased through the Arts Box Office by phone at (949) 824-2787 or on the website at www.arts.uci.edu/tickets.
As UCI's creative laboratory, the Claire Trevor School of the Arts explores and presents the arts as the essence of human experience and expression, through art forms ranging from the most traditional to the radically new. The international faculty works across a wide variety of disciplines, partnering with others across the campus.  National-ranked programs in art, dance, drama, and music begin with training but end in original invention. Students come to UCI to learn to be citizen-artists, to sharpen their skills and talents, and to become the molders and leaders of world culture. For more information, please visit www.arts.uci.edu.