New dance outreach program connects underprivileged youth to UC Irvine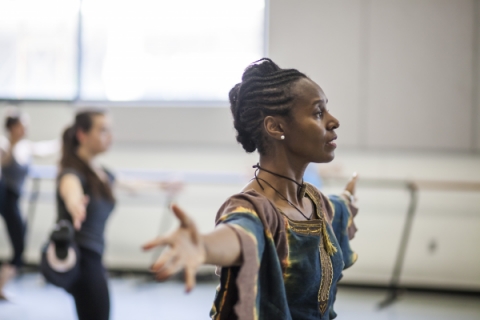 NEW DANCE OUTREACH PROGRAM CONNECTS UNDERPRIVILEGED YOUTH TO UC IRVINE PROVIDING AN ARTISTIC GATEWAY TO HIGHER EDUCATION
IRVINE, Calif. (August 6, 2015) -  Premiering next week is a newly emerged dance outreach program that seeks to establish a bond between underprivileged youth from Orange County and UC Irvine. The program, by the name of "Shining Stars" Summer Dance Program, is dedicated to providing an intimate, non-competitive, and free dance training experience for children ages 5 -12 years old.
Program founders Irishia Hubbard, current UCI undergraduate who is majoring in both Dance Choreography and Education, and Nicole Rivor, recent UCI graduate with a BFA in Dance Performance, created the program to show children the future they can have through the art of dance, and to show them what UC Irvine's dance program can do to get you there.
Hubbard, who currently teaches at several studios around Orange County and at the Boys and Girls Club in Santa Ana, says "I teach so many kids who have the talent and the drive to dance more seriously. But their families don't have the means to provide that for them, and so the idea for this dance program came to me. I want to show that dance can take you to higher education and can be a viable career."
Rivor, who handles the administrative side of the program, says "Since this is the first year of this program's existence, we've hit some bumps in getting it off the ground, but the sheer amount of positive feedback, both from the parents interested in enrolling their children and from the UCI dance community, has fueled us to keep pushing forwards."
With the help of their faculty mentor, Professor of Dance Sheron Wray (Artistic Director of JazzXchange), the two founders have been able to successfully apply and receive funding, create partnerships with outreach organizations, build relationships with OC dance studios, work in tandem with UCI faculty, fundraise through a GoFundMe account, and spread the word of their cause.
"We just cannot wait to see what this program will hold for everyone involved, and that includes the children, the UCI students who are the program's teachers, and all of our wonderful sponsors. We are also planning on making this an annual summer program, so we have big plans for connecting the underprivileged youth from Santa Ana and Fountain Valley to UCI," says Hubbard and Rivor.
The "Shining Stars" Summer Dance Program runs on the UCI campus from August 10th-15th, and while the students will engage in several dance technique classes a day, they will also take part in creative workshops where they will expand their artistic creativity, bond with their fellow dancers, and tour UCI's wonderful dance spaces. The program culminates in a free showcase for the families of the fifty enrolled participants, and at the end, the founders will award four exceptional students with scholarships to attend dance classes at DanceLova, a wonderful studio in Irvine.
To donate to their GoFundMe page, please visit http://www.gofundme.com/zrpbu4.
###
Media Contacts: 
Irishia Hubbard
Artistic Director and Co-Founder
Phone: (707) 290-1507
Email: ihubbard@uci.edu
Nicole Rivor
Administrator and Co-Founder
Phone: (619) 852-7425
Email: nicole.rivor@gmail.com