UCI Digital Filmmaking at the Newport Beach Film Festival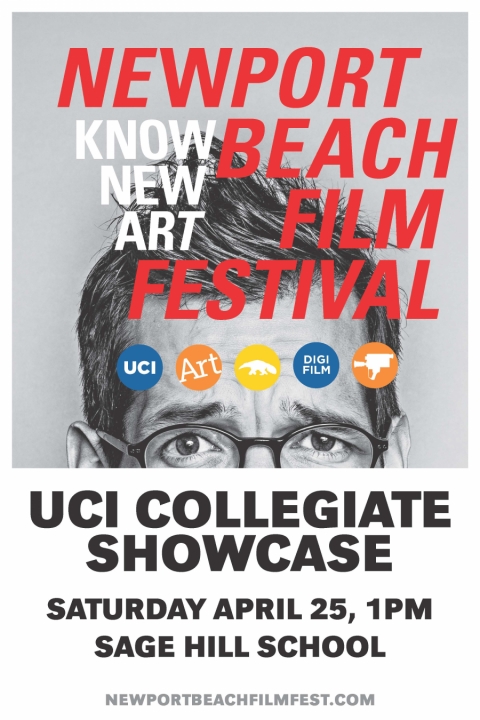 Newport Beach Film Festival
The UCI Collegiate Showcase 
Saturday, April 25, 2015 at 1:00 pm
Sage Hill School:
20402 Newport Coast Drive, Newport Coast, CA 92657
Tickets available at NewportBeachFilmFestival.com
Please join us for the inaugural debut of our UCI Digital Filmmaking program at the 16th Annual Newport Beach Film Festival. We celebrate the launch of fourteen student short films produced in our Digital Filmmaking program.
Digital Filmmaking in the Department of Art is the creative hub for undergraduate and graduate time-based media production. Claire Trevor School of the Arts is UCI's center for innovative, creative engagement in art in all of its facets.
2015 Newport Beach Film Festival Submissions: 
Box Dance by Christine Kim 2013
What they say doesn't matter. What you do does.
Rude Awakening by Anthony Mendez 2014
Life right after college can be bumpy.
De-Bug by Kevin Que 2014
A young man beginning his college career meets an unexpected character that shakes up the foundations of his world.
Untitled (Are You Who You Are) by Svetlana Linetskaya 2013
A raw performance of the pressures placed on young women.
Native Corn In A Time Of Drought by Liz Goetz 2014
Guatemalan farmers defend their corn from the Monsanto Law.
SuckFace by Robert Padilla 2014
A paranoid man can't escape the curious sounds emanating from the toilet stall next door.
Don't Care by Floris-Jan August Zuure 2014
Two doofuses munch on lunch without a care.
Life @ 171 by Usbaldo Castellanos 2014
Take a peek into the lives of 5 college roommates who study each other, test their patience, and fail miserably.
spaced by Adrian Garcia 2014
A man attempts to exist in two places at once, only to find that it is harder than it seems.
Benghazi by Jason Bernstein 2013
A young man is caught in a minefield of patriotism and politics.
Two Points Of Failure by Michael Moshe Dahan 2014
The disappearance of the analogue film medium, heralded by Jean-Luc Godard, is visualized by allowing film to disintegrate in a chemical solution.  
Cursed To Remain by Bryan Jackson 2015
An early German Folk story frames a series of personal failures and lingering embarrassments in this experimental performance film drawn from actor experiences.
Confessions Of Civilized Animals by Tiger Souvannakoumane 2013
A look into the lives of animals, as if they evolved like humans.
Read More About Digital Filmmaking at UCI