Sempre Libera / Always Free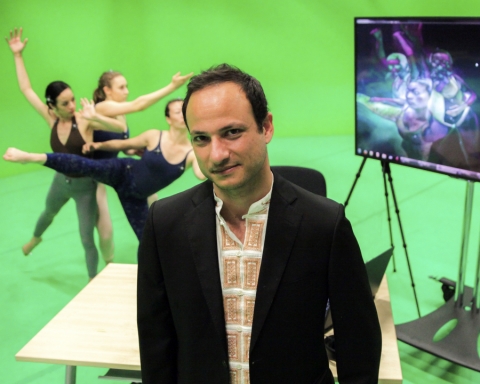 Sempre Libera / Always Free
Telepresence Concert
September 30, 2016
12:00 p.m.
Performance Capture Studio
(Contemporary Arts Center)
The theater of Tor Bella Monaca in Rome and University of Rome Tor Vergata present "Sempre Libera / Always Free", an international concert in telepresence with UC Irvine. Music, dance and video will combine in a unique interplay featuring interactive technologies of next-generation, developed as part of the Musical-Moods project. A round table on the project, with both the universities and the audience, will precede the performance. Special focus will be given to computational creativity and music emotion research.
Sempre Libera / Always Free is the last work of Fabio Paolizzo. The composition draws from La Traviata of Giuseppe Verdi. 
with Moods Ensemble:
Giancarlo Schiaffini
Trombone
Eugenio Colombo
Alto Saxophone
Francesco Lo Cascio
Vibraphone
Alípio C Neto
Tenor Saxophone, Conduction
Fabio Paolizzo
VIVO interactive music system, Composition
In collaboration with:
Lisa Naugle
Choreographer, DTM2 dance ensemble and friends
John Crawford
Active Space intermedia performance system, Video designer and Performer
The event is organized in partnership with the Master in Sonic Arts of the Department of History, Humanities and Society at University of Rome Tor Vergata.
The Musical-Moods project investigates cross-modal machine learning in terms of moods (mental states, emotions). The research is carried out both at the Department of Electronic Engineering of University of Rome Tor Vergata and at the Department of Dance and the Department of Cognitive Sciences of the University of California Irvine. The Musical-Moods project is a Marie Sklodovska-Curie Global Fellowship funded by the European Commission under the Grant Agreement no 659434.
For more information:
www.musicalmoods2020.org
Dates:
September 30, 2016 - 12:00 pm