Random Access Music Universe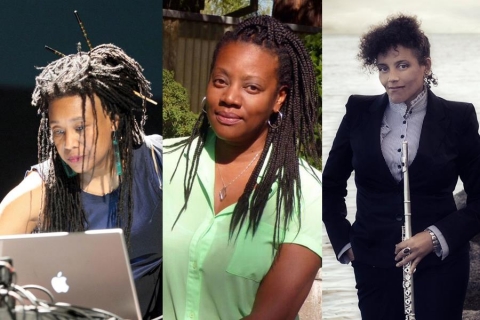 Random Access Music Universe
with Pamela Z, Cauleen Smith and Nicole Mitchell
Friday, May 20, 2016
7:00 pm
Experimental Media Performance Lab (xMPL)
Introduced by Stephen Barker, Interim Dean of the Claire Trevor School of the Arts
Random Access Music Universe is an improvisational collaboration of music and video between Pamela Z, Cauleen Smith and Nicole Mitchell, three artists who explore multidimensionality and new illustrations of beauty through their work.  Random Access Music Universe is a phrase coined by award winning science-fiction author Octavia Butler as she imagined what a manifestation of her own music would be like.
Free admission. Open to the public.
This event is part of:
May 20-21, 2016
Bridging the Arts & Humanities
A 5oth Anniversary Symposium
A 50th Anniversary Academic Symposium sponsored by the Office of the Provost and Executive Vice Chancellor, the School of Humanities, and the Claire Trevor School of the Arts in cooperation with UCI Critical Theory and Illuminations.
ABOUT THE ARTISTS
Pamela Z is a composer/performer and media artist who works primarily with voice, live electronic processing, sampled sound, and video. A pioneer of live digital looping techniques, she processes her voice in real time to create dense, complex sonic layers. Her solo works combine experimental extended vocal techniques, operatic bel canto, found objects, text, and sampled concrète sounds. She uses MAX MSP and Isadora software on a MacBook Pro along with custom MIDI controllers that allow her to manipulate sound and image with physical gestures.  Pamela Z has toured extensively throughout the United States, Europe, and Japan – performing in international festivals including Bang on a Can at Lincoln Center (New York); La Biennale di Venezia (Italy); the Interlink Festival (Japan); Other Minds (San Francisco); and Pina Bausch Tanztheater's 25 Jahre Fest (Wuppertal, Germany).  She has composed, recorded and performed original scores for choreographers and for film/video artists, and has done vocal work for other composers (including Charles Amirkhanian, Vijay Iyer, and Henry Brant).  Her large-scale, multi-media performance works have been presented at venues including the Kitchen in New York, Theater Artaud and ODC Theater in San Francisco, the Museum of Contemporary Art Theatre in Chicago, as well as at theaters in Washington D.C. and Budapest Hungary. She has shown media works in exhibitions at the Whitney Museum of American Art (New York); Erzbischöfliches Diözesanmuseum (Cologne); the Tang Museum (Saratoga Springs NY); the Dakar Biennale (Sénégal); Krannert Art Museum (IL), and the Kitchen n (NY). Ms. Z has had chamber music commissions from Kronos Quartet, the Bang On A Can All Stars; Ethel String Quartet, the California E.A.R. Unit; the Left Coast Chamber Ensemble; the Empyrean Ensemble, and St. Luke's Chamber Orchestra. Her interactive web-based work Baggage Allowance can be viewed at baggageallowance.tv where it is permanently installed.  Pamela Z is the recipient of many honors and awards including the Guggenheim Fellowship, the Doris Duke Artist Impact Award, the Herb Alpert Award in the Arts; the Creative Capital Fund; the MAP Fund, the ASCAP Music Award; an Ars Electronica honorable mention; and the NEA Japan/US Friendship Commission Fellowship.  She holds a music degree from the University of Colorado at Boulder. For more information, about Pamela Z, please visit: www.pamelaz.com

Cauleen Smith is a an interdisciplinary artist  whose work reflects upon the everyday possibilities of the imagination. Though operating in multiple materials and arenas, Smith roots her work firmly within the discourse of mid-twentieth century experimental film. Smith makes things that deploy the tactics of these disciplines while offering a phenomenological experience for spectators and participants. Smith earned a BA in Creative Arts from San Francisco Sate University and an MFA from the University of California, Los Angeles School of Theater Film and Television. She has received grants from Creative Capital, 3Arts, Artadia, and attended residencies at Skowhegan School of Painting and Sculpture and Rauschenberg Residency. She currently lives in Chicago while teaching at the Vermont College of Fine Art low-residency MFA program.

Nicole Mitchell is a creative flutist, composer and educator.  With contemporary ensembles of varying instrumentation and size (from solo to orchestra), Mitchell's mission is to celebrate the power of endless possibility by "creating visionary worlds through music that bridge the familiar and the unknown."  The recipient of several awards including the Doris Duke Artist Award, the Herb Alpert Award, Chicagoan of the Year, and the 3Arts Award, Mitchell has been highlighted at festivals and art venues throughout Europe, the U.S. and Canada, Mitchell is a former president of Chicago's Association for the Advancement of Creative Musicians.  She the founder of Black Earth Ensemble, Black Earth Strings, Ice Crystal and Sonic Projections, and has been repeatedly named by DownBeat Critics Poll and the Jazz Journalists Association as "Top Flutist of the Year" from 2010-2015. As a composer, Mitchell has received commissions from the French Ministry of Culture, Museum of Contemporary Art (Chicago), the French American Jazz Exchange, the Chicago Jazz Festival, International Contemporary Ensemble (ICE), the Chicago Sinfonietta Orchestra, Chamber Music America and Maggio Fiorentino Chamber Orchestra (Florence, Italy).  She is a Professor of Music, teaching in the "Integrated Composition, Improvisation and Technology," (ICIT), a PhD program at the UC Irvine, where she also serves as an Equity Advisor for Claire Trevor School of the Arts, and creates programs to improve intercultural awareness and sensitivity through her work as chair of the African American Student Experience Committee, a workgroup of the UCI Climate Council. She is endorsed by Powell flutes.  www.nicolemitchell.com