Monthly Guest Artist Series: Jennifer Muller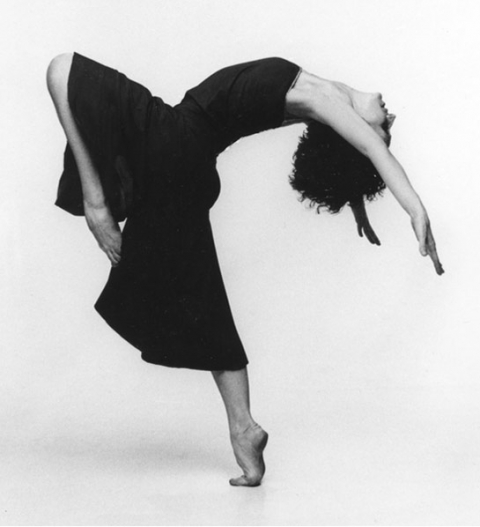 Monthly Guest Artist Series
Jennifer Muller
Residency February 19 - 25, 2016
(Jennifer Muller. Photo by Tom Caravaglia)
Schedule
Friday, February 19  
10:00-11:50 -  Muller Polarity Technique— PS1100
Combine Ballet III and Modern IV.
Dance students who are available and observers welcome.
12:00-1:50 Performance Skills Workshop – PS 1100 – Ballet IV
Monday, February 22
10:00 - 11:50 — Performance Skills Workshop – PS 1100 Modern IV
Dance students who are available and observers welcome.
No more than 40 students.   
Tuesday, February 23  
9:30 - 10:50 — Choreographic Elements – PS1100
(CLOSED SESSION) Open to all students – No more than 25 students.
11:00 - 12:30 – Choreography / repertory – PS1140  
(CLOSED SESSION)
Wednesday, February 24
10:00-11:50 — Performance Skills Workshop
Dance students who are available and observers welcome.
No more than 40 students.   
12:00 – 1:50 — Muller Polarity Technique — Ballet 4 and 5
Thursday, February 25 
9:30-10:50 – Choreographic elements –  Same as above
(CLOSED SESSION) Open to all students – No more than 25 students.
11:00- 12:30 -- Choreography  / repertory – PS1140
(CLOSED SESSION)
Ms. Muller will be joined by company member / assistant Michelle Tara-Lynch
Students:  Please email Lisa Naugle – lnaugle@uci.edu if you would like to schedule time to meet with Jennifer Muller.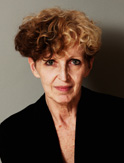 JENNIFER MULLER (JMTW Artistic Director and Founder), an influence in the dance world for over 40 years, is known for her visionary approach and innovations in dance/theater, multi-discipline productions incorporating the spoken word, live and commissioned music, artist-inspired decor and unusual production elements. Muller has created over 115 pieces, including seven full evening productions, collaborating with such artists as Keith Haring, Keith Jarrett, Yoko Ono, Jeff Croiter and Marty Beller. Muller is recognized as a "seminal influence on dance/theater." Her prolific career has led to recent honors: Forteleza's 2010 Trophy of Cultural Responsibility and a 2011 American Masterpieces: Artistic Genius Grant, UCSB conference and exhibit and the publication Transformation & Continuance: Jennifer Muller and the Reshaping of American Modern Dance, 1959 to Present. An internationally renowned teacher and mentor of creative talent, Muller has developed a personalized technique informed by Eastern philosophy. TanzPlan Berlin chose Muller Polarity Technique as one of seven unique contemporary dance techniques for its publication/DVD Tanztechnik 2010. Creating and restaging pieces for 26 international repertory companies in nine countries, her commissions include Alvin Ailey American Dance Theater, Ohio Ballet (USA); Tanz-Forum Köln (Germany); Lyon Opera Ballet (France) , Bat Dor (Israel), Ballet Jazz de Montreal (Canada); Ballet Contemporaneo (Argentina); multiple projects for Nederlands Dans Theater, NDT3 and, again this year, Introdans(The Netherlands). An award-winning choreographer, Muller's choreography for theater/opera productions include The Public Theater, 2nd Stage Theater, NY Stage & Film, and the New York City Opera. In 2011, she choreographed the new musical The Spiral Show in China. Above all, dance has been Ms. Muller's passion and creative voice since she was a child. Creating pieces since age seven, she danced professionally at age 15 with the Pearl Lang Dance Company followed by nine years as Principal Dancer with the José Limon Company [while graduating from the Juilliard School] and seven years as Associate Artistic Director of the Louis Falco Dance Company. Now, as a result of years of productive creativity, her work has been seen on stage and television in 45 countries.
(Headshot photo by Paula Lobo)
JENNIFER MULLER / THE WORKS  is celebrating its 40th  Anniversary, presenting the unique spirit of its performances to world audiences, educating youth and serving the community with vital outreach. Applying a multi-disciplinary technique that weaves dance, theater and visual arts, the company creates dances that illuminate the human spirit. The Works has electrified world audiences in 39 countries on four continents, 30 states in the US and produced 25 New York Seasons at City Center, the Joyce and New York Live Arts among others. The Works has performed at major theaters and festivals worldwide, from Buenos Aires to Toronto and Hong Kong to Moscow with appearances in Paris, Rio de Janeiro, Shanghai, Tel Aviv, Montreal and Rome, to name a few. In recent years, The Works performed to rave reviews at Brazil's FENDAFOR 10 (Festival Internacional de Dança de Fortaleza), The Sixth Beijing International Theater & Dance Festival, Bangkok's Eighth International Festival of Dance and Music and Festival Internacional de Teatro Santa Cruz de la Sierra in Bolivia. The Works reaches out to new audiences in the belief that dance can promote cross-cultural understanding and act at a catalyst for positive change. In the US, the company's appearances include Jacob Javits, Lincoln and Kennedy Centers, the David H. Koch, Avery Fisher and Ailey Citigroup Theaters, the Bryant Park, Downtown, Central Park Summerstage and Fire Island Festivals and the United Nations.  Devoted to mentoring creativity in all its forms, The Works conducts programs for all ages, cultures and backgrounds, teaching professionally-oriented students through its Scholarship/Apprentice and University Residency/Commissioning Programs, mentoring choreographers through its presenting series HATCH, fostering arts awareness through its arts-in-education programs in the NYC Public Schools and teaching workshops worldwide. The Works' education programs reach over 4,000 professional dancers and city youth and mentor 50 choreographers annually. Over the last two years, university students have performed Muller's work at the University of Iowa, Long Island University/ Brooklyn, Jacksonville University, FL, Central Connecticut State University and LaGuardia Arts.. This year and next, residencies will include UC Irvine, USC Fullerton, UC/Santa Barbara in CA, University Nevada Las Vegas, NV; Jacksonville University, FL.  Alumni continue to bring Muller Polarity Technique to new generations of dancers, establishing accredited dance programs in the US, Europe, South America and Japan.
Dates:
February 19, 2016 (All day)
February 22, 2016 (All day)
February 23, 2016 (All day)
February 24, 2016 (All day)
February 25, 2016 (All day)