Master Class with violinist, Linda Wang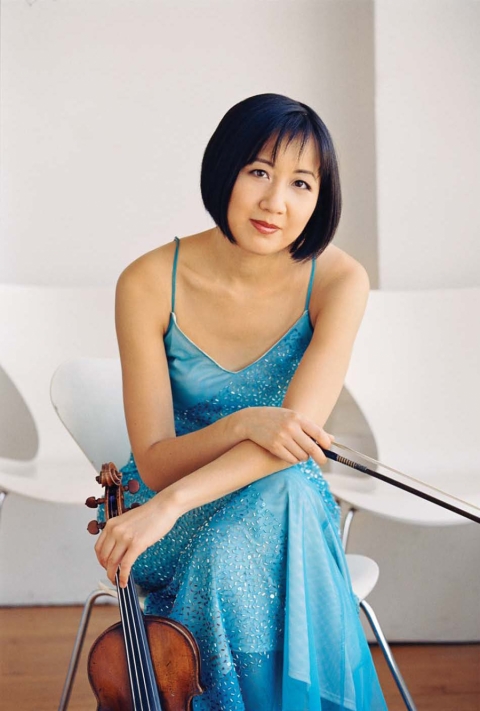 Linda Wang Master Class
January 16, 2015
1:00 pm
On Friday, January 16th at 1:00 p.m., internationally renowned violinist, Linda Wang will give a violin master class in room 196 AIRT. Music students will perform works by Mozart, Mendelssohn and Lalo. The class is free and open to the public.
Linda Wang is among the premier violinists of her generation, consistently praised for her artistry, warm, singing tone and charismatic performances.
Since her debut with Zubin Mehta and the New York Philharmonic at the age of nine, Linda Wang has performed concerti with over 65 internationally renowned ensembles and maintains a worldwide presence as a performer and educator. In the US she has been soloist with the symphonies of Virginia and West Virginia, and with multiple orchestras throughout California, Colorado, New York, Arizona, Texas, Alaska, Washington, Georgia, Idaho, Wisconsin, Iowa, Missouri, Montana, Oregon, Idaho, North Dakota, South Carolina, Massachusetts; collaborating with such eminent conductors Sir Georg Solti, JoAnn Falletta, Jorge Mester, Chistian Tiemeyer, Daryll One, Steven Lipsitt, Andrew Sewell and Stephen Gunzenhauser. Abroad her concerto performances include the Schleswig-Holstein Musik Festival Orchestra in Germany, Salzburg Chamber Orchestra, Paris Sinfonietta, Sächsische Kammerphilharmonie Dresden and Philharmonisches Orchester des Vogtland (Germany) and The Czech Republic's Southern Bohemian Chamber Philharmonic Orchestra, with whom she toured. In Asia, her solo appearances include Taipei Philharmonia Musical, China's Harbin Symphony Orchestra and the Phillipines Philharmonic Orchestra.
Linda Wang has performed solo engagements worldwide to vast critical acclaim in such prestigious venues as Carnegie Hall, Alice Tully Hall, Amsterdam's Beurs van Berlage and the Berlin Schauspielhaus. In recital she has performed fourty two states as a roster artist for Community Concerts. She has been a faculty and performing artist at international music festivals including the Montecito Summer Music Festival (CA), Fairbanks Summer Arts Festival (AK), Savannah Music Festival (GA), Garth Newell Music Center (VA), Norfolk (CT), Aspen and Rocky Ridge (CO), Mexico's San Miguel de Allende Festival, Canada's Orford Centre d'Arts, Japan's Okhust, England's Aldeburgh Festival, Holland Music Sessions, Austria's Salzburg Festival and the Interharmony Festival in Tuscany, Italy.
Domestic and international audiences have seen Linda Wang's televised performances on PBS, Arts and Entertainment, Germany's ZDF and Japan's NHK, while radio broadcasts include NPR's PerformanceToday, WQXR (New York City), WFMT (Chicago), KUSC (Los Angeles), MDR (Germany), Leipzig Rundfunk and Deutschland Radio, Berlin. Numerous first prizes include the International Markneukirchen Instrumental Competition in Germany, the National Federation of Music Young Artists Auditions, the International Kingsville Competition and the Waldo Mayo Award honoring New York's best young performer.
A native of New York City, Linda Wang has studied at The Juilliard School, Colburn School and University of Southern California. Awarded a Fulbright Scholarship, she pursued advanced studies at the Salzburg Mozarteum. She began Suzuki violin studies with Nicole DiCecco and her principal teachers have been Dorothy DeLay, Hyo Kang, Alice Schoenfeld and Ruggiero Ricci.
A dedicated teacher herself, Linda Wang is String Chair and Associate Professor of Violin at University of Denver's Lamont School of Music, also currently on the Fulbright Specialists Roster for teaching at overseas institutions. An international reputation as an exceptional performer and teacher garners her frequent invitations to perform and present master classes at distinguished music institutions nationally and internationally. Her students perform as soloists and in orchestras throughout Colorado and have been accepted to graduate programs at such prestigious institutions as the Juilliard School, Cleveland Institute of Music, University of Michigan, Yale University, Eastman School of Music, London's Guild Hall, Royal Academy and the Vienna Hochschule fur Musik.
Linda Wang currently performs on a 1767 J.B. Guadagnini, and has recorded for Albany, Equilibrium, Centaur, MGS Productions and Beauport Classical. Additional information can be found on her website, www.lindawang.com.
Room 196 AIRT
The class is free and open to the public.
Dates:
January 16, 2015 - 1:00 pm