Longitude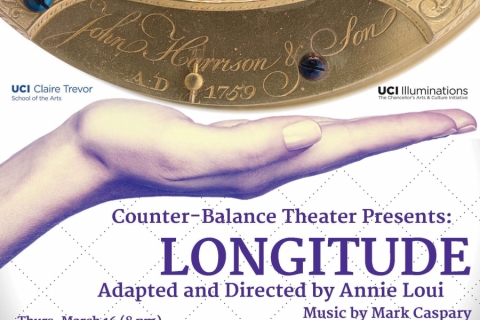 Counter-Balance Theater Presents
Longitude
Adapted and Directed by Annie Loui
Based on the New York Times best seller by Dava Sobel
Music by Mark Caspary
with Thomas Varga, Kayla Kearney,
Megan Gainey, Nick Manfredi,
Alex Raby & Xander Ritchey
March 16 – 18, 2017
Experimental Media Performance Lab (xMPL)
A devised physical theatre production exploring invention, engineering & obsession in the 18th century.
LONGITUDE is a devised theater performance about 18th century inventor/clockmaker John Harrison, and his entry into the most important race of the century; to discover a means of measuring longitude. This physical and mesmerizing production features 6 physical actors who portray all the characters in the story, from Galileo to King George III to The Man Who Knows Everything; as well as storms at sea, the celestial heavens, maritime clocks, and Harrison's inspiration/muse.
Performances:
Evenings: March 16, 17, 18 @ 8 p.m.
Matinees: March 18 @ 2 p.m.
Please join us for the post-performance TalkBack with scholars and the creative artists.
This event is FREE and open to the public.