Jessica Chastain by Maura Brewer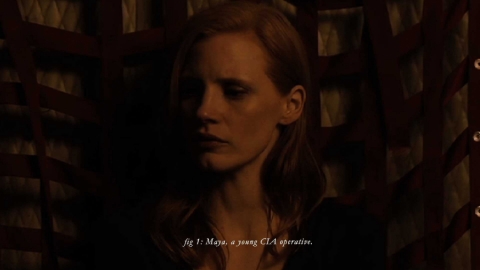 Jessica Chastain
Solo exhibition by Maura Brewer
Curated by Juli Carson
October 1 – December 10, 2016
University Art Gallery
Opening reception: Saturday, October 1 from 2– 5 p.m.
The UAG's Emerging Artist Series presents three filmic works by Maura Brewer each taking as its site a recent film by the actress Jessica Chastain: Zero Dark Thirty (2012), Interstellar (2014) and The Martian (2015). In all three films, Chastain plays a similar character: a high-achieving career woman dedicated to the non-romantic pursuit of a male counterpart. Brewer's installation presents Hollywood film as a site for analysis and deconstruction.
All exhibitions are free admission and open to the public.

University Art Galleries
712 Arts Plaza | Irvine, CA 92697 | uag.arts.uci.edu
Gallery Hours | Tuesday - Saturday | 12–6 p.m.
Image: Maura Brewer, Zero Dark Birthday, 2014, video still, courtesy of the artist.
Dates:
October 1, 2016 - 2:00 pm
October 1, 2016 - 12:00 pm