Embodied Encounters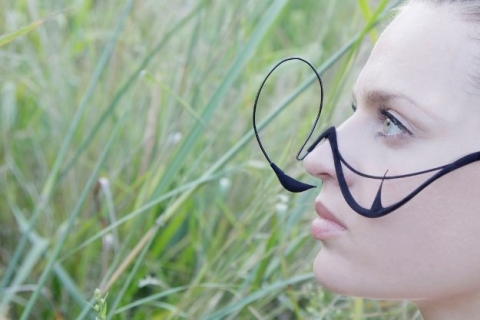 Embodied Encounters
Curated by David Familian and Simon Penny
October 1 – January 21, 2016
Beall Center for Art + Technology
Opening reception: Saturday, October 1 from 2– 5 p.m.
This exhibition occurs in partnership with the Body of Knowledge conference at UCI: December 8-10, 2016
In Embodied Encounters, curators David Familian and Simon Penny address art-making practices in media arts via the new language of creative cognition. Drawing upon the concepts featured in UCI's 2016 conference, "A Body of Knowledge: Embodied Cognition and the Arts," the exhibition will present artists that explore the emerging paradigms of embodied cognition. Featured work will demonstrate the philosophical and conceptual ways artists respond to a world made increasingly complex by technology, as well as the evolution of action in artistic creation, and the synergy between materiality and bodily awareness. Through these encounters, we see the divisions between mind and body, self and world, dissolve as society becomes progressively globalized through technological access. This phenomenon that is highly relevant to contemporary artistic practice as artists become increasing aware of embodied interaction between intuition, logic, and reason to produce their work.  How does the artist's consciousness engage in a world comprised of analog, digital, and virtual stimuli? The Beall Center will address this question through an ambitious, provoking voyage through cognition and intelligence – human and artificial alike.
All exhibitions are free admission and open to the public.
Closed: Nov 11, 23-26; Dec 10-Jan 3

712 Arts Plaza | Irvine, CA 92697 | beallcenter.uci.edu
Gallery Hours | Tuesday - Saturday | 12–6 p.m.
The Beall Center's 2016-17 exhibitions are supported by the Andy Warhol Foundation for the Visual Arts and The Beall Family Foundation. The Beall Center received its initial support from the Rockwell Corporation in honor of retired chairman Don Beall and his wife, Joan, the core idea being to merge their lifelong passions – technology, business and the arts – in one place.  Today major support is generously provided by the Beall Family Foundation.
Image: Miriam Simun, courtesy of the artist
Dates:
October 1, 2016 - 2:00 pm
October 1, 2016 - 12:00 pm