Elsewhere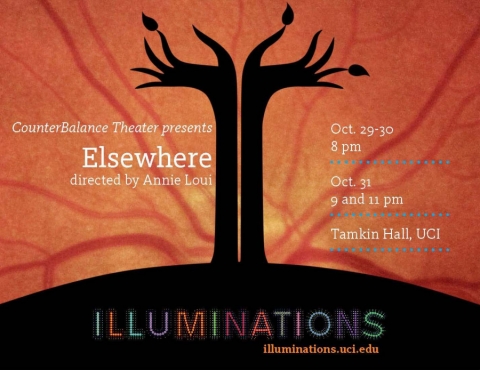 Counter-Balance Theater presents
Elsewhere
Annie Louie, Director
Music by Mark Caspary
October 26 - 28
NEW DATES: October 29 – 31, 2015
Tamkin Hall
in the Tamkin Student Lecture Building (Health Sciences)
Six actors depict the story of a "normal" girl in a British boarding school, where nothing is what it seems. Love and bioethics struggle in a futuristic world of genetic manipulation.
From the creators of The Odyssey (UCI 2015) comes a disquieting thriller inspired by Kazuo Ishiguro's novel, Never Let Me Go. On Halloween weekend, in a medical theater next to the original UCI morgue, CounterBalance Theater presents Elsewhere, a futuristic story about cloning, medical ethics, and what it means to be human. Six actors play 100 characters, plus the architecture, furniture and natural phenomena in a story where "students" in an exclusive boarding school question their predestined future.
Free and open to the public.
Registration information at illuminations.uci.edu.

Dates:
October 29, 2015 (All day)