Digital Filmmaking Showcase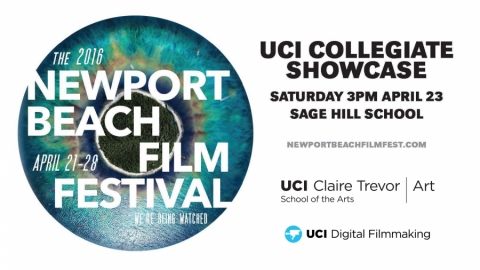 Digital Filmmaking Showcase
April 21-28, 2016
Newport Beach Film Festival
UCI Showcase
Saturday, April 23, 2016
3:00 pm
Sage Hill School
The UCI Collegiate Showcase features the best work from Digital Filmmaking at the Newport Beach Film Festival, April 21-28, 2016.
Paid admission. 
TICKETS: CLICK HERE
University of California, Irvine
Saturday, April 23rd, 2015 - 3:00 PM - Sage Hill
FEATURED FILMS
People Aren't There
USA - 1988 - 2:00
Director: Mike Goedecke
A young man's solo performance alternates with bursts of popular television in this excerpt from Irvana 1988.
Open & Close
USA - 2003 - 1:00
Director: Dan Sydik
The secret life of the disused.
Book Of Poetry
USA - 2016 - 1:50
Director: Miranda Javid
A collection of story-vignettes that focus on the remembrance or reinvention of 20th century events, which borrow their narrative structure from the work of Song Dynasty poet, Wang An Shih.
Paper Plane
USA - 2015 - 3:00
Director: Eric Huang
A young office man follows his routine; however his spirit wants to escape. He dreams of becoming a paper plane and fly free and easy.
J-Files
USA - 2015 - 1:17
Director: Jesus Esqueda
Sinister forces control the lives of a girl and her dates.
CogNitate
USA - 2014 - 3:00
Director: Matt Toth
A young man on the verge of a breakup struggles to react to his girlfriend, as his colorfully visualized inner mind rages on.
Gió Nam Múa Lân
USA - 2015 - 3:00
Director: Lorraine Pham
A behind the scenes look at the Southern Wind Lion Dance company and the dedication it requires to perform this ferocious but playful South Asian tradition.
Relapsus
USA - 2013 - 2:30
Director: Patrick Mango
Layers of experimental image and sound enwrap an anonymous figure.
Sisyphus
USA - 2016 - 3:00
Director: Yixin Martin Yang
A man figures the hierarchical and ideological boundaries between individuals, drops in his subconscious memories in a desert about the political struggles in the past, all while examining his relationship with his pet.
Toilet And Office
USA - 2008 - 4:00
Director: Andy Fedak
An exploration of the spaces in our normal reality which we experience every day but do not notice.
Tide Drawing
USA - 2016 - 3:00
Director: Alzira Lena Ruano
An instance of maintaining a specific moment, a relationship dynamic, and a setting that is ephemeral. Eventually the persistence of change wins over the insistent sameness.
Les Enfants Sages
USA - 2015 - 3:49
Director: Marie Hautier & Pauline Lesterquy
Society's expectations can have a destabilizing, even oppressive effect on the construction of identity. The anxiety provoked by such an oppression can destruct one's image, one's self-esteem and one's sense of self-identification.
Missing (Noh-Chim)
USA - 2006 - 7:22
Director: USA
A performative autobiographical piece which is related to the Missing Persons Project and addresses the problematic transmissions in another language and the rupture between yearning and reality.
The New Show At The Hayden Planetarium
USA - 2011 - 8:00
Director: Maura Brewer
An examination of the cultural significance of the planetarium show, taking the Hayden Planetarium's 2001 show "Passport to the Universe" as its site of inquiry.
Thirdspace
USA - 2002 - 9:14
Director: Wil Ko
Two strangers, two paths, converge in this experimental split screen film.
Alki & Me
USA - 2010 -13:40
Director: Matias Velluntni
In shock after what seems like an unexpected breakup, Matias - a UCI music student - decides to create a Las Vegas style musical performance with the hopes of winning his ex back.
Bruised
USA - 2010 - 1:40
Director: Woody Somvichai
After a violent attack, a personal transformation.
Stop Action/Irvine Response
USA - 1988 - 1:30
Director: Bill Dugan, Mike Goedecke, Sue Hudelson
A unique glimpse back at our past, in this excerpt from Irvana 1988, where the word association game, always using the word Irvine, is coupled with rapid fire footage of the Arts campus.
Six Per Minute
USA - 2011 - 2:56
Director: Andrew Ng and Valeria Kohakura
Our daily surroundings are merely backgrounds to our lives. But some places hold secrets of their own.