Center for Interesting Noises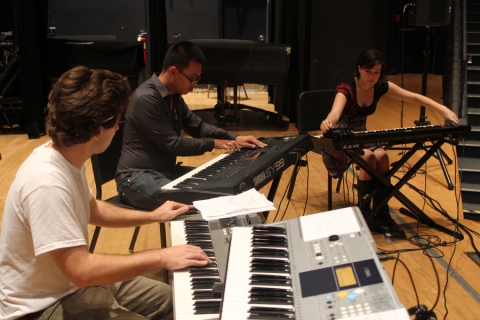 Center for Interesting Noises
Concerts of Spatialized Music by UCI student and faculty composers

May 13 & 14, 2016
8:00 pm
Ayala Science Library, main courtyard
The Center for Interesting Noises transforms an outdoor public space on campus at UCI into a multi-channel sound system using the latest in modern sound design technology. It will feature a sound installation and two concerts of spatialized music by UCI faculty, graduate students, and guest composers. 
Installations
Thursday, May 12 & Friday, May 13, 2016
1:00-5:00 pm
Ayala Science Library Courtyard
An interactive sound installation where passers-by can participate using their smart phone. Visit the installation to take control of the sound, activating the sonic landscape.
Student Concert 
Friday, May 13, 2016
8:00 pm
Ayala Science Library
Steven Leffue and Grady Kestler, Aiis, or A Theory of Harmony
George Wheeler, Interfacing Samsara
Borey Shin, noel is dealing with some nausea
Josh Simmons, Won't Clutch Fee Bye Shrill Cheat Beau Sex Drive
Symposium on Spatialized Sound
Saturday, May 14, 2016
1:00-5:00 pm
Contemporary Arts Center, Colloquium Room 3201
A symposium on the topic of sound spatialization and multi-channel audio, featuring lectures and discussions by invited specialists and audio professionals from around the Southern California region.
Faculty Concert
Saturday, May 14, 2016
8:00 pm
Ayala Science Library
Vincent Olivieri, Infinitette
Christopher Dobrian, Passages (Sixes for Saxes)
Ewa Trebacz, Ligeia
Shahrokh Yadegari, Inevitable
Lei Liang, Hearing Landscapes
The Center for Interesting Noises is presented and curated by UCI professors Vincent Olivieri of Drama and Christopher Dobrian of Music. Technical support is provided by the production department and graduate students of the Claire Trevor School of the Arts. Funding is provided by UCI Illuminations and the 
Gassmann Electronic Music Studio. 
Free admission. Public is welcome.
For more information about the concerts and symposium, please visit:
http://music.arts.uci.edu/dobrian/gemseries/gemseries15-16.htm#cin