Cél3bration - Trio Céleste Album Release Party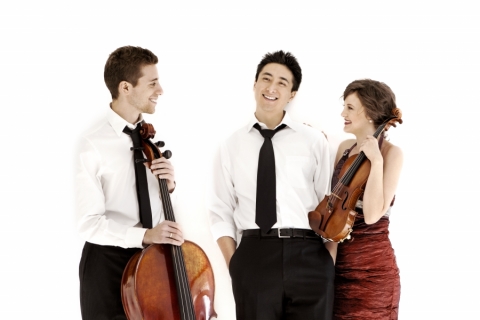 Chamber Music | OC* and Soka Performing Arts Center present
Trio Céleste UCI Claire Trevor School of the Arts Ensemble-In-Residence
Cél3bration
Trio Céleste Album Release Party
Sunday, April 24, 2016
3:00 - 5:00 pm
Hailed as "a first-class ensemble" (Orange County Register) "exuberant and technically dazzling" (Long Beach Gazette) and "one of the best young chamber groups around today" (Philip Setzer, Emerson String Quartet), Trio Céleste has quickly established itself as one of the most dynamic chamber music ensembles in the country. Recent season highlights include national and international recital tours throughout Albuquerque, Los Angeles, New York, Ottawa, San Francisco, Sarasota, and Toronto, and the release of their debut album recorded by Grammy-winning sound engineer Jesse Lewis at Soka Performing Arts Center.
Join the Trio as they celebrate the successful launch of their album in the beautiful space where it was recorded. The program will include Beethoven's Piano Trio in G Major, Op. 1, No. 2, Dvorak's "Dumky" Trio, and the Southern California premiere of The Beethoven Variation Project - a collaborative project featuring commissions from some of today's most important composers including Samuel Adler, Pierre Jalbert, and jazz musicians Peter Erskine and Fred Hersch.
Click here for the program booklet.
Cél3bration is a proud partner of Orange County Imagination Celebration. 
Tickets: $20.00, $15.00 seniors 62+, $5.00 students
SOKA Box Office: (949) 480-4278.
*This is a Community Connections event held at Soka Performing Arts Center