Boeing-Boeing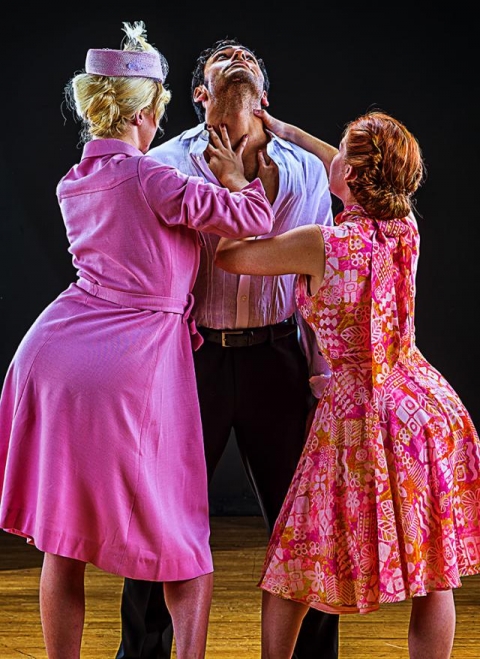 Boeing-Boeing
April 25 - May 3, 2015
Eli Simon, Director
Boeing-Boeing (Marc Camoletti, 1960). This classic farce, translated into English by Beverley Cross, has been listed in the Guinness Book of Records as the most performed French play throughout the world. Set in the 1960's, Boeing-Boeing features a swinger bachelor (Bernard) who couldn't be happier: he has a flat in Paris and three gorgeous stewardesses all engaged to him without knowing about each other. However, when his friend Robert comes to stay, things get bumpy and even bumpier when the new and speedier Boeing jet throws off all of his careful planning. Soon all three stewardesses are in town simultaneously.
Robert, being ill-equipped to lie, cannot remember which fabrication to tell to whom...catastrophe looms, hilarity ensues. Boeing-Boeing won the Tony Award for Best Revival of play as well as the Drama Desk Award for Outstanding Revival of a Play.
Humanities Hall Little Theatre
Evenings:  Apr. 25, 30, May 1, 2   8:00 pm
Evening:  Apr. 29                         7:30 pm
Matinees: Apr. 26, May 2, 3         2:00 pm
General  $15 / Seniors, Groups 10+, UCI Faculty & Staff  $14 / UCI Students & Children under 17 $11
Complimentary shuttle service is provided for our disabled guests or those with mobility issue from the Mesa Parking Structure to the shows scheduled above.
Shuttle services will begin one hour before showtime and will meet patrons on Level Two (Mesa Road street level) of the Mesa Parking Structure, by the elevator. Advance notice is appreciated, but not required.  For additional information, please call the Arts Box Office (949) 824-2787 or emailartstix@uci.edu.  (Schedules are subject to change. See posted schedule at http://www.arts.uci.edu/shuttle)