Aztlán to Magulandia: The Journey of Chicano Artist Gilbert "Magu" Luján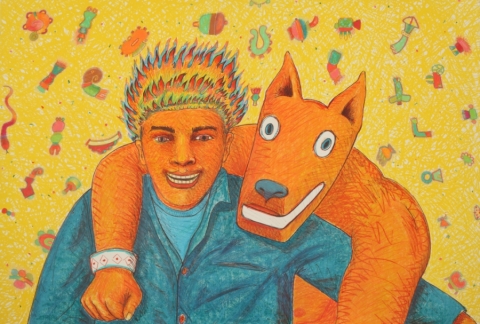 Aztlán to Magulandia: The Journey of Chicano Artist Gilbert "Magu" Luján
Curated by Hal Glicksman and Rhea Anastas
October 7 – December 16, 2017
Contemporary Arts Center Gallery
University Art Gallery
UC Irvine's University Art Galleries (UAG) will present the first survey of one of the most iconic figures of the Chicano art movement, Gilbert "Magu" Luján (1940–2011) and an accompanying publication. One of the founding members of the Chicano artists collective Los Four, Luján is known for his coloration and visual explorations of Chicano culture and community that drew upon and brought to life various historic and contemporary visual sources with startling results: Pyramid-mounted low riders driven by anthropomorphic dogs traversing a newly defined and mythologized L.A. He was part of a small group of dedicated artists and intellectuals who set about defining a Chicano identity and culture as part of the Civil Rights movement of the 1960s. The UAG's retrospective will focus on creativity and invention in Luján's work in a myriad of sketches and drawings, paintings, and sculptures. Luján combined two world-making concepts, Aztlán, the mythic northern ancestral home of the indigenous Mexican Aztecs that became a charged symbol of Chicano activism; and Magulandia, the term Luján coined for the space in which he lived and produced his work, and for his work as a whole. Together, Aztlán and Magulandia represented both physical spaces and the complex cultural, geographic, and conceptual relationships that exist between Los Angeles and Mexico and served as dual landscapes for Luján's artistic philosophy and cultural creativity.
Saturday, October 7, 2:00 p.m. – 5:00 p.m.
Opening Reception
Meet the curators. Open to the public. University Art Gallery.
November 4 & December 2, 1:00 – 2:00 p.m.
Docent-Led Tours
Conducted by an experienced gallery docent who discusses the history and works of art in the collection. University Art Gallery.
November 27, 7:00 – 9:00 p.m.
Los Four Panel at LACMA
Featuring Howard Fox, Hal Glicksman, Cheech Marin and other speakers.
Bing Theater, Los Angeles County Museum of Art, Los Angeles.
December 2 and December 16, 2:00 – 6:00 p.m.
Magu's Mental Menudo Discussion Forum
Naiche Luján leads Magu's Mental Menudo Discussion Forum. The forum meets two times during the run of the exhibition. University Art Gallery.
IMAGE:
Gilbert "Magu" Luján (1940- 2011)
Mingo and Fireboy, ca 1988
Lithograph with hand-marking in prismacolor
44 1/4  x  30 inches
© The Estate of Gilbert "Magu" Luján
This exhibition has been made possible by the generous support of The Getty Foundation as part of the Getty Museum's Pacific Standard Time: Los Angeles/Latin America (LA/LA) exhibtion launching in the fall of 2017.
About Pacific Standard Time
Led by the Getty, Pacific Standard Time: Art in LA 1945-1980 was an unprecedented collaboration of more than 60 cultural institutions across Southern California coming together to celebrate the birth of the LA art scene. Between October 2011 and March 2012, each institution made its own contribution to this grand-scale story of artistic innovation and social change, told through the multitude of simultaneous exhibitions and programs on post-World War II art in Los Angeles.
In 2013, a smaller scale program, Pacific Standard Time Presents: Modern Architecture in L.A., explored the built heritage of our region.
The next iteration of the effort, Pacific Standard Time: Los Angeles/Latin America, or LA/LA, will take place in Fall 2017.
AZTLÁN TO MAGULANDIA – PRESS KIT
PURCHASE THE CATALOGUE: Aztlán to Magulandia: The Journey of Chicano Artist Gilbert "Magu" Luján
READ MORE ABOUT THE GETTY'S PACIFIC STANDARD TIME: LA/LA PRESS ROOM
Dates:
October 7, 2017 (All day)
October 7, 2017 - 2:00 pm
November 4, 2017 - 1:00 pm
November 27, 2017 - 7:00 pm
December 2, 2017 - 1:00 pm
December 2, 2017 - 2:00 pm
December 16, 2017 - 2:00 pm