Contemporary Arts Center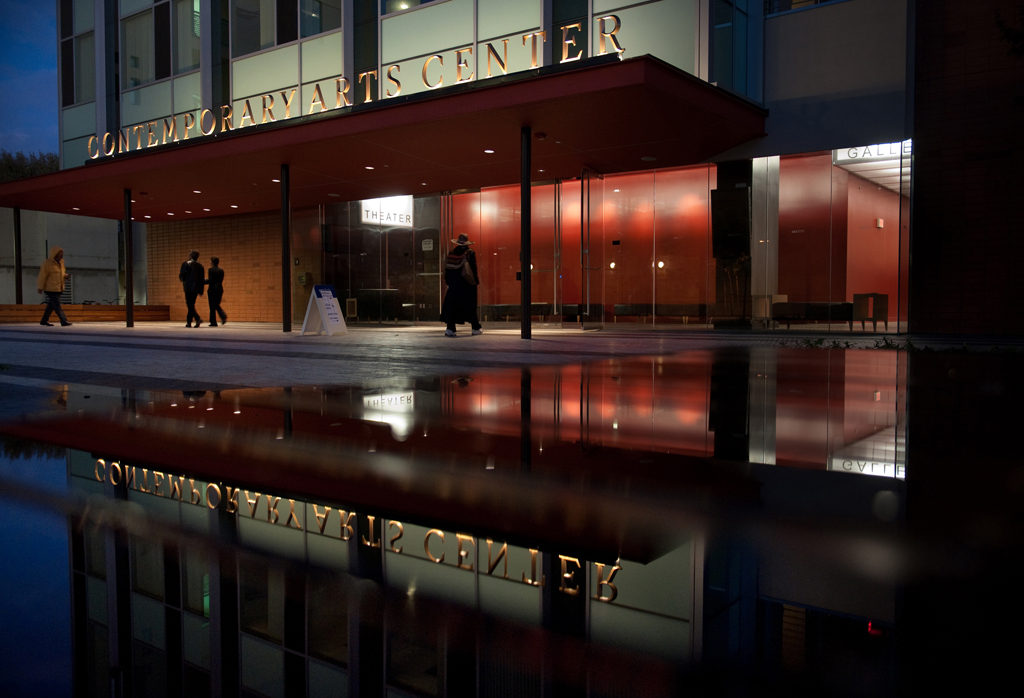 The Contemporary Arts Center is an eco-friendly and technologically-advanced building. It is a four-story building which boasts an experimental media lab black box theatre, an art gallery designed to be a world-class exhibition space, a 2,000-square-foot performance capture studio, a state of the art sound design and recording studio, a costume design studio and storage space, computer labs and more.
The Center is LEED (Leadership in Energy & Environmental Design) Platinum Certified and was primarily constructed using locally-sourced materials to reduce the School's carbon footprint. In addition, the building contains a system of natural ventilation and was designed and oriented on the land to take advantage of the wind patterns that occur on site. The hallways of the Center are open and allow for the breeze to come through in order to naturally ventilate the building. Against the exterior of the building are fixed, perforated panels that block out the summer sun so that the Center is kept cool during the hottest time of the year and still allow wind to flow through the hallways.
Along with its eco-friendly design, the Center's advanced technological capabilities provides the School of the Arts with invaluable resources. The Center has a quarter million feet of networking cable throughout the building and is fed by fiber optic connections, which increases efficiency and network communication. The majority of the building is secured through the use of proximity-based card keys, which allows easily programmable access for faculty and students at all times.

The Meyers Sound Design Studio, located on the lower level of the building, is a state of the art recording studio with an isolated vocal booth and sound editing suite. The ground-level location keeps the rooms isolated from the lo-frequency sounds that can be heard in other rooms.
The performance capture studio is a combination green screen and traditional motion capture system that uses infrared markers and will allow for a mix between video and animation. Its primary use is for dance research and for some classes.
The costume design studio, serves as an extension of the current costume studio, contains a modern storage system, similar to that of a dry cleaner.
A colloquium room serves as a seminar room for graduate students and guest lecturers. The room contains three projection screens and is specifically targeted toward visual programs, particularly in the Studio Art Department.
Critical & Curatorial Concentration MFA Thesis Exhibition
Matters of Time
Curated by Brianna Bakke
January 13 – February 10, 2018
Contemporary Arts Center Gallery
Opening Reception: Saturday, January 13, 2:00 – 5:00 p.m.
Neïl Beloufa . Samara Golden . Kameelah Janan Rasheed . Fern Silva . Pascual Sisto . MICA TV . Los Angeles Contemporary Archive .
What can time heal? What can only time tell?
Matters of Time positions the group exhibition form as a locus to challenge conventional concepts of time as a linear progression. This exhibition will feature artwork that materializes the durational in a way that does not render a moment, but translates a semblance of time, an image that evokes a sensorial response activating an awareness of shifting conditions. Moments are suspended rather than depicted, moving us to consider wider contexts of before, after, and consequences.
Matters of Time presents a deeper look at the image's capacity for developing retention, its proximity to everyday life and temporal relationships. To examine these interludes and markers of memory the exhibition takes a tripartite approach to situating strategies in temporality: [1] the event revisited [2] the image re-ordered [3] the enduring archive. Through the pause of the photographic frame, recapitulation of vernacular objects in true scale, fractures of montage, eternal notions of the film "loop", and preservation of the archive -- impressions of past, present and future dissolve. A space is created for our own associations and interactions to question both individual and dominant narratives and their relativities.
Los Angeles Contemporary Archive will present a number of artist books and textual projects published by LACA, the exhibition will feature a reading area that serves as a space for convening and dialogue as well as review of materials. In further response to these queries, a number of scheduled events will take place in conjunction with the exhibition. For a full list, please check updates on the event Facebook and UAG web site. All events are free and open to the public.
Events:
Artist Lecture: Samara Golden
January 18th, 6:30 - 7:30pm
CAC Colloquium, Room 3201 (located on the third floor, above gallery).
Installation artist Samara Golden will give an artist lecture in conjunction with UCI Visiting Artist Lecture Series.
Martine Syms: Most Days.
February 8th, 5pm
CAC Gallery
A listening of artist Martine Syms' Mundane Afrofuturist narrative, "Most Days" vinyl record.
Lunch & Lecture:
Tuesdays @ noon (unless otherwise noted)
CAC Gallery
A series of talks led by UCI MFA Candidates in conversation with the curator will occur on Tuesdays at noon, throughout the exhibition. Food is permitted in the gallery only during lecture hour.
LACA Reading Room:
Tuesday - Saturday, 12-6pm
CAC Gallery
The archive portion of the exhibition will feature a reading room that is open for the public to gather and exchange ideas throughout the course of the exhibition. Please review the exhibition hours to use the space for research, reflection and convening.
All events are free and open to the public. 
Free admission and open to the public.
Gallery Hours | Tuesday - Saturday | 12:00 – 6:00 p.m.

University Art Galleries
712 Arts Plaza | Irvine, CA 92697 | uag.arts.uci.edu
Gallery Hours | Tuesday - Saturday | 12–6 p.m.
Detail from Kameelah Janan Rasheed's "A Supple Perimeter (Activation 1)," 2017
January 13 - 2:00 pm

to

February 10 - 6:00 pm
View this Event