Claire Trevor Theatre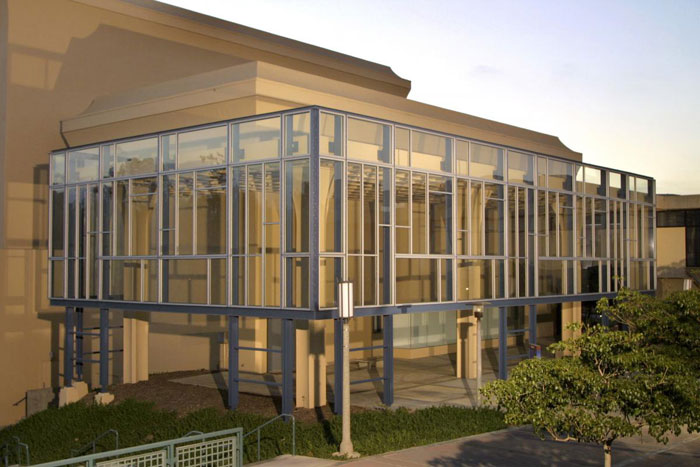 The Claire Trevor Theatre was originally known as the Village Theatre. The edifice was renovated thanks to a generous contribution by Academy Award-winning actress Claire Trevor and renamed in her honor when the updates were completed. Today, the proscenium theatre is our largest on-campus venue with seating for almost 300 persons.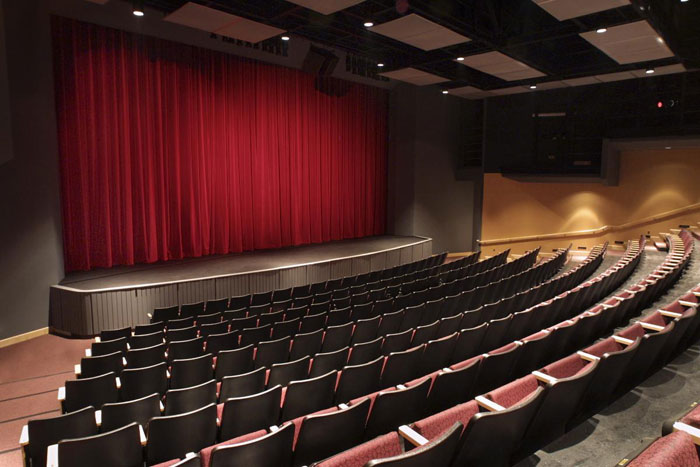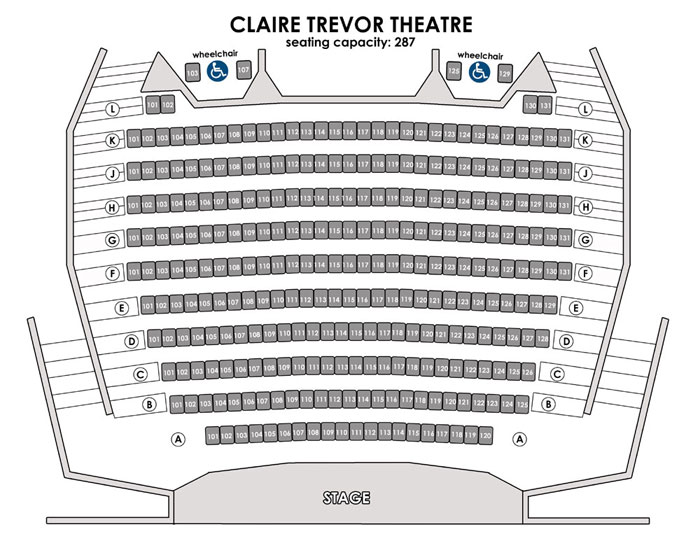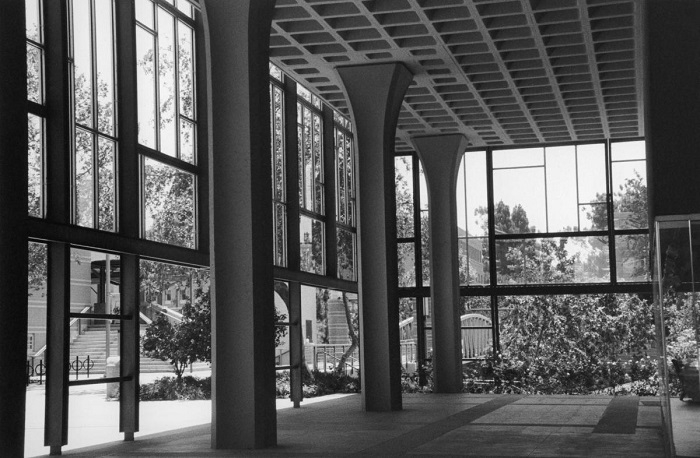 Claire Trevor Theatre lobby (Photo credit: Rosemary Rosales, Summer Academies 2016, Digital and Darkroom Photography)
Directions to the Claire Trevor School
The Pajama Game
Music and Lyrics by Richard Adler & Jerry Ross
Book by George Abbott & Richard Bissell
Musically Directed by Lex Leigh, graduate music director
Choreographed by Allison Eversoll, graduate choreographer
Directed by Don Hill
June 1 – 8, 2019
Claire Trevor Theatre
With its combination of classic score, engaging personal story, and meaningful political issues, this four-time Tony Award-winning musical is as resonant today as it was at its premiere nearly 65 years ago. At the Sleep-Tite Pajama Factory handsome Sid Sorokin and feisty Union rep "Babe" Williams fall hard for each other, but when the pair finds themselves on opposite sides of a labor dispute, sparks really start to fly!
Performances:
Evenings: Jun. 1, 6, 7, 8 at 8:00 p.m.
Evening: Jun. 5 at 7:30 p.m.
Matinees: Jun. 2*, 8 at 2:00 p.m.
Tickets:
General $18
Seniors, Groups 10+, UCI Faculty & Staff $15
Art Subscribers $14
UCI Students & Children under 17 $11
*Ticketholders: Please join us for a post-performance TalkBack with the creative team and cast.
UCI Drama – 2018/19 Season
"Against All Odds"
History provides countless examples of individuals, communities, and nations facing desperate, unjust, and even seemingly impossible circumstances; yet somehow, time and again, they find the will and the means to overcome. These are the stories that make great theatre, and indeed, that keep us personally inspired and hopeful in difficult times. As citizens of this particular sociopolitical moment, when we are bombarded from every outlet to the brink of despondent apathy, we invite you to join us in living journeys of those who were faced with substantial adversity, but survived – and thrived – against all odds.
- Gary Busby, Drama Chair/Producing Artistic Director
June 1 - 8:00 pm
,
June 2 - 2:00 pm
,
June 5 - 7:30 pm
,
June 6 - 8:00 pm
,
June 7 - 8:00 pm
,
June 8 - 2:00 pm
,
June 8 - 8:00 pm
View this Event
Buy Tickets