UCI Drama Returns to the Irvine Barclay Theatre with Man of La Mancha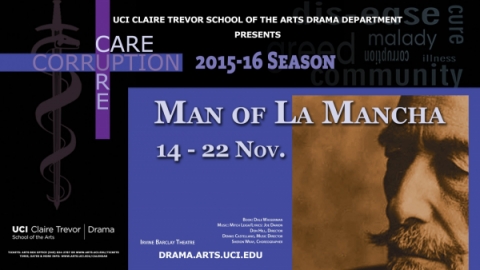 UCI DRAMA RETURNS TO THE IRVINE BARCLAY THEATRE WITH BROADWAY MUSICAL CLASSIC MAN OF LA MANCHA FOR EIGHT REMARKABLE PERFORMANCES
IRVINE, Calif. (October 20, 2015) – UC Irvine's Claire Trevor School of the Arts Department of Drama presents the classic Broadway musical, Man of La Mancha, November 14 - 22, 2015. The show marks the first performance in the "Care/Cure/Corruption" Series for the 2015-16 Drama season. The production also marks the department's return to the Irvine Barclay Theatre stage.
Originally written in 1964 with music by Mitch Leigh, lyrics by Joe Darion and book by Dale Wasserman, Man of La Mancha is presented as a play-within-a-play. It premiered on Broadway in 1965, the same year as UCI was founded. The original Broadway production ran for 2,328 performances and won five Tony Awards, including Best Musical. Man of La Mancha is the story of Miguel de Cervantes, aging, and an utter failure as playwright, poet and tax collector, who has been thrown into a dungeon of a prison in Seville to await trial by the Spanish Inquisition. There, he is dragged before a kangaroo court of his fellow prisoners. Based on The Adventures of Don Quixote by Miguel de Cervantes y Saavedra, Man of La Mancha is a comic tragedy of mankind's struggle to better both himself and the world.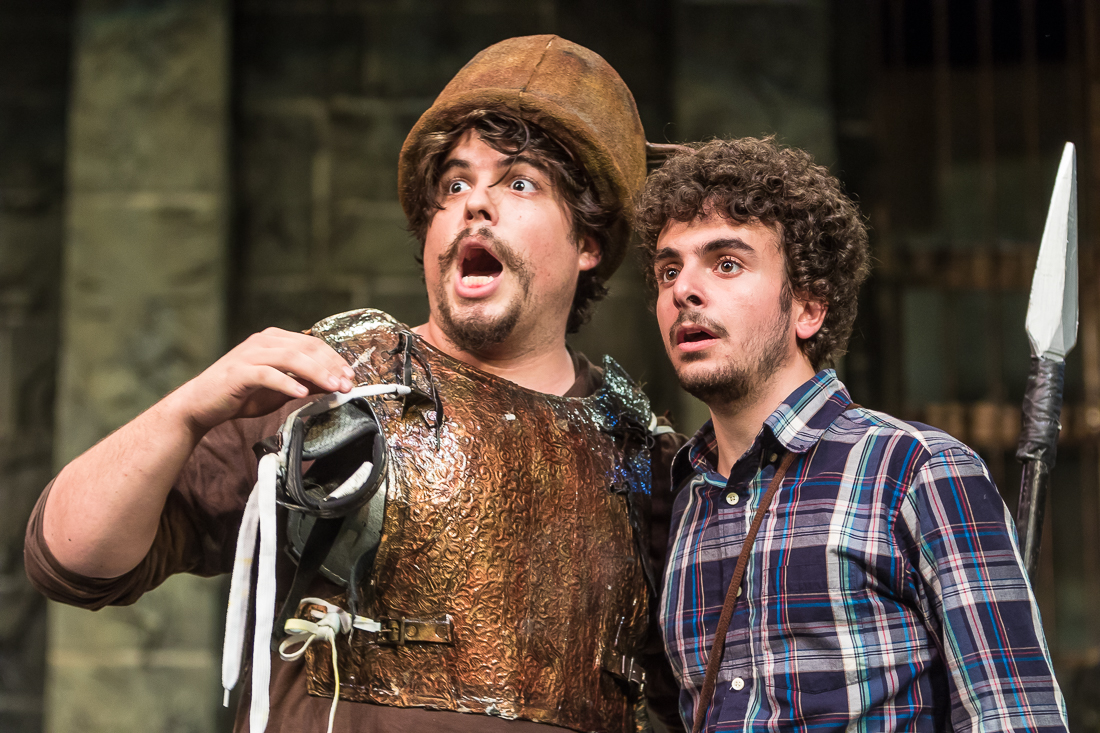 This passionate and robust UCI Drama production is directed by Professor Don Hill with music direction by Dennis Castellano, and choreography by Sheron Wray. The score is a musical delight, and contains one of the most notable moments in musical theatre as Don Quixote relates his personal credo in "The Impossible Dream." The song symbolizes the quest to stay true to one's ideals in the face of all odds.
Director Don Hill states, "we are reimagining the Man of La Mancha, inasmuch as Don Quixote's truth is made manifest by coming from the world in which he is entrapped. All of the elements of the play-within-a-play will be organically developed by the actors in improvisatory exercises which will lead to an authentic telling of this majestic story."
Man of La Mancha marks the first performance on the Irvine Barclay Theatre stage for UCI Drama since 2008 when Grace Gealey (now a star of FOX Network's Empire) played the lead role of "Anita" in the American musical West Side Story. Man of La Mancha marks the first of two productions for the season at the Barclay; on May 27 and 28, for three performances, the department will present a concert staging of Evita.
About the "Care/Cure/Corruption" Series
The Department of Drama at UC Irvine presents the 2015-16 Season, "Care/Cure/Corruption." This season's offerings will explore various themes of somatic and mental illness, as well as the institutional dis-ease endemic to certain factions of industry, community, and the body politic. We hope you will join us on this thoughtful journey of exploring the causes and perceptions of various types of malady, and whether or not we have means at our disposal, as individuals or communally, to affect a cure.
Man of La Mancha Production Team
Don Hill, Director received his MFA in directing from USC under the mentorship of John Houseman, who produced his master's thesis production, Find Your Way Home. Hill has directed over 25 productions nationally, including Equus, The Lion In Winter, and On Golden Pond. As a stage manager, Hill has worked Off-Broadway and at New York's Lincoln Center, as well as numerous regional (LORT) theaters. Professor Hill has served as production manager for the inaugural season of the Geffen Playhouse and seven years as the production manager for the Los Angeles Theater Center, overseeing more than 65 productions. As associate producer for the Long Beach Civic Light Opera for five years, he worked with some of the biggest names on Broadway, including Elaine Stritch, Tommy Tune, Bebe Neuwirth, and Bernadette Peters. As an educator, Hill enjoys empowering and challenging his students. In eleven years of teaching at UCI, he has been voted Outstanding Professor of the Year four times for the Claire Trevor School of the Arts.
Dennis Castellano, Music Director is a conductor, accompanist, and vocal coach specializing in music theatre; Castellano teaches UCI's musical theatre workshops, lectures in the history of the American musical, and serves as one of the two music directors for the department. He has waved the baton for such personalities as Kaye Ballard, Jodi Benson, Theodore Bikel, Judy Blazer, James Brennan, Carol Burnett, John Cullum, Dom DeLuise, Susan Egan, Nanette Fabray, Harry Groener, Marcia Lewis, Donna McKechnie, Harve Presnell, Lee Roy Reams, Helen Reddy, Cathy Rigby, Jack Wagner, and JoAnne Worley. He regularly works with South Coast Repertory, Sacramento Music Circus, (for which he has been named Music Supervisor) La Mirada Theatre for the Performing Arts, Musical Theatre West, and The Laguna Playhouse.
Sheron Wray, Chorographer
Sheron Wray is a choreographer and director, and formerly a dancer with London Contemporary Dance Theatre and Rambert Dance Company. For over 12 years she was the Artistic Director of JazzXchange music and Dance Company in London. Wray's dance and theatre works are collaborative and include works with Wynton Marsalis, Derek Bermel, and Mojisola Adebayo. Her most recent work is within interactive theatre; engaging audiences in performance through handheld technologies. Wray's work continues to be performed across Europe, North America and Southern Africa. She teaches Jazz, choreography and improvisation. Wray received her Masters in Performing Arts from Middlesex University, UK.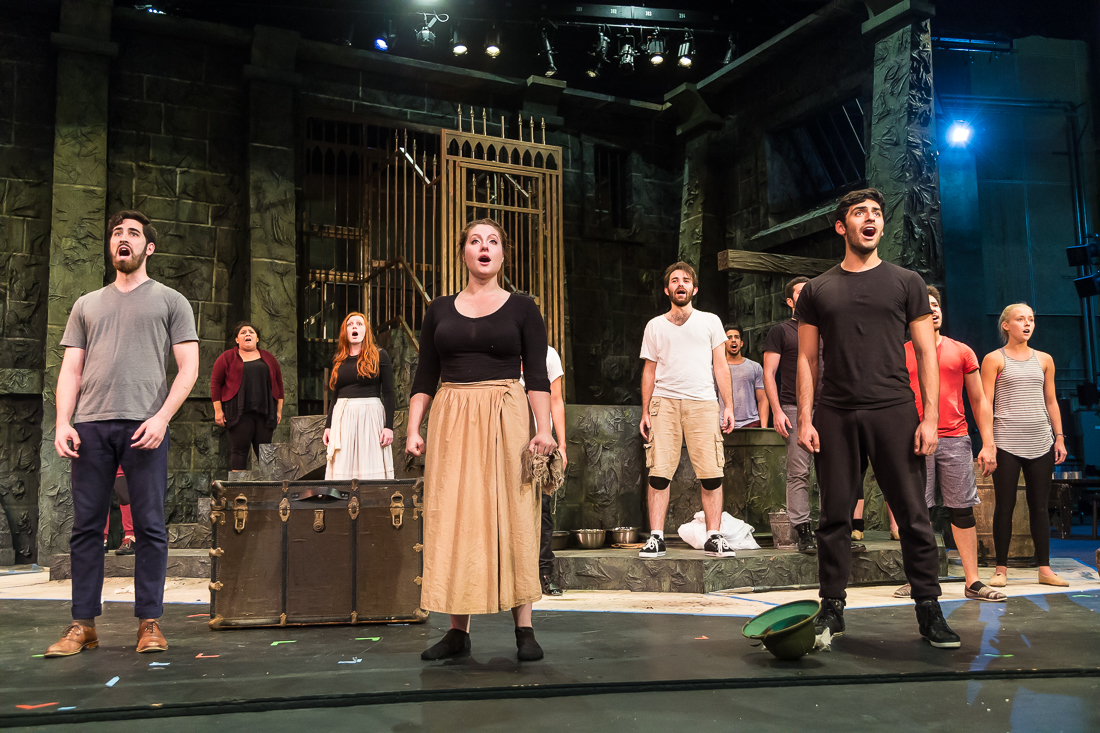 Performance and Ticket Information
Irvine Barclay Theatre, 4242 Campus Drive, Irvine, CA 92612
Evenings: Nov. 14, 19, 20, 21 at 8:00 pm
Evening: Nov. 18 at 7:30 pm
Matinees: Nov. 15*, 21, 22 at 2:00 pm
*Ticketholders: please join us for a post-performance TalkBack with the creative team and cast.
General Admission $22 / Seniors, Groups 10+ $20 / UCI Students & Children under 17 $12
(Tickets purchased at the Barclay Box Office will incur a $1 fee per ticket.)
For tickets through Claire Trevor School of the Arts, call (949) 824-2787 or visit www.arts.uci.edu/tickets
View the Event Page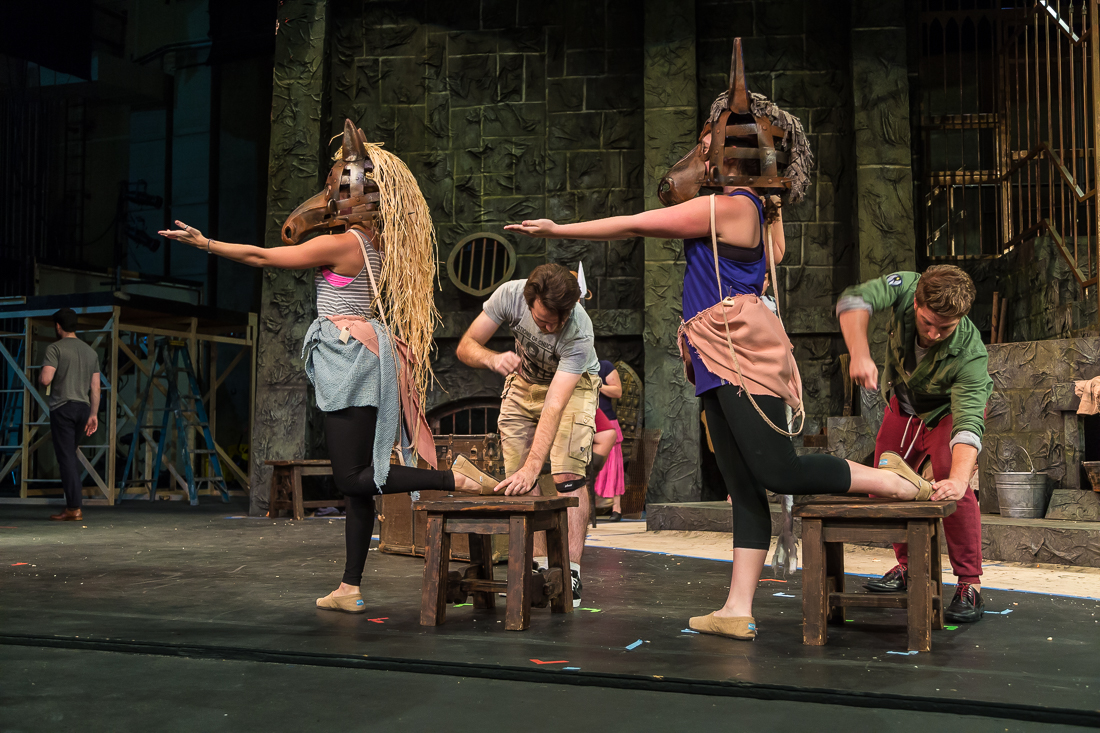 Rehearsal Photos by Paul R. Kennedy