NSSF Seminars & Workshops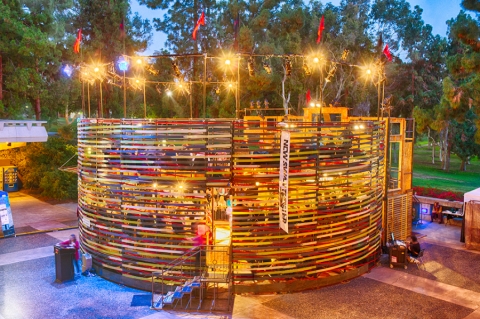 New Swan 2015 Seminars & Workshops

Saturday Seminars: "5 Things to Look For" Series
Before selected performances, a scholar will present a short talk giving audience members 5  things to look for in the play they are about  to see. Each talk is different! Let us surprise you. Convene next to the New Swan at 7:00 pm.
July 18 (Macbeth): Julia Lupton, UCI
July 25 (Much Ado): Amy Kenny, UC Riverside
August 1 (Macbeth):Kent Lehnhof, Chapman University
August 6 (Macbeth): Greg Ungar, University of Denver
August 15 (Much Ado): Kent Cartwright, University of Maryland
August 22 (Much Ado): Kent Lehnhof, Chapman
August 29 (Macbeth): Ian Munro, UCI
Post Show Talk-Backs
After every Saturday performance, the actors and director will answer questions about the plays.
Shakespeare Weekend
Saturday, August 15: Much Ado About Nothing
Sunday, August 16: Macbeth
Afternoon of study beginning at 2:00 pm with UCI faculty and distinguished guests followed by performance at New Swan.
VIEW THE WEBSITE
Contact Julia Lupton.
First Folio Fridays
Noontime seminars at the Langson Library begin with a short lecture and end in Special Collections with a viewing of UCI's copy of Shakespeare's First Folio. Seminars led by Julia Lupton (English), Steve McLeod (Special Collections) and John Renaud (Special Collections).
Friday, August 7: Macbeth with special guest Robert Cohen
Friday, August 14: Much Ado About Nothing
Location: Laudati Conference Room, Langson Library 570.
The Seminar Series is hosted by the UCI Shakespeare Center, New Swan Shakespeare Festival, the Langson Library, the Department of English, the Department of Drama, the Humanities Commons, and Illuminations: The Chancellor's Arts and Culture Initiative.
Contact info: Julia Lupton, jrlupton@uci.edu.
Dates:
August 15, 2015 - 7:00 pm
August 22, 2015 - 7:00 pm
August 29, 2015 - 7:00 pm