2015 Newport Beach Boat Parade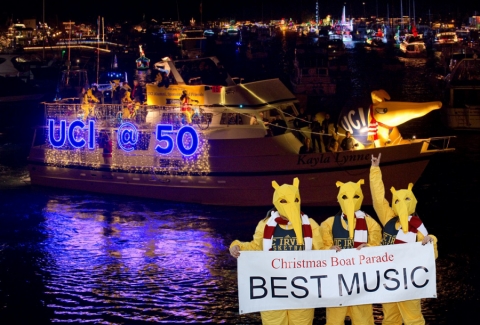 The University of California, Irvine's anteater mascot, voted Mashable's 2015 Mascot Madness champion, captained the campus's entry in the 107th Newport Beach Christmas Boat Parade, complete with live singers, and instrumental performances that won the "Best Music" award. Peter's appearance in the parade, themed "Seas the Holidays," is part of UCI's 50th anniversary celebration. The "UCI @ 50" craft – and Peter – cruised the harbor nightly through Saturday, Dec. 19. LINK.
Fun Facts about the Newport Beach Christmas Boat Parade and the "UCI @ 50" Boat:
This year marked the 107th Annual Newport Beach Christmas Boat Parade.
The Newport Beach Christmas Boat Parade is one of the largest holiday events in the country and has over 1.5 million people viewing the parade each year.
The parade featured approximately 65 boats of all sizes decorated with holiday lights, decorations, music, animation and special effects.
The 2015 parade theme was "Seas the Holidays."
The parade is proudly hosted by the Commodores Club of the Newport Beach Chamber of Commerce.
The "UCI @ 50" entry won "Best Music."
Jesse Colin Jackson, assistant professor of art in UCI's Claire Trevor School of the Arts, and his team designed the yacht's decorations.
The decorations highlight the university's commitment to sustainability. Students pedaled stationary bikes connected to generators to power the craft's lights. A giant, inflatable likeness of Peter the Anteater and the live mascot were on board as well.
The installation consisted of over 1000 lights.
The bicycle power generated over 500 watts, enough to power the "UCI @ 50" light installation continuously.
The boat was funded by alumni donors and friends of UCI.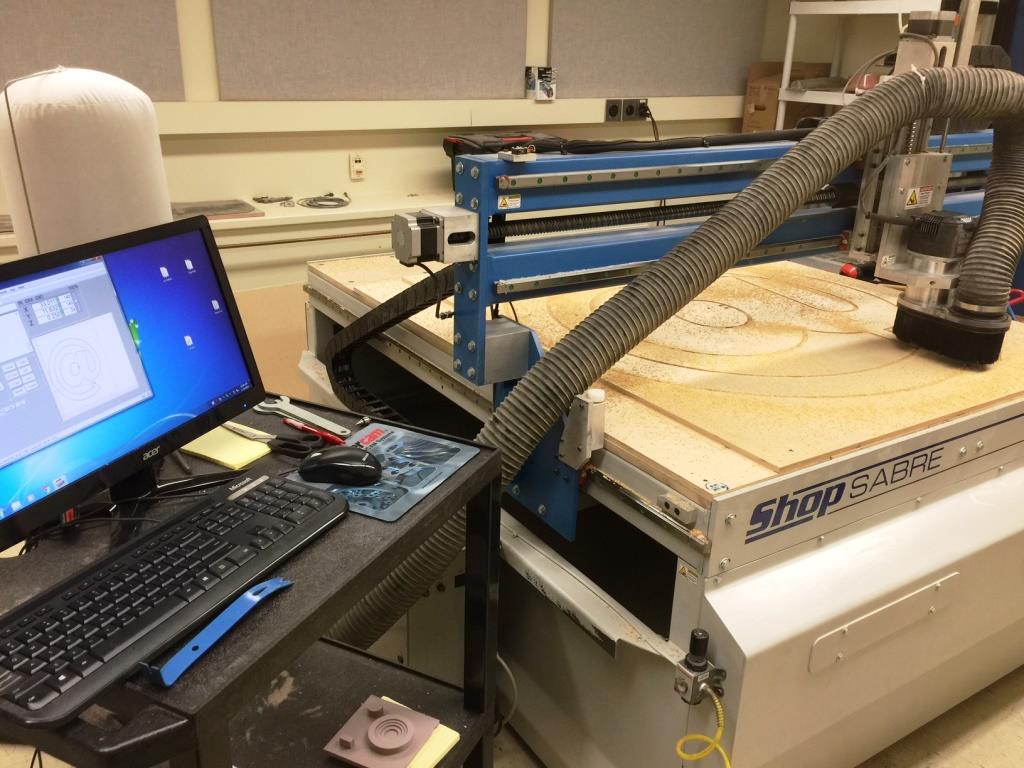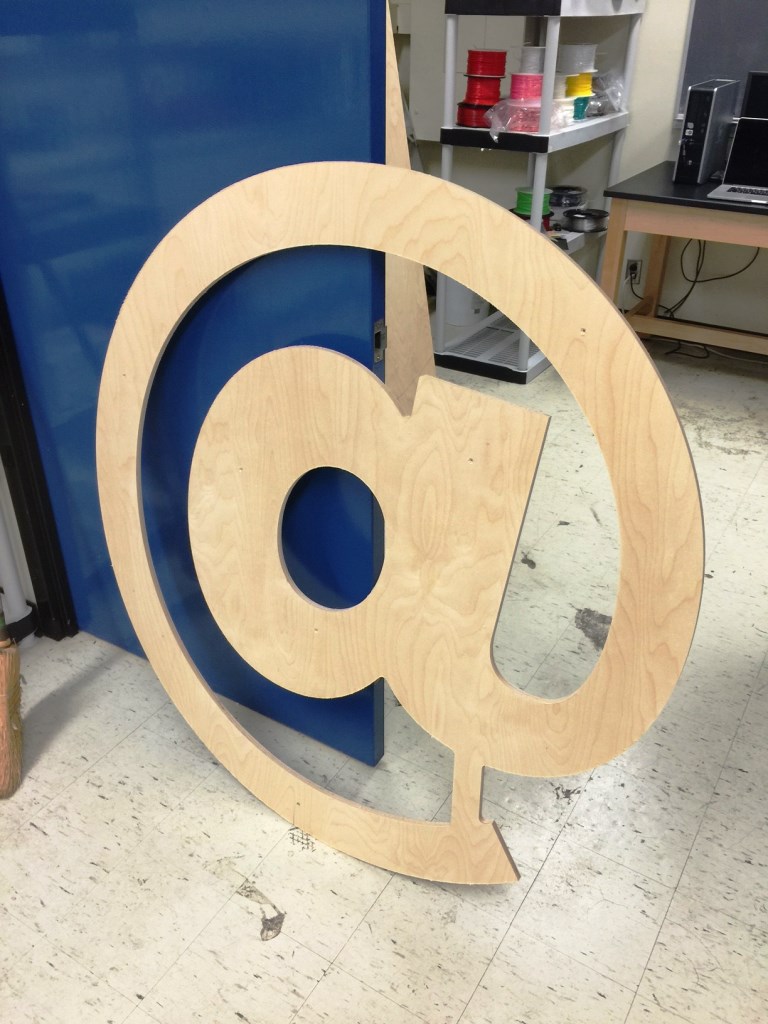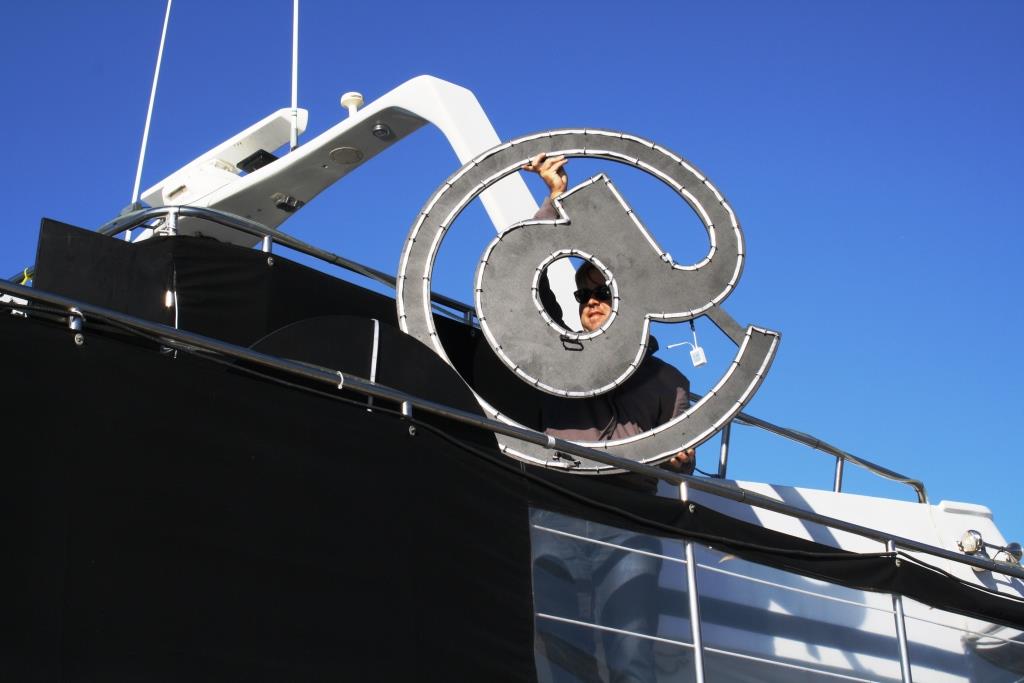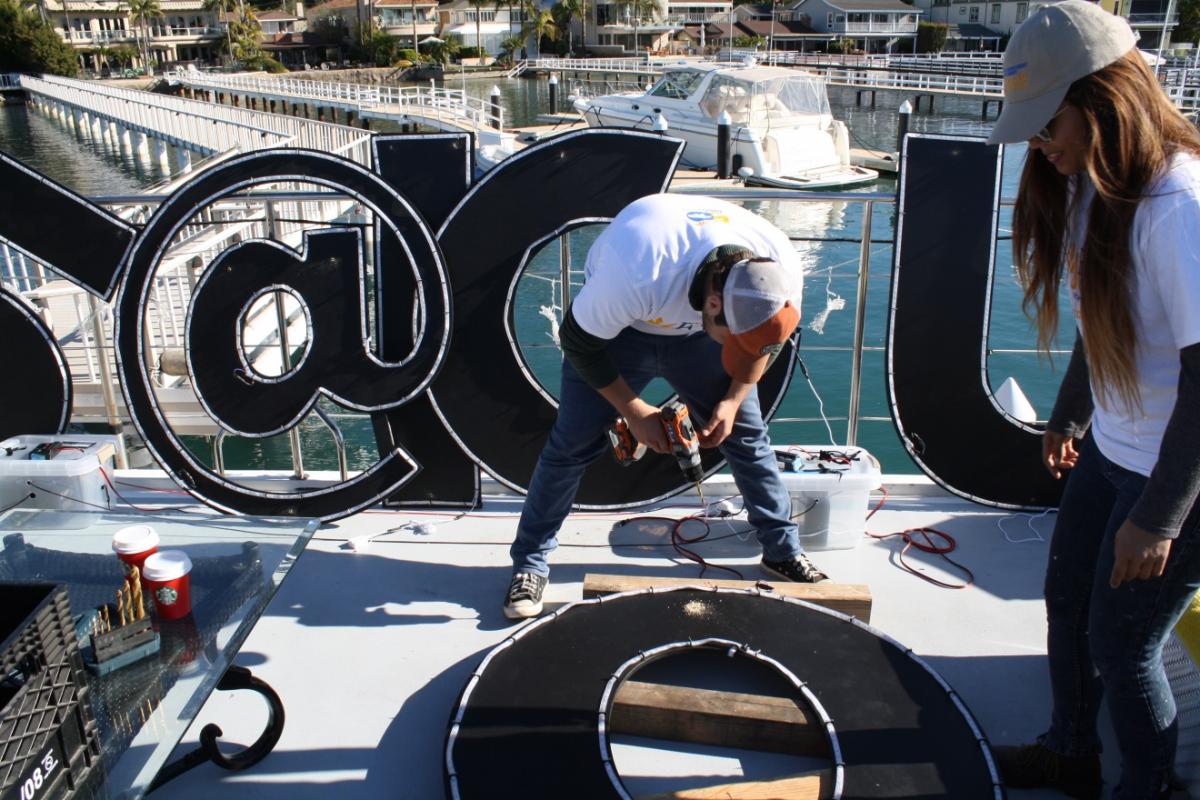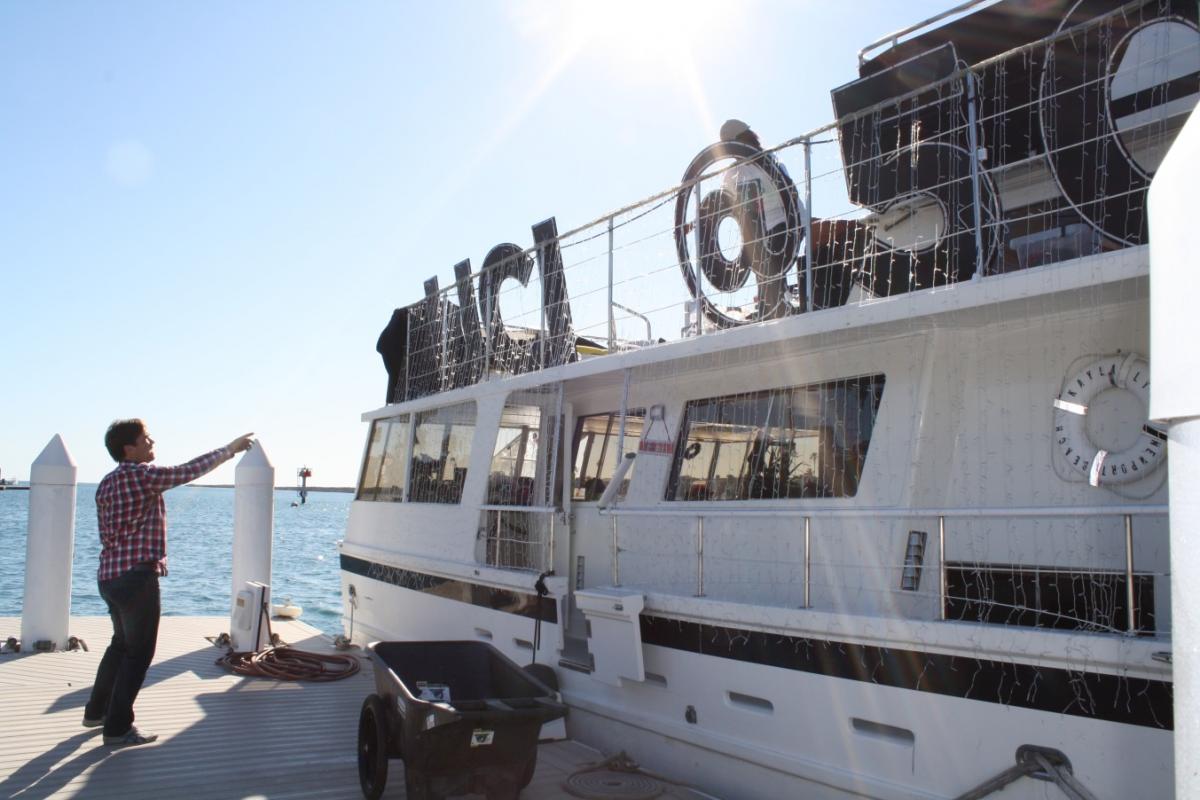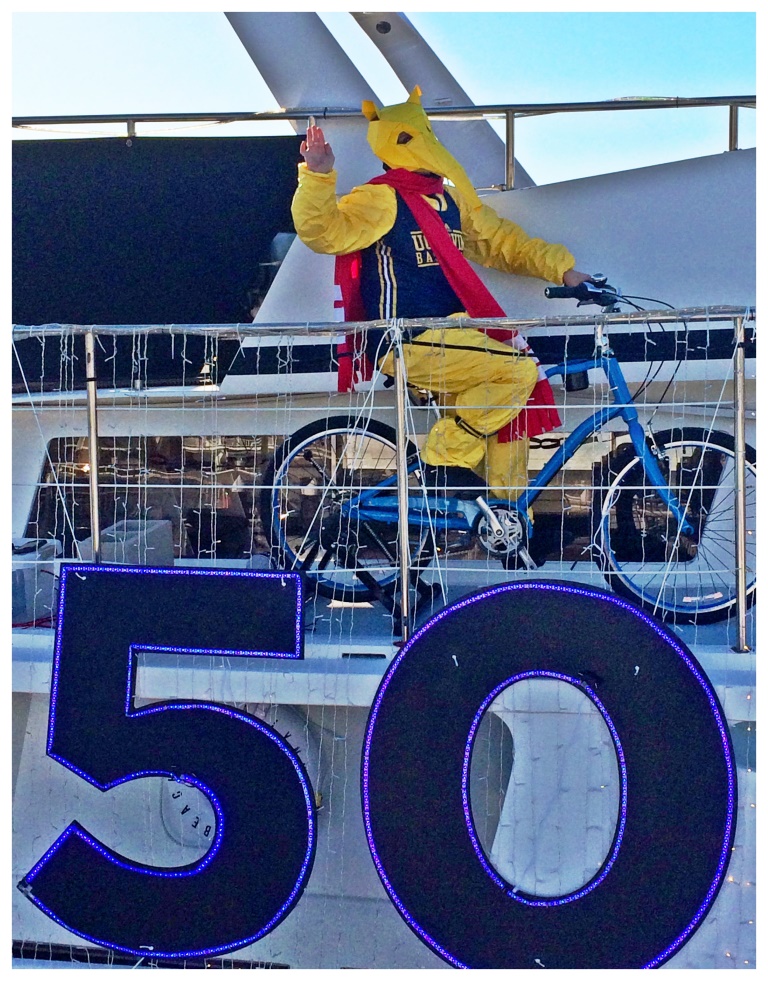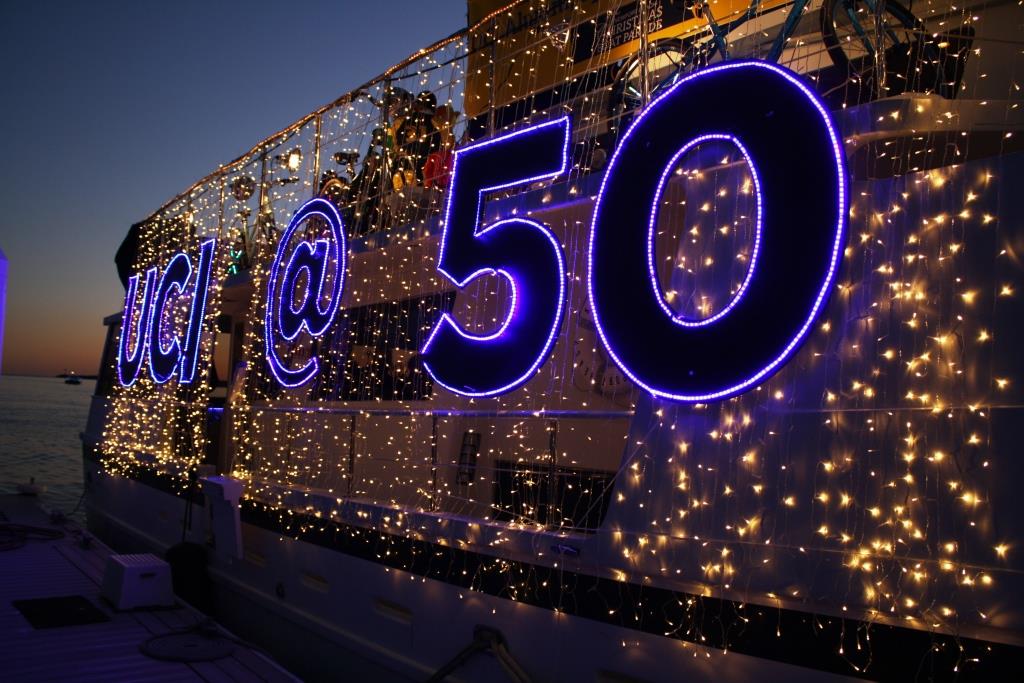 Special thanks to Assistant Professor of Art Jessie Jackson and his team for the lighting design.
(photo credit Steve Zylius, Strategic Communications)
Dates:
December 16, 2015 - 5:30 pm