UCI Humanities Gateway
An Ocean of Knowledge Conference 
October 18 & 19, 2017 
UCI Humanities Gateway
   
This interdisciplinary workshop/symposium focuses on the remarkable – but almost lost –navigation and seafaring traditions of the peoples who traversed and settled one-third of the world. The event will consider the centrality of seafaring for Pacific Island cultures, focusing on the intersections of history, climate science, cultural survival, and Indigenous sustainability.
The event will include a keynote, four thematic sessions, two film nights, two receptions, and a visit to the campus proa (sakman) building project Orthogonal. Keynote speaker, anthropologist Marianne (Mimi) George, has for 25 years worked with the people of the eastern Solomon Islands to help save their navigation and boat building through the Vaka Taumako Project. Featured speakers include, Pete J. Perez, executive director of 500 Sails, Navigator Dr Larry Raigetal with Waa'gey from Yap in the Federated States of Micronesia, Angelo O'Connor Villagomez with Pew Charitable Trusts, Dr Judy Flores with the Micronesian Area Research Center, Mario Borja of the San Diego-based CHE'LU organization, Dr Kristen Davis and Dr François Primeau with the Department of Earth System Science at the University of California, Irvine and a film screening by Eric Metzgar, founder and director of Triton Films. Master carver and navigator Antonio Pailug and John Castor will demonstrate Carolinian and Chamorro methods of wood carving and boatbuilding.
In the presentation sessions, we will delve into the unique cultural and cognitive aspects of Islander navigation, wayfinding, boatbuilding and sailing techniques. We will review the science of climate change and sea level rise, specifically as it impacts island nations and the ecology of reefs and fisheries. We will bring these themes together to consider cultural and economic survival today, and for the future.
Simon Penny, Professor, Art, UCI, Director
Sylvia Frain, PhD, Associate Director
Sponsored by the Newkirk Center for Science and Society, the Oceans Institute, and UCI Illuminations
EVENT WEBSITE: http://sites.uci.edu/ok17/
October 18 (All day)
,
October 19 (All day)
View this Event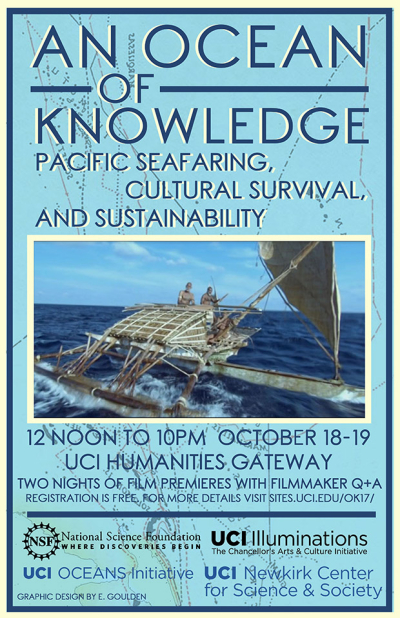 FADA Presents: A Girl Walks Home Alone At Night Screening
Presented by UCI FADA (Film-Arts-Drama Alliance) Network
Wednesday, November 8th, 2017
7:00 p.m.
HG (Humanities Gateway) 1070 McCormick Screening Room
FADA presents A Girl Walks Home Alone At Night Screening on Wednesday, November 8th, 2017 at HG 1070 McCormick Screening Room. Come out with your friends for a fun night to view one of the most entertaining films ever made! 
FREE ADMISSION
November 8 - 7:00 pm
View this Event