Triple Artist Exhibition Opening at the Beall Center for Art + Technology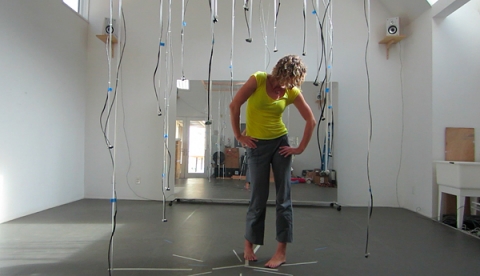 MEDIA ADVISORY
THE BEALL CENTER FOR ART + TECHNOLOGY PRESENTS PLAY: IN THREE ACTS A TRIPLE ARTIST EXHIBITION OF WORKS BY NINA WAISMAN, JOE MCKAY, AND DAVID ROKEBY
EVENTS:  The Beall Center for Art + Technology at UCI's Claire Trevor School of the Arts will host an exhibition opening reception on Saturday, February 7, 2015, which is open to the public.  The new exhibit runs through Saturday, May 2, 2015.
Play: In Three Acts represents three artists' unique approach to interactivity. Joe McKay's form of critical play is interested in the choices we make between cooperation and competition within a game. David Rokeby's and Nina Waisman's work uses movement of the body to produce unique interactive soundscapes. Each artist employs strikingly different visual and conceptual approaches to their practice, but they all share an interest in engagement of the body to experience a work of art.
Nina Waisman will incorporate performances by professional dancers at varying times throughout the exhibition. 
WHEN/WHERE: Play: In Three Acts, 2 p.m. to 5 p.m. Saturday, February 7, Beall Center for Art + Technology (directly adjacent to the University Art Gallery). 2:30 p.m & 3:45 p.m. Performance by Flora Wiegmann, LA-based dancer and choreographer.
3:15 p.m. & 4:30 p.m. Performances by UCI dancer Gunta Liepina, choreographed by UCI Professor Lisa Naugle.
Directions: http://www.arts.uci.edu/directions-university-art-gallery-uag
INFORMATION: Media planning to attend should contact Jaime DeJong at 949-824-2189 or jdejong@uci.edu. Attendance and parking are complimentary for media who RSVP in advance.
BACKGROUND: The Beall Center is an exhibition and research center located on the campus of the University of California, Irvine that promotes new forms of creation and expression. For more info & complete press kit go to:  http://beallcenter.uci.edu/