SPEND THE SUMMER IMMERSED IN YOUR ART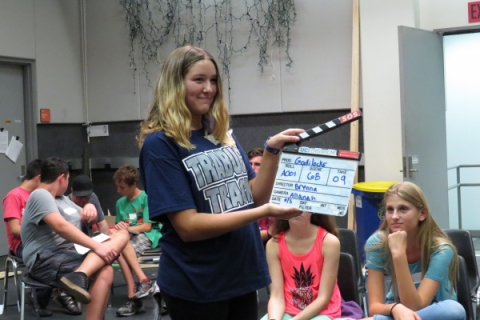 SPEND THE SUMMER IMMERSED IN YOUR ART – UC IRVINE'S CLAIRE TREVOR SCHOOL OF THE ARTS LAUNCHES REGISTRATION FOR 2017 SUMMER PROGRAMS
IRVINE, Calif., (March 8, 2017) – The Claire Trevor School of the Arts (CTSA) at the University of California, Irvine (UCI) has launched registration for its 2017 Summer Academies in the Arts, an immersive summer experience for students Grade 3-12 in art, dance, drama, music and technology. 
Entering into the program's sixth summer, the Academies were conceived as a way to expose young people to the university experience.  "The arts are so often threatened with funding cuts and total elimination because people forget they are an easy way to connect one thing to another," says Megan MacDonald, Director of Outreach Programs for the Trevor School.  "In this case, connecting an aspiring filmmaker, dancer, actor, or violinist to the possibility of higher education."
What began as a two-week course in digital art and drama, has now flourished into a full program of 17 two- or three-week courses throughout the summer months.  Structured similarly to an undergraduate's coursework, Summer Academies in the Arts students receive instruction in small classes with college-level content to really push for further learning and development in their craft.  After attending a previous summer for drawing/painting, Nelson, a high school senior from Santa Ana with drawing proficiency, shares his first experience tackling painting and why he decided to return again. "Last year was my first year painting and my piece came out really good.  And now that I see myself painting this year, it's like I didn't think I could do that.  I'm still shocked at what I can do." 
All Academies take place Monday-Friday, with students selecting to commute to class, or opting to participate in the overnight option where students get the full college experience of living in the on-campus dorms and exploring both the UCI campus and the Orange County area.  Scholarships and financial aid are available to those interested and of need.
"[The Summer Academies in the Arts] has reignited by love for Shakespeare," says Jake of Irvine, a participant in the New Swan Apprenticeship in Acting for Theatre course. "It's shown me different ways of approaching [acting] that I would not have known otherwise and it's been so much fun."
For a complete schedule of Summer Academies in the Arts courses and more information, visit http://outreach.arts.uci.edu/summer-academies.
About Claire Trevor School of the Arts: As UCI's creative laboratory, the Claire Trevor School of the Arts explores and presents the arts as the essence of human experience and expression, through art forms ranging from the most traditional to the radically new. Our international faculty works across a wide variety of disciplines, partnering with others across the campus, our national-ranked programs in art, dance, drama, and music begin with training but end in original invention. Our students come to UCI to learn to be citizen-artists, to sharpen their skills and talents, and to become the molders and leaders of world culture.