Clayton Garrison Memorial Celebration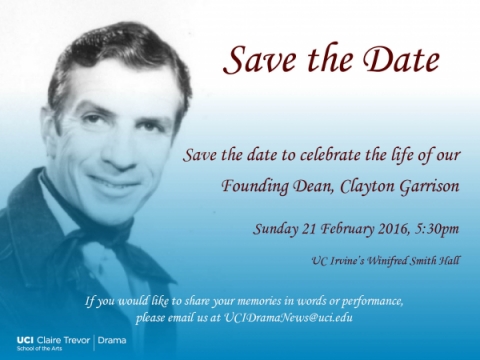 Save the Date: Clayton Garrison Memorial Celebration
Sunday, February 21, 2016
5:30 pm
Winifred Smith Hall
Save the date to celebrate the life of internationally acclaimed choreographer, director, and our Founding Dean, Clayton Garrison.
If you would like to share your memories in words or performance, please email us at UCIDramaNews@uci.edu.
Hosted by UCI Drama
More on Founding Dean, Clayton Garrison
Clayton Garrison, founding dean of the School of Fine Arts at the University of California, Irvine, died 27 July 2015 at the age of 93. He was a visionary stage director, choreographer and theater professor who left a lasting imprint on UCI and what's now known as the Claire Trevor School of the Arts.
Garrison was invited by founding Chancellor Daniel G. Aldrich Jr. to create a "department of arts" in 1964, the year before the campus opened. After committing to Aldrich and leaving UC Riverside, where he had been teaching, Garrison insisted that a single department with the arts lumped together would not suffice for the new university. He devised a plan for a "conservatory within the academy," which then became the School of Fine Arts, one of UCI's five original schools.
It consisted of departments in art, dance, drama and music; and began with only seven faculty members. Garrison was named dean.
"Clayton's vision for the school, as it evolved first to the School of the Arts and then, in 2000, to the Claire Trevor School of the Arts, with over 80 faculty and 1,200 students, remains a central aspect of our legacy," said Stephen Barker, current interim dean.
"His vision for an intellectually challenging arts program, including but not limited to training in the arts, has been a significant driver of CTSA's excellence. All of us who have inherited Clayton's visionary aspirations are grateful to him for setting us on our way to the preeminence he anticipated."
Garrison selected John Coplans to direct the original art gallery and chair the art department, Eugene Loring as chair of dance, Mehli Mehta to conduct the University Orchestra, Colin Slim to chair music and Robert Cohen to chair drama. Seventy students became arts majors when the campus opened in the fall of 1965. Within a few years, under Garrison's leadership, the school grew into a major national arts academy. By 1969, the M.F.A. program had been established, and in 1970, the Fine Arts Village – now the CTSA Village and Plaza – was completed.
The division departed from the usual university fine arts program by emphasizing studio- and performance-centered, professional-level standards as part of a superior liberal arts education for the creative and performing artist. The school also promoted academic, studio and workshop experiences for nonmajors. Teachers included playwright William Inge, Broadway director Herbert Machiz, distinguished choreographers Eugene Loring and Antony Tudor, world-renowned conductor Roger Wagner, and upcoming artists Tony DeLap and David Hockney.
Garrison himself worked in all four disciplines, directing plays and operas, teaching acting and dramatic literature, inviting major artists to the campus, and helping develop graduate degrees.
His teaching and directing were as important to him as his administration, and he became famous for his superb staging of such musicals as "My Fair Lady," "A Little Night Music," "Chicago," "A Chorus Line" and the American premiere of "Oh! What a Lovely War."
His notable operas included "Cosi fan tutte," "Le nozze di Figaro," "Orpheus in the Underworld," "Il matrimonio segreto" and "Arcifanfano," among many others.
Garrison served as dean of the school for its first 17 years and remained for nine more years teaching acting and running UCI's monthlong satellite Music Theatre Program in New York.
"More than just a dean and a director, Clayton maintained close collegial relationships with administrative officers, deans of other schools, faculty members in all fine arts departments and, above all, with his hundreds of drama and dance students, with whom he often performed," said his good friend and colleague Robert Cohen, Claire Trevor Professor Emeritus of Drama. "Clayton Garrison was more than a superb theatrical artist and educator: He was a true mentor to all who worked under him."
Garrison had a long and distinguished career at and beyond UCI as an internationally acclaimed choreographer and stage director. He earned a B.A. in English at the University of Southern California and a Ph.D. in dramatic theory & criticism at Stanford University. He taught at Stanford; University of California campuses in Berkeley, Irvine, Riverside and Santa Barbara; and Laguna College of Art + Design.
He's survived by his wife, Hélène Garrison, vice president of academic affairs at Laguna College of Art + Design, and their daughters Christine and Morgane, as well as by Clayton's daughters Jacqueline Snyder, Michele Haller and Suzanne Hench.
View the EVENT PAGE