Beall Center presents Embodied Encounters, an international inter-media exhibition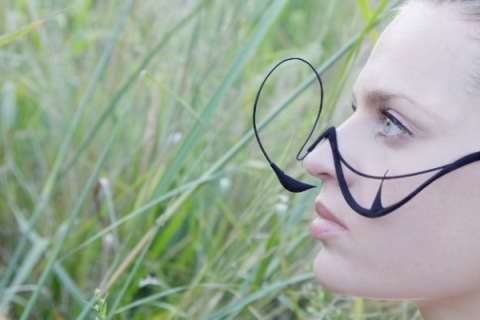 DOWNLOAD THE COMPLETE PRESS PREVIEW KIT
BEALL CENTER FOR ART + TECHNOLOGY AT UCI PRESENTS EMBODIED ENCOUNTERS
INTERNATIONAL INTER-MEDIA ART EXHIBITION EXPLORES NEW LANGUAGES OF COGNITION
IRVINE, Calif. (September 1, 2016) – This Fall, the Donald R. and Joan F. Beall Center for Art + Technology at UC Irvine's Claire Trevor School of the Arts will present Embodied Encounters, an inter-media exhibition featuring seven international contemporary artists. Co-Curated by David Familian (Artistic Director, Beall Center) and Simon Penny (Professor, Digital Cultural Practices, Embodied Interaction and Interactive Art), Embodied Encounters will take  place in conjunction with UCI's upcoming conference, "Body of Knowledge: Embodied Cognition and the Arts" (December 8-10, 2016); a three-day event focusing on interfacing traditional discourses of making and doing with the emerging paradigms of Embodied (and Enactive, Situated, Distributed, Extended) cognition. Embodied Encounters will open to the public on Saturday, October 1, with an artist reception from 2-5pm. The exhibition will remain on view through Saturday, January 21, 2017.
Embodied Encounters addresses art-making practices in media arts via the new languages of cognition. The exhibition will demonstrate the philosophical and conceptual ways artists respond to a world made increasingly complex by technology, as well as the evolution of action in artistic creation, and the synergy between materiality and bodily awareness. Through these encounters, we see the divisions between mind and body, self and world dissolve. This phenomenon is highly relevant to contemporary artistic practice as artists become increasingly aware of the changing synergy between intuition, logic, and reason to produce their work. How does the artist's consciousness engage in a world comprised of analog, digital, and virtual stimuli? The Beall Center will address this question through an ambitious, provoking voyage through cognition and intelligence – human and artificial alike.
Image: Miriam Simun, Adōrō (2014-2016) / 3D printed nylon and copper / 12 x 8 x 5" / courtesy of the artist (performance is billed separately)
Note to editors: Selected high-resolution images for publicity use only may be downloaded from PRESS PHOTOS.
###
EVENTS:
Opening Reception: Saturday, October 1, 2016, 2pm – 5pm
Beall Center for Art + Technology
STEAM Educators Luncheon at the Beall: Saturday, October 15, 11am-2pm Online registration opens September 6th: http://BeallSTEAMEdLuncheon.eventbrite.com
Body of Knowledge Conference
December 8-10, 2016
Claire Trevor School of the Arts University of California, Irvine
A three-day conference; registration open now through sites.uci.edu/BoK2016
Embodied Encounters LASER Talk: Friday, December 9, 2016, 5:30-7:30pm
The Cove at UCI Applied Innovation
5141 California Ave., #250
Irvine, CA 92617
A panel discussion produced in association with Leonardo International Society for the Arts, Sciences, and Technology; a full speaker lineup will be available on beallcenter.uci.edu this fall. Date subject to change.