UCI Symphony Orchestra: A Celebration of African-American Composers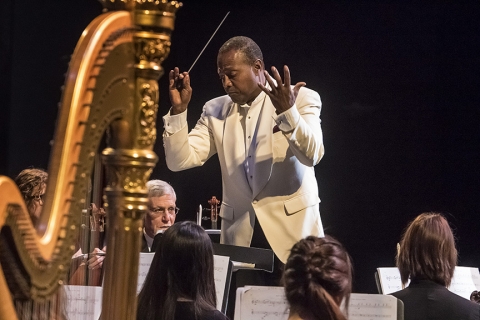 UCI Symphony Orchestra  
A Celebration of African-American Composers
Dr. Stephen Tucker, Conductor
February 3, 2018
7:00 p.m.
SOKA Performing Arts Center
1 University Cir, Alieso Viejo | Irvine, CA 92697
As a part of the International Conference of College Orchestra Directors' Association (CODA), the UCI Symphony presents a collection of piece's celebrating national and international African-American composers.
The program will include the world premiere of composer Carolyn Yarnell's work - "It's Still Big, Like You Remember It!"; Richard Thompson's "We Wear The Mask" sung by a UCI Student, and works by internationally celebrated composers Adolphus Hailstork, George Walker, Billy Childs, and Duke Ellington.
Tickets:
General $20
Students, Seniors, and Military $15.00
In addition to the concert at SOKA, the symphony's participating in CODA will present two free concerts on Friday, February 2 at 10:00 a.m. and 1:00 p.m. in Winifred Smith Hall. Seats are first come, first served.
Dates:
February 3, 2018 - 7:00 pm